Last Week Tonight: Medicare
Trying out AltSomething right now, directly with a new video from Last Week Tonight with John Oliver.
Dunno how this works out or how good it will be, but I'm kinda curious.
PS: Kinda noticed that the Advanced options are really important. You should modify them while posting with that tool.
PPS: It's not supporting youtube kinda well, had to include the url in the Beginning. At least it helps with putting the source at the bottom of the post.


---
Read more: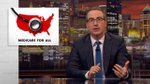 Medicare for All: Last Week Tonight with John Oliver (HBO)
As presidential candidates continue to discuss Medicare for All, John Oliver explores how much it might cost, what it will change, and who it will help. Conn...
Source:
https://www.youtube.com
---
Share this post:







---
Posted using AltYes browser extension.