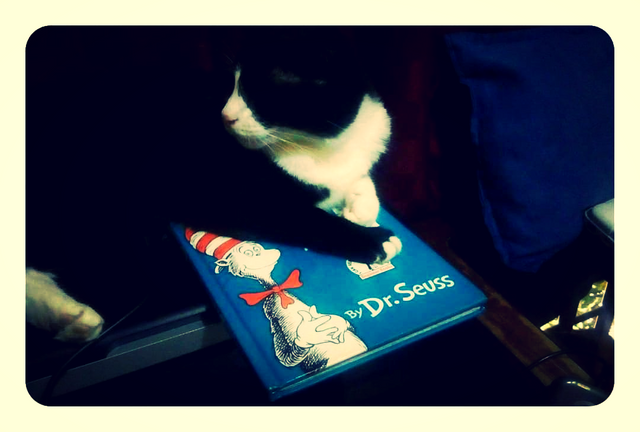 Foto propia - Horacia y su ejemplar de The Cat in the Hat de Dr. Seuss
Como sabrán, Dr. Seuss es un seudónimo. Nacido en el pueblo de los Simpsons, Springfield, Massachusetts, Ted Geisel (1904-1991) era el hombre detrás del simpático alias del autor y caricaturista estadounidense. Muchos lo recordaremos especialmente por su obra ¡Cómo el Grinch robó la Navidad! (How The Grinch Stole Christmas, 1957), mejor conocida simplemente como El Grinch gracias a su popularización a través del cine, cuando en el año 2000 fue llevada a la gran pantalla bajo la dirección de Ron Howard; el film fue protagonizado por Jim Carey y se convirtió en un clásico para mirar en familia cada navidad.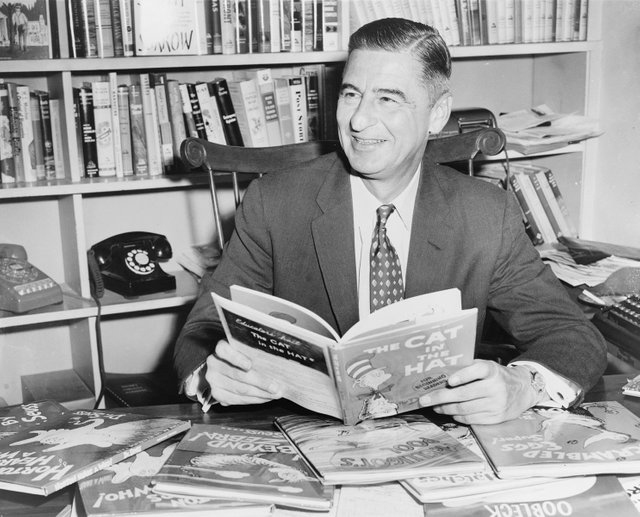 Ted Geisel (Dr. Seuss) en 1957 - Imagen del Dominio Público
Otras de las obras de Dr. Seuss que se hicieron aún más populares de lo que ya eran al ser llevadas al cine son The Lorax (libro publicado en 1971), film dirigido por Chris Renaud y Kyle Balda, con voces de Zac Efron, Taylor Swift y Danny De Vito en 2012; y The Cat in the Hat (libro publicado en 1957), film dirigido por Bo Welch y protagonizado por Mike Mayers en 2003.

El gato en el sombrero
El gato en el sombrero (The Cat in the Hat) es una de las obras populares de la literatura infantil. Y es de este libro que hablaremos en este post. Su traducción es tan difícil que podría decirse que es imposible. Comienza así: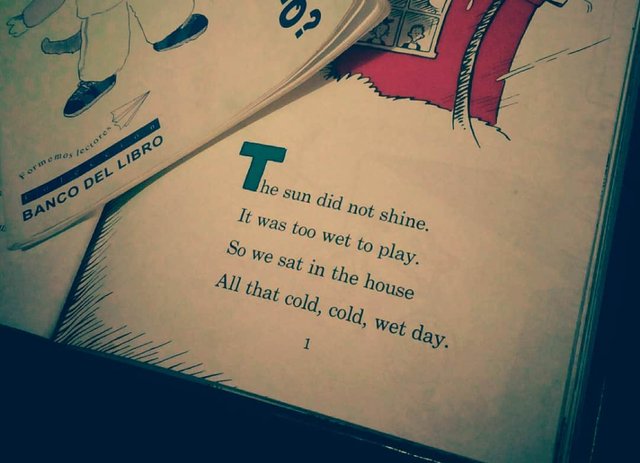 Página 1 de The cat in the Hat de Dr. Seuss. Edición de Random House, Inc., 1985.
Mi traducción:
                                             El sol no brillaba.
                                             Llovía mucho para jugar.
                                             Así que nos sentamos en casa
                                             A ver la fría, fría humedad.
(Página 1)
Como pueden ver en el texto original en inglés, el ritmo es predominantemente anapéstico (al igual que en los limericks): ta-ta-tá. Y aunque no siempre contaremos los sonidos completos, la lectura ha de mantenerse en este ritmo de cualquier manera.
En el caso de la traducción, he tratado de mantener el ritmo, al igual que el tono narrativo de añoranza.
Una visita inesperada
Este Gato en el Sombrero ha salido de la nada. Cuando Sally y su hermano (el narrador) están en el máximo aburrimiento, durante un día lluvioso, sentados y sin hacer absolutamente nada, aparece este enigmático personaje: Un gato antropomórfico, con sombrero, paraguas y pajarita. El Gato hace una inverosímil exhibición de trucos para divertirse, con lo que deja la casa hecha un desastre, ante la mirada perpleja de los niños y el Pez (personaje encargado de recordar a los niños que todo aquello no está bien, pues su madre no está en casa). Al final el Gato se da cuenta de que los niños no se estaban divirtiendo, así que recoge todas sus cosas y se marcha, para regresar al instante a ordenar la casa, con lo cual todos estuvieron gratamente sorprendidos y tranquilos. Si el Gato no hubiera regresado, la madre hubiera encontrado todo desordenado, lo que tenía a todos en gran angustia.
Al final, el Gato en el Sombrero no deja rastros de haber pasado por la casa. Los niños, entonces, podrán mantener el secreto. ¿Un visitante inesperado que, aparentemente, no deja rastros? ¿Será buena idea ocultar la verdad a la madre? ¿Está bien que estos niños sean tan obedientes que no puedan divertirse? ¿Cómo funciona todo esto a los ojos de nuestros pequeños lectores?
Gracias por leer esta parte 1/3
---
Posted from my blog with SteemPress : https://marlyncabrera.timeets.com/2018/09/16/el-gato-en-el-sombrero-de-dr-seuss-diversion-inquietante/
---