Thought I would share this guide for those of you out there that didn't know it existed!
This is great to know when buying an older Volvo (and don't have access to diagnostics tools), it wont show you the specific codes just that there are registered codes in a specific area.
So start with turning on the ignition and then you need to push in the "Read" button that is located on the left lever and at the same time push the button that turns on the rear fog lights (twice / On and Off).
This will then trigger the DTC (Diagnostic Trouble Codes) menu which you can see in the lower left information display.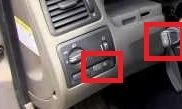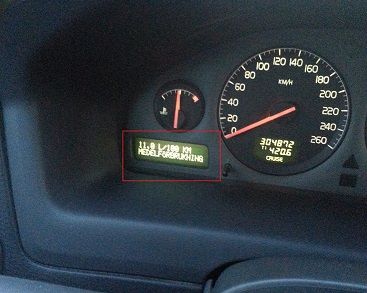 Once it says "DTCS IN VEHICLE" you can scroll through the different modules by pressing the "Read" button (left lever).
If there is a code registered it will say "DTC SET".
ABS = Anti-Lock Brake System
ADM = Additive Dosing Module
AEM = Accesory Electronic Module
AFM = AM/FM Tuner Module
ATM = Antenna Module
AUD = Audio Module
AUM = Audio Module
BCM = Brake Control Module
CCM = Climate Control Module
CEM = Central Electronic Module
CPM = Combustion Preheater Module
DDM = Driver Door Module
DEM = Differential Electronic Module
DIM = Driver Information Module
ECM = Engine Control Module
EPS = Electrical Power Steering Module
ETM = Electronic Throttle Module
IAM = Integrated Audio Module
ICM = Information Control Module
KVM = Keyless Vehicle Module
LPG = LPG Module
LSM = Light Swith Module
MMM = Multimedia Module
MPM = Media Player Module
PAM = Parking Assistance Module
PDM = Passenger Door Module
PHM = Phone Module
PSL = Power Seat Left
PSR = Power Seat Right
REM = Rear Electronics Module
RTI = Road Traffic Information Module
SAS = Steering Wheel Angle Sensor
SHM = Seat Heating Module
SRM = Sunroof Module
SRS = Supplemental Restraint System
SUB = Subwoofer Module
SUM = Suspension Module
SWM = Steering Wheel Module
TCM = Transmission Message Channel Module
TMC = Traffic Message Channel Module
TRM = Trailer Module
UEM = Upper Electronic Module
WMM = Wiper Motor Module
Another good Tip is that you can reset your service light by yourself by doing the following:
Have the ignition turned off and push in the reset button for the odometer (and keep it pushed), then turn the key into the first position, once the orange triangle in the middle starts flashing you can let go of the odometer-button and turn off the ignition.
Sometimes you have to do it a few times before it works.
If this is something that people enjoy reading I might do another post for Mercedes hidden menu.