"Hey,......... I've gotta call Ronnie while I'm here" he tells me in a very animated way, as he turns and pulls out his "Blueberry" and heads for the upper verandah, (Ronnie James Dio it was, who's really unwell at this present time) so i head back to pop my head in and see how the Noh crew are now doing, and as i'm not surprised now to look in on guys who were, well what can I say other than the narcotic had taken full effect and these guys were out for the night!
Being alone now check my own Blueberry and see that i've got some e-mails and three missed calls. So I've got some free time now, I check my e-mail message bank and see one of them is from the personal assistant(P.A.) of the person who invited me over and was more than welcoming, explaining that at 9 p.m. that night there will be a "Save the Hollywood Sign" fundraiser at the Playboy Mansion, put on by Hugh Hefner himself, I quickly glance at my watch,--19:30, that's cool, I've still got an hour and a half or so and I for sure don't want to be the first one there even if it is at The Playboy Mansion!
The other two e-mails are less important, or less immediate i should say, as they don't precede to potential fun like a good "Fundraiser", so i call the P.A. to find out what is it exactly fundraising for in relation to the sign, and she explains how Mr.Hefner is trying to stop any development on the land which the famous Hollywood sign is on, as she tells me this I think to myself "is there nothing sacred to developers"? I think not! so I tell her "sure, I'll be there no worries"!
This sounds good, as I head to the kitchen for some food, and find that I'm well and truly by myself, I don't know where my friend and her boyfriend have gone, though I can probably guess not that I want to now, I'm hungry as now, so I see what's in the frig, open up, lights on, PACKED & Stacked! "there is SO much food in this one side it could NO doubt feed a small army", It'll take me four minutes eventually to look and sort through this cornucopia of modern day American consumer perishables.
And not much looked familiar anymore, course I live in Australia, and have been back really since nineteen eighty four, so I'm hardly taken back by this!
I close the frig door, slightly overwelmed, I'm not feeling all that hungry now, my thoughts of food are soon forgotten when i catch a look at the message left for me by my friend, she writes how they've gone out for the rest of the night and will be back in the morning etc,etc, I then read how there's a pretty good collection of muscle cars and other cars in the underground garage, and that i'd probably like the cars that are there!
That sounds cool, I've got to go down to the underground basement via the elevator, I know where that is so I proceed to go to the elevator, turn key to the right press and press carport, this i do and to my total amazement if this could get any better now it just did!
The door slides open and i'm confronted by an assortment of just stunning cars, muscle cars to be exact, from the late sixties to early seventies.This room i'm in is almost like a hermetically sealed time capsule, it's like being Carter opening King Tut's tomb.
I slowly step out of the elevator, checkered floors below my feet, two rows spread perfectly apart, of cars, i did take note of!
                   Black and Yellow Superbird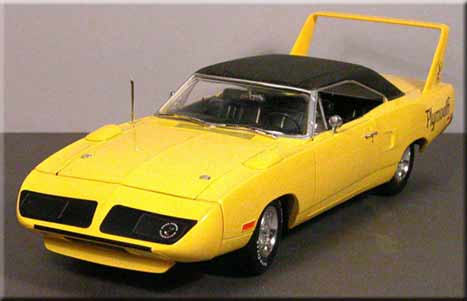 To my immediate left, a two- tone blue 1974 Plymouth Roadrunner, next to it a black Plymouth Satellite ,next to that was just a very bizarre vehicle in my opinion, that being a yellow and black Plymouth Superbird, and a Vitamin C colored 1970 Plymouth "Hemicuda" 426 convertable, never ever seen anything like this in real life, truly mind-blowing in it's design and color, these were incredible!
Across from the convertible stood a red 1971 Plymouth Barracuda, next to it was a silver 1969 Ford Mustang BOSS 302, next to a Mach 1 Mustang,that had been modified by a bloke named Chip Foose, and what an incredible job he did indeed, and the eighth and final car was a 1969 Dodge Charger, and was not in the greatest shape, as it was an original used in the T.V.series "Dukes of Hazard" as the General Lee, with it's rebel flag blazed across the top of the roof, i get a good chuckle from seeing this, as when I was younger and lived in America I use to watch that program and thought it was hilarious, so to see an "Original" General Lee is really something else!
Six out of the eight cars have their hoods up, so i really had a good look and see that all except the "General Lee" are "three tagged" cars, meaning that their authenticity is 100%.
There's a movie called "Ferris Bueller's Day off, and Ferris has a friend called Cameron, and Cameron's Father has a 1961 Ferrari 250 GT California and it just sits on display, never moves, and the miles are selfishly counted up, that is until Ferris gets his hands on it, well these cars were in that same suspended animation, not that I was gonna do a Ferris, but it was a real shame that these cars will probably never see the open road again, some for their intrinsic value, others don't meet air pollution standards (Superbird) in California anymore, such a shame!
So these cars are as immaculate as they were when they left the factory, even more so with the Foose modified Mach 1, so after my perusal i head to the elevator, looking at my watch, a half hour has completely evaporated, I'm thinking, I wonder if "Jim" is still here, so I hit the button and head back upstairs.
Stay tuned and please feel feel to STEEM as I hope to do many more blogs overtime and all upvotes are appreciated, Cheers
PART 6 is to come but if you haven't started at the first chapter please do as It will fill in some of the gaps to the story line.