Elektromobilität selbsttest - Electromobility self test
Hallo zusammen,
wie ist das eigentlich, mit einem Elektroauto zufahren, so ganz ohne Benzin oder Diesel? Diese Frage habe ich mir gestellt, aber auch wie Alltagstauglich ist das ganze. Früher wurden die Elektroauto belächelt, zu wenig Reichweite, zu teuer und wo sollte man ihn aufladen. Das waren einige der Aussagen, aber das werden wir in 2 Teile beleuchten.
---
What is it like to drive an electric car without using gasoline or diesel? I asked myself this question, but also how suitable for everyday use is the whole thing. Earlier, the electric car was ridiculed, too little range, too expensive and where should you charge him. These were some of the statements, but we will illuminate that in 2 parts.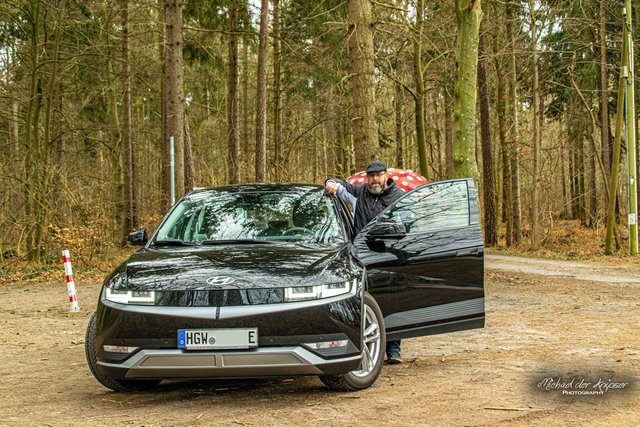 Wir sind hier mit einem Hyundai ioniq 5 unterwegs. Ich habe die Möglichkeit, vom Autohaus Eggert in Greifswald bekommen, dieses Auto für ein Wochenende zu mieten. Um einenge Fragen zu klären und selbst zu erfahren.
Technische Daten
Motorleistung: 218 PS
Batterie: 72,7 kWh 653 V Lithium-Polymer
Abmessungen: 4.635 mm L x 1.890 mm B x 1.605 mm H
Beschleunigung 0–100 km/h: 7,4 Sekunden
Preis in der Ausstattung 52.000 €
---
We are here with a Hyundai ioniq 5 on the road. I got the opportunity to rent this car for a weekend from Autohaus Eggert in Greifswald. To clarify a few questions and to experience for myself.
Technical data
Engine power: 218 hp
Battery: 72,7 kWh 653 V Lithium-Polymer
Dimensions: 4.635 mm L x 1.890 mm W x 1.605 mm H
Acceleration 0-100 km/h: 7.4 seconds
Price in equipment 52.000 €
Fahreigenschaft im Alltag / Driving characteristics in everyday life
Es wird kaum ein Verwundern, er fährt sich genauso wie ein Verbrenner. Nun halt leiser, im Gegensatz zu meinem Honda Civic, hat er sehr viele Assistenten System, mit dem ich erstmal klarkommen musste. Was mir nicht so schwerfiel. Der Sitzkomfort ist Langstrecken tauglich, das heißt die Sitze sind sehr bequem. Die Federung ist gut abgestimmt, nicht zu straf oder sportlich. Im Innenraum hat man einen sehr guten Rundumblick.
---
It will hardly be a surprise, it drives just like a combustion engine. Now just quieter, unlike my Honda Civic, he has a lot of assistants system, with which I first had to get along. What was not so difficult for me. The seating comfort is suitable for long distances, that is, the seats are very comfortable. The suspension is well tuned, not too stiff or sporty. The interior offers a very good all-round view.
Innenraum / Interior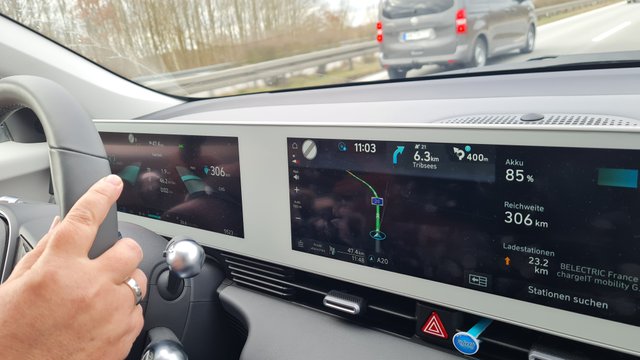 Hier gibt es große Unterschiede im Innenraum. Dadurch das Elektroauto kein Getriebe benötigt wird, gibt es auch kein Mitteltunnel im Auto. Das erhöht noch einmal das Platzangebot deutlich. Auch die Amateure sind nicht so wie bei meinem Verbrenner. Hier habe ich zwei Displays zu Verfügung, links die Tachoeinheit mit allen Informationen und recht befindet sich alles andere wie Media, Navigation, Temperatur Innenraumsteuerung und noch einiges mehr.
---
Here there are big differences in the interior. Because the electric car does not require a transmission, there is also no center tunnel in the car. This once again significantly increases the amount of space available. Also the amateurs are not like in my combustion car. Here I have two displays available, on the left is the speedometer unit with all the information and on the right is everything else like media, navigation, temperature interior control and more.
Außenansicht / Exterior view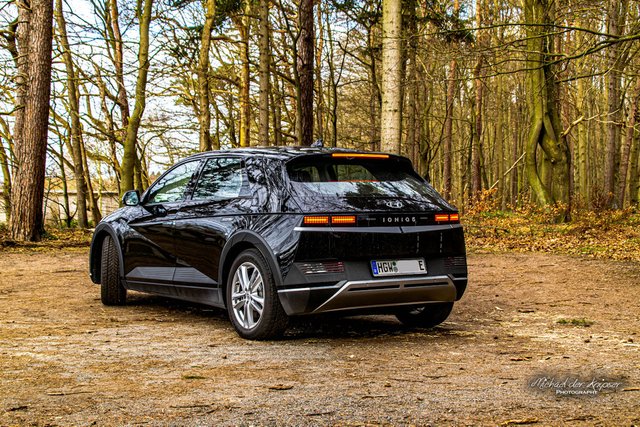 Es ist Geschmacksache, doch der ioniq 5 gefällt mir sehr. Nicht nur das vieles vom Prototypen übernommen wurde, sondern sich auch mal was neues Ausprobiert wurde. Das Pixel Design wurde im ganzen Auto durch gezogen. Hier bei den Rückleuchten sehr gut zu sehen und dasselbe kann man in den Frontscheinwerfer wieder endecken. Dieses Auto gehört zu den Crossover Modelle.
---
It's a matter of taste, but I really like the ioniq 5. Not only that much of the prototype was taken over, but also something new was tried out. The pixel design was used throughout the car. Here at the taillights very good to see and the same can be seen in the headlights again endecken. This car belongs to the crossover models.
Ladeleistung / Charging power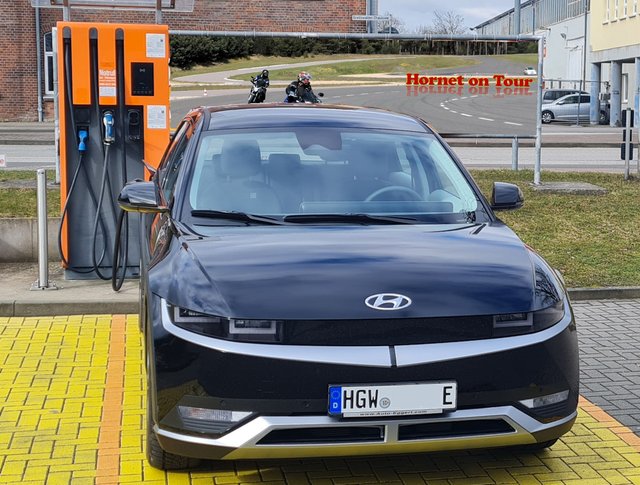 Hyundai verspricht, dass man innerhalb von 5 min 100 km Reichweite nachzuladen und das Laden von 10 bis 80 % nur 18 min dauert. Doch da kommt auch die erste Ernüchterung. Ja, das stimmt wohl, aber leider nur im Sommer, den im Winter wird die Batterie nicht vorgeheizt, damit er diese Leistung bringen kann. Man braucht auch eine Ladestation, die das kann also eine min. 300 KW Station zum Beispiel. Doch was haben wir hier im Norden nicht, zumindest noch nicht und nicht in meiner Nähe.
---
Hyundai promises that you can recharge 100 km of range within 5 min and that charging from 10 to 80% only takes 18 min. But that's where the first disillusionment comes. Yes, this is true, but unfortunately only in summer, because in winter the battery is not preheated, so that he can bring this power. You also need a charging station that can do that so a min. 300 KW station for example. But what we do not have here in the north, at least not yet and not in my area.

Das war der erst Teil, im 2. Teil werde ich die Alltagstauglichkeit beleuchten. Das heißt, wie ist der Verbrauch, was koste mich das Auto im Unterhalt. Ich hoffe, der erste Beitrag hat euch gefallen und wir werden uns im nächsten Beitrag wieder sehen. Bis dahin wünsche ich euch einen schönen Tag.
---
That was the first part, in the 2nd part I will illuminate the everyday usability. That is, how is the consumption, what cost me the car in maintenance. I hope you enjoyed the first part and we will see each other again in the next part. Until then, I wish you a nice day.
---
Euer Hornet on Tour
DIG VALIDATOR: Hornet_on_Tour
Instagram: https://www.instagram.com/hornet_on_tour/
Twitter: https://twitter.com/OnHornet
Photo: Hornet on Tour (Michael der Knipser)
Translated with www.DeepL.com/Translator (free version)