Estimating the Price of the Bollinger B1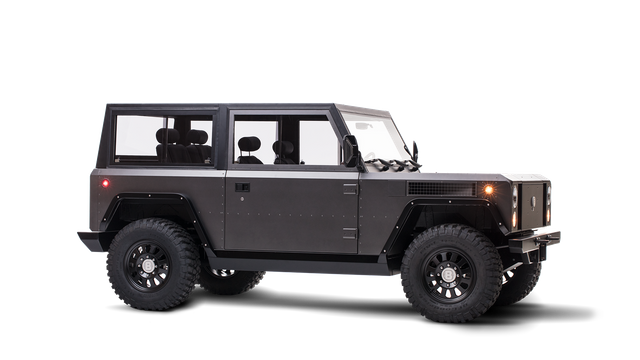 The Bollinger B1 is a all-electric barebones off road vehicle currently in development and due to begin production in 2018. Very little information, let alone costs, has so far been announced about it so I thought I could do a little digging and see what sort of price Bollinger may charge and what this tells us about the car they aim to eventually produce.
We know that the car is based upon a lightweight aluminium chassis which holds the batteries and High-strength Low-alloy steel rollover structure, as well as aluminium wheels, hydraulic steering and a regenerative braking system. There's a dual-motor configuration with peak power of 360 hp and 472 lb-ft (640 Nm) of torque.
By comparison to the rather impressive specification, the interior of the B1 sticks to a mantra of ruthless simplicity, with not much in the way of comfort other than a leather steering wheel and radio. The main attraction is quite literally its vast void of emptiness; there's an almost ridiculous 2690 litres of capacity once you take the rear seats out. The entire thing is supposed to be fairly modular so you can move stuff about to suit your needs or even turn it into a flatbed.
It seems very brave. Aluminium chassis, electric all wheel drives (with a bespoke gearbox no lest) and battery packs at least the size of current-generation EVs doesn't come easy, or cheap. Is it possible? Let us defer to the press release:
Bollinger Motors has a design, engineering and development center in Hobart, New York and the company is in talks with third-party independent vehicle manufacturers in the US who are conducting feasibility studies and financial estimates. Using an established manufacturer brings with it an inherent knowledge of the build process and also helps to control and mitigate costs. Bollinger is also engaged with the state of New York and reviewing options for potential future build facilities.
This sounds good. Hopefully production can start on time and the people putting down their $1000 deposits do end up with a shiny EV at the end of it.
"While we'll be announcing pricing and manufacturing targets later this year, the business case for the B1 makes sense at a very realistic and modest production number and at a price point of a nicely equipped sport utility vehicle," said Bollinger. "When you factor in this vehicle's superiority over the other choices on today's market, we think we have a winning combination."
This seems to fit very well with the concept of a 'Sports Utility Truck' Bollinger are pushing. As long as production remains fairly low scale and the finished product does outclass the plentiful pickups of America and upcoming Land Rover Defender, they will be quite happy to charge no less than $30,000-$40,000 for the standard 60kWh 3-door variant. The only thing I can think of that may depress that figure is the teased Tesla Model Y, but even then, it won't exactly be the 'People's Car' to herald a new age of glorious electric agro-industrialism.
What do you think about this then, I'd like to know. Frankly I love it.
Data from:
http://bollingermotors.com/Bollinger_B1_Announcement_PressRelease.pdf
http://bollingermotors.com/Bollinger%20Motors%20Chassis%20Press%20Release.pdf
All Images from bollingermotors.com
Thanks for reading, upvote and follow if you liked this and want me to do more car-related junk.