TELOS Trading Card #10 - Goodgrants for good dapps from Good Block
TELOS Trading Card #10 - Goodgrants for good dapps from Good Block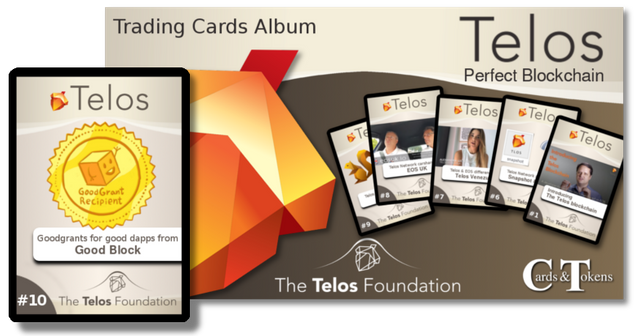 Telos Trading Cards
Cards & Tokens is going to be deployed over TELOS blockchain and celebrate it we decided to create a brand new album dedicated to promote this new blockchain the best way we can do it, with trading cards !!
Intro
Hi, guys. This is the last of the Telos Trading Cards which is fully dedicated to the "Good Grants" program that Goodblock is carrying on. I would love to share my experience on this with you but I still don't have much to say, rather than I wrote an email to [email protected] that goes like this:
Cards & Tokens applying for Good Grants
Hi there!
My name is Viterbo Rodriguez and I'm working on this project, Cards & Tokens.
I'm writing to you because I would like to apply for the Good Grants program from Good Block.
This last month I was working on four different things:
1 - Landing page.
This is just information website.
http://cardsandtokens.com
2 - Functional Prototype.
it's a demo website made with angular-php-mysql.
Its purpose is to show something working, to give an idea of how it would be part of the mechanics of the cards and the albums.
http://app.cardsandtokens.com
Here there's a video about it

3 - Telos Trading Cards
I'm registered in the Telos Community Reward Group and I've been writing about Telos while at the same time promoting the Telos trading cards (for a future album).
I have a post for each card in my steemit blog where I talk about specific aspects of this project on each one.
You can take a look at some of them here https://steemit.com/@viterbo
4 - EOS.IO Angular App Template
I started to build an abstract app template with all libraries needed to interac with any eosio based blockchain using Scatter and EOSjs
So far I have been able to retrieve any account data from any eosio blockchain and to make a successful transaction in EOS Mainnet and TELOS Testnet (somehow Jungle and Kylin testnets didn't work, I don't know why)
http://eosio.cardsandtokens.com
Here there's a video

Next Steps:
From now on I'm going to focus on going deep in the coding of smart contracts.
I plan to develop a prototype on Telos testnet and make it accessible through the website mentioned in point 4.
I am looking forward to your response and I hope we can work together to make this new network the best blockchain ever.
Thanks,
Viterbo
---
Response
I still don't have a complete response yet, although Douglas Horn himself answered, giving me some feedback that thay have received my email but they were very busy with the MainNet launch details. So I'm still waiting for that.
Benefits from Good Grants
If you plan to develop a Dapp over Telos Network you can apply for grants in this program. I you are selected, you may have your Dapp's CPU and Bandwith requiremets completelly or parcially covered for one year (at least).
Good Bye
With this card I finish the collection of 10 Telos Trading Cards that will be implemented on the Telos Mainnet as soon as possible for you to start collecting and filling the Album. When that happens, I will create a worker proposal to request funds to reward the accounts in being the first to complete the album. So you can gain TLOS tokens while collecting Telos Cards and having fun !
http://app.cardsandtokens.com/deploy/album/telos
Thanks
Again thanks everyone who is supporting me and this project. From my family to the great musicians from steemit Openmic that have participated in the Card Contest.
Also thanks to the people of Telos Foundation who were (and are) very kind to me and had helped in some way or another with the project.
Reed omre about goodgrants
https://goodblock.io/goodgrant
Find out more about this new aewsome blockchain at
https://telosfoundation.io/