Toyota has renewed a major model for Europe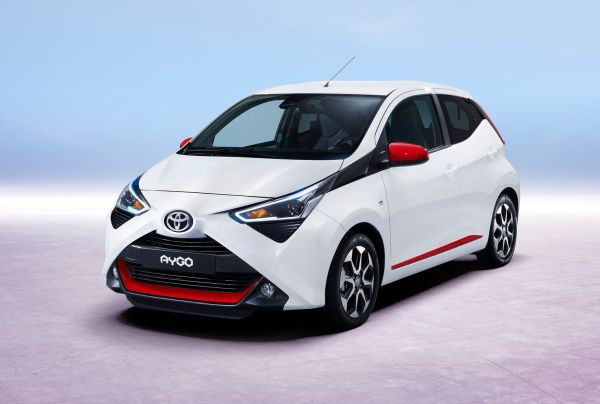 The Aygo hatchback also received a small increase in power
One of Toyota's premieres at the Geneva Motor Show will be the renewed Aygo, which continues to be one of Europe's leading brand models.
The car can be easily recognized by the X-shaped design that appears on the front. Bumps, air intake and optics are different, but overall the style is preserved.
The hatch will be available in two new colors Magenta (red) and Blue (blue), as well as new 15-inch rims. The lights are changed in the lounge, the digital panel is also changed. There are two new color solutions for the interior - Quartz Gray and Piano Black.
image.png
The model will be available in three levels of equipment - initial "x", average x-play and top-x-clusiv. The average level is provided with an air-conditioner and a multimedia system with a 7-inch screen.
The top-of-the-line version features special double-spoked wheels, leather elements in the saloon, navigation and Toyota Safety Sense Safety Complex. The company adds that special versions of "x-cite" and "x-trend" will continue to be available.
Under the cover of the renewed Toyota Aygo is a revised 3-cylinder gasoline engine with a DOHC gas distribution system. The power of the unit has increased from 69 to 72 hp, and it already meets the Euro-6.2 standard. The car accelerates from 0 to 100 km / h in 13.8 seconds and develops a top speed of 160 km / h.
image.png
In Europe, according to the site carsalesbase.com, the Japanese model enjoys good demand. His sales started in 2005, and in 2009 was recorded the best achievement - 103 252 sales. In 2017, the Aygo on the Old Continent was 84,588 sales, making it significantly superior to its main competitors, Sitroen C1 (53,292) and Peugeot 108 (55,831).
Source: www.automedia.investor.bg
Picture source: https://pixabay.com