Ford releases the monstrous Mustang in a limited series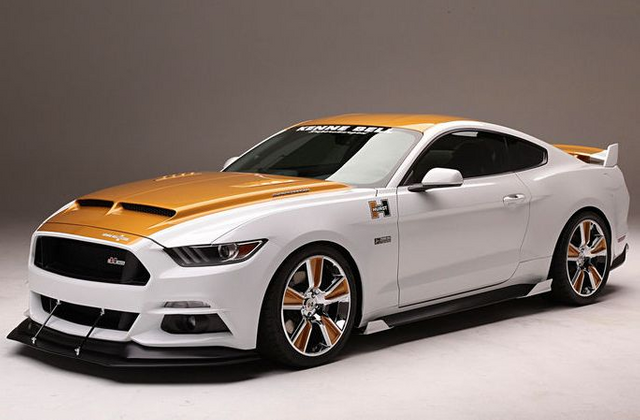 The Hurst and Kenne Bell machine will be up to 1500 hp.
Car makers and other companies are using the SEMA tuning to present their projects, which will hardly ever appear in series production. There are also exceptions, one of which is this Ford Mustang with monstrous power. He was promoted by the Hurst and Kenne Bell companies and will be released in a limited edition.
The gold-white sports car was built on the basis of the 6th generation of Mustang. The full name of the project is the Hurst Kenne Bell R-Code Mustang, with Hurst taking the gearbox while the Ken Bell engineer is entrusted with a turbine engine.
The ultimate atmospheric 5.0-liter V8 engine, powered by a 6-speed manual gearbox, has received a new fuel injection system as well as a new exhaust system in addition to the turbocharger. The power of the unit is increased by the standard 435 hp. up to 750 hp, but that's not the end result. In the Kenne Bell arsenal there is an even more powerful turbine that allows twice as much horsepower - about 1500.
It is curious that the suspension is almost standard for the model, with only the springs replaced and thus reduced ground clearance. The sports car has received additional aerodynamic elements, a new front hatch, and 20-inch wheels. From this machine will be produced 50 pieces, which have already been sold.
Source: www.automedia.investor.bg
Picture source: https://pixabay.com