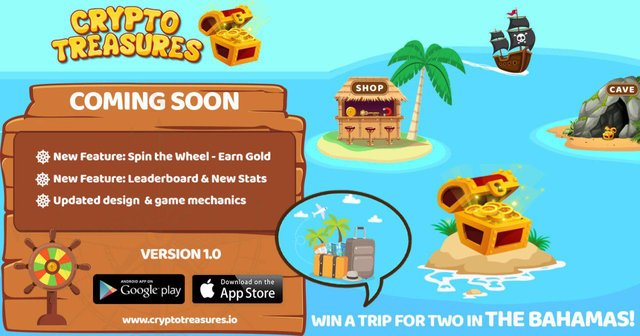 Hello everyone!
Based on feedback from our community during the Alpha and Beta Stages of Crypto Treasures, we are excited to announce some of the new features and game enhancements that are coming with the full release at the end of March:
• New Feature: Spin the Wheel - Earn Gold
• New Feature: Leaderboard & New Stats - Win a Trip for seven days to The Bahamas for two (more details to follow)
• Changes to videos and delivery to meet Provider requirements
• Updated game mechanics and design improvements
• Starting Quests and entering answers made easier
More announcements:
Limited Offer - From now until March 25th a bundle treasure package that includes Keys, Magnets and Gold is available with an Android update version 0.1.9.
Cannon Blast will be launched on the Apple App Store for our iOS users later this week!
Reminder, there is less than two weeks left to participate in the ICO, please support the Phoneum project as a platform, PHM the token, and the connected games and apps that we have currently, like Crypto Treasures and Cannon Blast, and more to come!
Contribute to the ICO: https://phoneum.io
Download Crypto Treasures for Android and iOS: https://cryptotreasures.io
Download Cannon Blast for Android: https://play.google.com/store/apps/details?id=com.cannon.blast
Thank you for the continued support!
Sincerely,
The Phoneum Team!