Og Kush Chocolates - Each chocolate contains 1ml BHO made from OG kush
OG kush Chocolate edibles - they are so tasty, can literally taste the earthy kush.
Really simple to make, well once you have pure butane hash oil made from your favourite selection of quality Cannabis.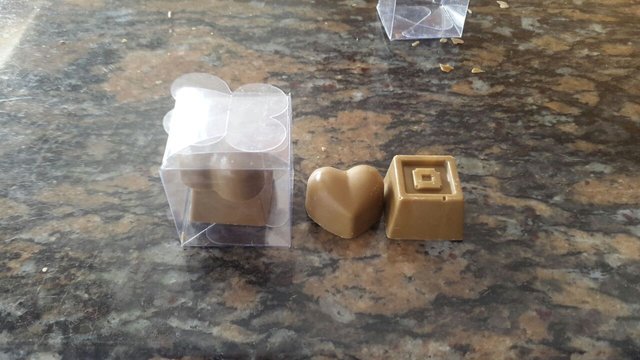 **
A word of caution these chocolates are not for newbies! If this is your first time making edibles then bring your ratio down to a third of what is mentioned below otherwise you will feel like you're going to die. (you definitely won't but it will most definitely feel like it)
Measure up how much volume a single chocolate would take up in an individual slot of your silicone chocolate mould by filling it with water and pouring it out into a measuring spoon.
Now that you have your volume you can work out your ratio.
I prefer to use the 1 : 10 ratio >> 1ml oil for every 10ml of chocolate.
Then place a metal bowl in a pot with boiling water so that the steam heats the bottom of the bowl.
now you put your allocated amount of chocolate in, keep moving it around until eventually all the chocolate has melted then add your total dose of oil and stir thoroughly for 2 mins.
Get your silicone moulds ready and begin to pour chocolate into the slots. Once all the chocolate is out the bowl and into the mould let it stand for 20 minutes then put it into the fridge for another 20 min so chocolate goes hard.
Remove from fridge push chocolates out the mould and keep them in a airtight container to preserve them.
Give it try it's so easy..