With more breweries per capita than any other city in the United States, Portland, Oregon boasts tons of opportunities to visit urban breweries, wineries and distilleries. With the legalization of adult-use marijuana in July 2015, Portland now also adds cannabis cultivation facilities and dispensaries to this mix.
Like with thoughtful small-batch drinks, cannabis also has a craft culture, with artisanal growers
sprouting up around the city hoping to boost the local economy, allow law enforcement to focus on more serious crimes and get drug dealers off the streets — all while offering a quality product that users can feel safe purchasing. Not only that, but locals are getting creative in the ways users can experience cannabis.
On April 20, 2016, I decided to take advantage of Oregon's legalized recreational cannabis
opportunities and celebrate 4/20 by enrolling in a two-hour Puff, Pass & Paint class. Denver-based painter Heidi Keyes originated this educational and interactive happening in 2014. After two years of sold out classes, Heidi partnered with Samantha Montanaro who now offers monthly cannabis-infused art classes at Portland's Prism House PDX.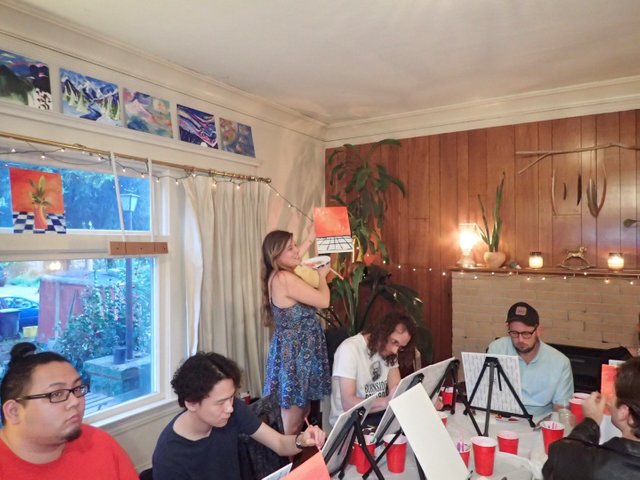 When I arrived at 7:15pm class had just begun, with thirty people — each behind an 11 x 14 canvas — filling the living and dining rooms. Under Samantha's step-by-step guidance even non-artists like me learned a few basics about how to use perspective and color to create a still-life depiction of a vase filled with flowers.
In honor of 4/20, Urban Fields donated a giant joint that was passed around, though only a few
adventurous painters dared to partake in this supersize doobie. Some chose to smoke a more
standard size joint or partake from the dose vape pens from Titrate made from organic herb blends and combined with Clean Green Certified premium cannabis. For those who enjoy cannabis-infused edibles, Half Baked Labs provided brownies (10mg) and caramels (30mg), while Margalaxy supplied raw, gluten free and vegan moon bars for those wanting a non-infused bite.
Slowly I eased myself into art. Very gingerly I put paint to canvas, taking care to follow Samantha's instructions. Occasionally I took a hit from the vape pen next to me. My background contained the requisite lines needed to achieve proper perspective and my flower vase began to emerge in the foreground. In a very methodical manner, I depicted the nuances of light and shading as I crafted a painting befitting the Thomas Kinkade crew.
But within an hour the edibles I consumed kicked in, and my painting took a definite surreal turn. Samantha encouraged us to venture into the kitchen where we could choose multimedia objects such as magazine clippings and pressed cannabis leafs to add dimension to our work.
As my mind became more mischievous, I inserted a rather phallic looking shrimp photograph into my floral arrangement. This addition gave my painting a definite Dadaist vibe. I then layered into my flower vase multimedia elements such as a photo of a couple kissing and a few selected pressed cannabis leaves.
As we hit the two-hour mark, we all put down our paintbrushes and pot. In my altered state I could see how my cannabis-inspired brush strokes transformed my painting from pornographic to psychedelic. I seemed to have unlocked a spiritual and sexual energy that infused an inner life to my still life painting.
I would never classify my creation as museum-quality art; but cannabis definitely elevated my mind, so what I produced could never be called Kinkade-like.
While this was my first attempt at cannabis-focused arts, I've also been to some of Prism House PDX's other cannabis related events like ganja yoga and a ganja themed-Halloween party. To catch wind of their future events, like them on Facebook (https://www.facebook.com/prismhousepdx/).
This article was written by me and originally posted on Epicure & Culture. (http://epicureandculture.com/puff-pass-paint-portland-oregon/).