Cannabis and Cancer in the Scientific Literature: A 2019 review
I found a study published in January 2019 titled False News of a Cannabis Cancer Cure. This article claims increasing concern among healthcare communities about misinformation online about using cannabis to cure cancer. Their methodology consisted of a search for cannabis and cancer compared to standard cancer therapies using Google Trends' relative search volume tool. The researchers categorized news on social media about cannabis use in cancer as 1) false 2) accurate or 3) irrelevant WITH NO EXPLANATION OF THE CRITERA FOR THESE CATEGORIES! They assume that the phenomenon is caused by cannabis legalization.
"The online search volume for cannabis and cancer increased at 10 times the rate of standard therapies (RSV 0.10/month versus 0.01/month, p<0.001), more so in states where medical or recreational cannabis is legal. The use of cannabis as a cancer cure represented the largest category (23.5%) of social media content on alternative cancer treatments. The top false news story claiming cannabis as a cancer cure generated 4.26 million engagements on social media, while the top accurate news story debunking this false news generated 0.036 million engagements.
@Drutter and I have done plenty of cannabis curing cancer research, so I decided to update the reserach with a scientific literature review of studies published so far by Easter 4/20 Weekend 2019. There were only a couple of bad studies by my criteria, but I was pleased to find well-done studies for various types of cancer, a new scientifically documented human case study, more advances in glioblastoma (GBM), paraneoplastic syndrome, and a handful of studies on breast cancers, including from some of my favourite researchers at Complutense University in Madrid. Here's a look at what 2019 has to say about cannabis as a cancer treatment.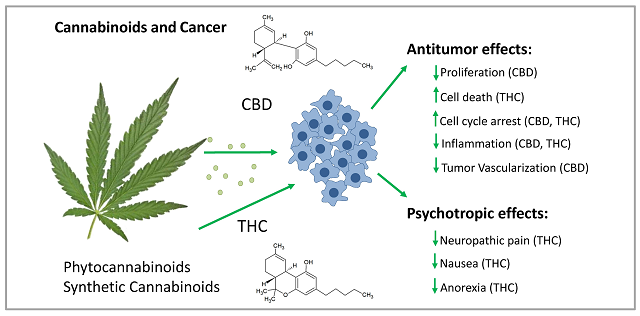 Brain cancer
-"Role of miRNA in the regulation of cannabidiol-mediated apoptosis in neuroblastoma cells"
Cannabidiol (CBD) induces apoptosis in neuroblastoma (NBL) cells through activation of serotonin and vanilloid receptors. CBD-mediated apoptosis in NBL cells is regulated by miRNA. CBD upregulates downregulated genes and downregulates upregulated genes that cause NBL.
-"Lipid nanocapsules decorated and loaded with cannabidiol as targeted prolonged release carriers for glioma therapy: In vitro screening of critical parameters"
-"Cannabis-related cognitive impairment: a prospective evaluation of possible influences on patients with cancer during chemotherapy treatment as a pilot study"
-"On the influence of cannabinoids on cell morphology and motility of glioblastoma cells"
Cannabinoids can influence glioblastoma cell motility, morphology and actin organization in a cell line-dependent manner.
-"Synthetic Cannabinoids Influence the Invasion of Glioblastoma Cell Lines in a Cell- and Receptor-Dependent Manner"
Cannabinoids can influence glioblastoma cell invasion in a receptor and cell type specific manner that is independent of proliferation and apoptosis.
-"Inhibition of ATM kinase upregulates levels of cell death induced by cannabidiol and Gamma-irradiation in human glioblastoma cells"
Cannabidiol (CBD) can induce cell death and enhance radiosensitivity of GBM but not normal astrocytes; meaning, it takes less adjunctive radiotherapy to treat the tumor and does not affect normal, healthy brain cells. In fact, it spares the brain a lot of radiation and acts as a neuroprotectant.
Breast Cancer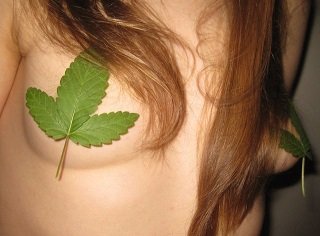 -"Therapeutic targeting of HER2-CB(2)R heteromers in HER2-positive breast cancer"
There is a subtype of breast cancer characterized by the overexpression of the oncogene HER2. Many patients do not respond to HER2-targeted therapies and others develop resistance with time. HER2–CB2R heteromers could be new therapeutic targets and prognostic tools in HER2+ breast cancer because of promising new results from selective targeting of CB2R transmembrane region 5 which mimicks THC effects.
- "Delta-9-Tetrahydrocannabinol upregulates fatty acid 2-hydroxylase (FA2H) via PPARa induction: A possible evidence for the cancellation of PPARß/d-mediated inhibition of PPARa in MDA-MB-231 cells"
-"Future Aspects for Cannabinoids in Breast Cancer Therapy"
-"The onus of cannabinoids in interrupting the molecular odyssey of breast cancer: A critical perspective on UPRER and beyond"
Cannabinoids from Cannabis Sativa L. stimulates autophagy-mediated apoptotic death of tumor cells through unfolded protein response (UPRER) activated downstream effectors, but also imposes cell cycle arrest.
Skin Cancer
-"Review of Common Alternative Herbal Remedies for Skin Cancer"
Online alternative herbal remedies for skin cancer may contain false or inaccurate info, but some actually do induce apoptosis of skin cancer cells and should be investigated further. But the full study is not available and cannabis is conveniently lumped in with other random herbs.
-"Cannabinoids: Potential Role in Inflammatory and Neoplastic Skin Diseases"
The endocannabinoid system is fully functional in the skin and is responsible for treating skin cancer and maintaining many aspects of skin homeostasis, such as proliferation, differentiation, and release of inflammatory mediators.
-"Cannabinoids as a Potential New and Novel Treatment for Melanoma: A Pilot Study in a Murine Model"
Murine B16F10 melanoma tumors were treated with intraperitoneal injections of Cannabidiol (CBD) 5 mg/kg twice per week (n = 6). A significant decrease in tumor size was detected in mice treated with CBD when compared with the control group. The survival curve of melanoma tumors treated with CBD increased when compared with the control group and was statistically significant. Mice treated with Cisplatin demonstrated the longest survival time, but the quality of life and movement of CBD-treated mice were observed to be better. CBD and Cisplatin could be used together.
Other Types
-"Potential Use of Cannabinoids for the Treatment of Pancreatic Cancer"
THC, CBD, and synthetic cannabinoids have shown to act on both cannabinoids receptors to treat pancreatic cancer.
-"Cannabinoid WIN 55,212-2 induces cell cycle arrest and apoptosis, and inhibits proliferation, migration, invasion, and tumor growth in prostate cancer in a cannabinoid-receptor 2 dependent manner"
Synthetic cannabinoid WIN treats PC3, DU145, LNCaP prostate cancer cell lines.
-"Cannabidiol-induced apoptosis is mediated by activation of Noxa in human colorectal cancer cells"
CBD induced apoptosis in a Noxa-and-ROS-dependent manner of human colon cancer cells HCT116 and DLD-1.
-"Assessment of Cannabinoids Agonist and Antagonist in Invasion Potential of K562 Cancer Cells"
- "Striking lung cancer response to self-administration of cannabidiol: A case report and literature review"
A scientifically documented case study shows an 80-year-old ex-smoker who refused treatment for lung adenocarinoma. The patient took two drops (0.06mL, 1.32mg CBD) twice daily for a week and then nine drops (0.3mL, 6mg CBD) twice daily. for a total of 200mg CBD in 10mL over the course of a month. Results showed near total resolution of the left lower lobe mass with only a small area of residual spiculated soft tissue remaining (1.3×0.6cm, from an original 2.7×2.8cm) and a significant reduction in size and number of mediastinal lymph nodes.
-"The Endocannabinoid/Endovanilloid System in Bone: From Osteoporosis to Osteosarcoma"
-"Cannabis sativa L. and Nonpsychoactive Cannabinoids: Their Chemistry and Role against Oxidative Stress, Inflammation, and Cancer"
A good general review about cannabinoids and disease, especially cancer.
-"Dronabinol for the Treatment of Paraneoplastic Night Sweats in Cancer Patients: A Report of Five Cases"
- "Cannabinoids in cancer treatment: Therapeutic potential and legislation"
The Republic of Slovenia established a legal basis for the use of cannabinoids in the years 2016 and 2017
Sources:
Alharris, E., et al (2019). "Role of miRNA in the regulation of cannabidiol-mediated apoptosis in neuroblastoma cells". Oncotarget, 10(1), 45–59. doi:10.18632/oncotarget.26534 https://www.ncbi.nlm.nih.gov/pmc/articles/PMC6343753/
Aparicio-Blanco, et al (2019). "Lipid nanocapsules decorated and loaded with cannabidiol as targeted prolonged release carriers for glioma therapy: In vitro screening of critical parameters". European Journal of Pharmaceutics and Biopharmaceutics, Vol 134, pp. 126-137, https://doi.org/10.1016/j.ejpb.2018.11.020. https://www.sciencedirect.com/science/article/pii/S0939641118311366
Bar-Sela G, et al (2019). "Cannabis-related cognitive impairment: a prospective evaluation of possible influences on patients with cancer during chemotherapy treatment as a pilot study". Anticancer Drugs. 30(1):91-97. doi: 10.1097/CAD.0000000000000685. https://www.ncbi.nlm.nih.gov/pubmed/30540595
Blasco-Benito S, Guzmán M, Sánchez C, et al (2019). "Therapeutic targetifng of HER2-CB(2)R heteromers in HER2-positive breast cancer". Proceedings of the National Academy of Sciences of U S A. Vol 116(9):3863-3872. doi: 10.1073/pnas.1815034116. PMID:30733293 PMCID:PMC6397550 https://www.pnas.org/content/116/9/3863.long
Carr, C. et al (2019). "Dronabinol for the Treatment of Paraneoplastic Night Sweats in Cancer Patients: A Report of Five Cases". Journal of Palliative Medicine.http://doi.org/10.1089/jpm.2018.0551 https://www.liebertpub.com/doi/full/10.1089/jpm.2018.0551
Dall'Stella, P. B., et al (2019). "Case Report: Clinical Outcome and Image Response of Two Patients With Secondary High-Grade Glioma Treated With Chemoradiation, PCV, and Cannabidiol". Frontiers in oncology, 8, 643. doi:10.3389/fonc.2018.00643 https://www.ncbi.nlm.nih.gov/pmc/articles/PMC6345719/
Dariš, B., et al (2019). "Cannabinoids in cancer treatment: Therapeutic potential and legislation". Bosnian Journal of Basic Medical Sciences, 19(1), 14–23. doi:10.17305/bjbms.2018.3532
https://www.ncbi.nlm.nih.gov/pmc/articles/PMC6387667/
Gholizadeh F, et al (2019). "Assessment of Cannabinoids Agonist and Antagonist in Invasion Potential of K562 Cancer Cells". Iranian Biomedical Journal. 23(2):153-8. https://www.ncbi.nlm.nih.gov/pubmed/29883990
Hirao-Suzuki M, et al (2019). "Delta-9-Tetrahydrocannabinol upregulates fatty acid 2-hydroxylase (FA2H) via PPARa induction: A possible evidence for the cancellation of PPARß/d-mediated inhibition of PPARa in MDA-MB-231cells". Archives Biochemical Biophysics. 662:219-225. doi: 10.1016/j.abb.2018.12.011. https://www.sciencedirect.com/science/article/abs/pii/S0003986118307458
Hohmann, T., et al (2019). "On the influence of cannabinoids on cell morphology and motility of glioblastoma cells". PloS one, 14(2), e0212037. doi:10.1371/journal.pone.0212037 https://www.ncbi.nlm.nih.gov/pmc/articles/PMC6372232/
Hohmann, T., et al (2019). "Synthetic Cannabinoids Influence the Invasion of Glioblastoma Cell Lines in a Cell- and Receptor-Dependent Manner". Cancers, 11(2), 161. doi:10.3390/cancers11020161 https://www.ncbi.nlm.nih.gov/pmc/articles/PMC6406558/
Ivanov, V. N., et al (2019). "Inhibition of ATM kinase upregulates levels of cell death induced by cannabidiol and Gamma-irradiation in human glioblastoma cells". Oncotarget, 10(8), 825–846. doi:10.18632/oncotarget.26582 https://www.ncbi.nlm.nih.gov/pmc/articles/PMC6368233/
Kisková, T.; Mungenast, et al (2019). "Future Aspects for Cannabinoids in Breast Cancer Therapy". International Journal of Molecular Science. Vol. 20, Pp. 1673. https://www.mdpi.com/1422-0067/20/7/1673
Kosgodage, U. S., et al (2019). "Cannabidiol Affects Extracellular Vesicle Release, miR21 and miR126, and Reduces Prohibitin Protein in Glioblastoma Multiforme Cells". Translational Oncology, 12(3), 513–522. doi:10.1016/j.tranon.2018.12.004 https://www.ncbi.nlm.nih.gov/pmc/articles/PMC6314156/
Laurence, D.R.M., et al (2019). "Cannabinoid WIN 55,212-2 induces cell cycle arrest and apoptosis, and inhibits proliferation, migration, invasion, and tumor growth in prostate cancer in a cannabinoid-receptor 2 dependent manner". The Prostate. Vol 79(2). https://doi.org/10.1002/pros.23720 https://onlinelibrary.wiley.com/doi/abs/10.1002/pros.23720
Li JY, & Kampp JT (2019). "Review of Common Alternative Herbal Remedies for Skin Cancer". Dermatological Surgery. 45(1) pp. 58-67. doi: 10.1097/DSS.0000000000001622. https://www.ncbi.nlm.nih.gov/pubmed/30096105
Milando R, Friedman A (2019). "Cannabinoids: Potential Role in Inflammatory and Neoplastic Skin Diseases". American Journal of Clinical Dermatology. 20(2):167-180. doi: 10.1007/s40257-018-0410-5. https://link.springer.com/article/10.1007%2Fs40257-018-0410-5
Pellati, F., et al (2019). "Cannabis sativa L. and Nonpsychoactive Cannabinoids: Their Chemistry and Role against Oxidative Stress, Inflammation, and Cancer". BioMed Research International, doi:10.1155/2018/1691428
https://www.ncbi.nlm.nih.gov/pmc/articles/PMC6304621/
Rahman, S., et al (2019). "The onus of cannabinoids in interrupting the molecular odyssey of breast cancer: A critical perspective on UPRER and beyond". Saudi Pharmaceutical Journal, 27(3), 437–445. doi:10.1016/j.jsps.2019.01.005
https://www.ncbi.nlm.nih.gov/pmc/articles/PMC6438785/
Rossi, F., et al (2019). "The Endocannabinoid/Endovanilloid System in Bone: From Osteoporosis to Osteosarcoma". International Journal of Molecular Science. Vol 20, Pg. 1919.
https://www.mdpi.com/1422-0067/20/8/1919
Sharafi, G., He, H., & Nikfarjam, M. (2019). "Potential Use of Cannabinoids for the Treatment of Pancreatic Cancer". Journal of Pancreatic Cancer, 5(1), 1–7. doi:10.1089/pancan.2018.0019 https://www.ncbi.nlm.nih.gov/pmc/articles/PMC6352507/
*Shi, S., et al (2019). "False News of a Cannabis Cancer Cure". Cureus, 11(1), e3918. doi:10.7759/cureus.3918 https://www.ncbi.nlm.nih.gov/pmc/articles/PMC6426557/
Simmerman, E. et al (2019). "Cannabinoids as a Potential New and Novel Treatment for Melanoma: A Pilot Study in a Murine Model Simmerman", Journal of Surgical Research, Vol 235, pp. 210 - 215
https://www.journalofsurgicalresearch.com/article/S0022-4804(18)30626-7/fulltext
Soyeon Jeong, et al (2019). "Cannabidiol-induced apoptosis is mediated by activation of Noxa in human colorectal cancer cells". Cancer Letters, Vol 447, pp. 12-23, https://doi.org/10.1016/j.canlet.2019.01.011.
https://www.sciencedirect.com/science/article/pii/S0304383519300230
Sulé-Suso, J., et al (2019). "Striking lung cancer response to self-administration of cannabidiol: A case report and literature review". doi:10.1177/2050313X19832160 https://www.ncbi.nlm.nih.gov/pmc/articles/PMC6385325/