Smoke and fitness: it's possble!!!
For us,
#smoking
a joint is directly related to relaxing and thinking about our favorite food to calm the monchis. However, over the years it has been found that our friend
#cannabis
can produce more positive things than just awaken in us a voracious appetite that makes us able to eat the world (literally).
---
Enjoying a #healthy and #fitness life, in addition to involving the consumption of cannabis is possible.
---

The athletes pro marijuana
Currently there are many athletes who have joined this movement. They claim that using marijuana causes them a sense of well-being and above all, CBD facilitates a deep connection between the mind and the body, making the exercise more coordinated and intense.
It also contributes with the energy and ability to finish those repetitions in the gym that lead to muscle failure due to the amount of weight used.
Obviously, other of its magical properties is to help athletes to reduce the pain and discomfort produced after intense sports sessions.
---
Cannabidiol, the molecule responsible
Being the non-psychoactive compound of marijuana, it is the holy grail of the pro-cannabis movement that has already managed to make the consumption of this substance legal for medical purposes.
CBD helps with inflammatory processes, pain, fatigue and depression. Also CBD favors the energy, the confidence of the athlete and mental wellbeing to face competitions and tournaments.
The scientific evidence is so strong that the World Anti-Doping Agency has eliminated the CBD from the list of banned substances.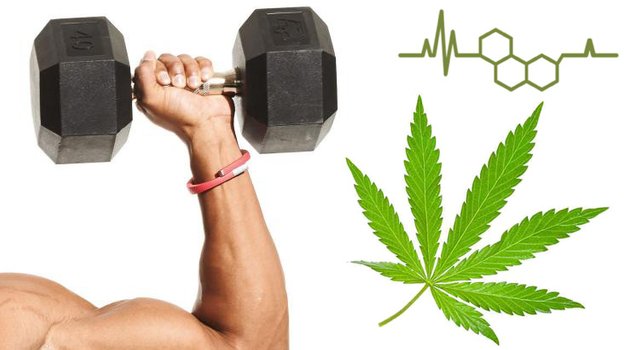 Source
Have you ever used cannabis to exercise?
I've never tried it! But I hope to do it soon and tell you my experience.