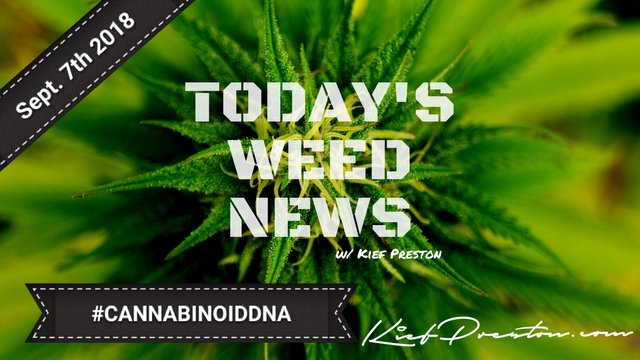 For today's weed news we go to the great city of Boston.
As global perception of cannabis continues to evolve, innovations within the cannabis niche continue emerging. And now, one company is trying to take things to a whole new level.
Ginkgo Bioworks Inc. from Boston, MA has just partnered up with one of Canada's largest cannabis companies Cronos Group Inc. to try and produce cannabinoids in their lab using the cannabis DNA, but without actually growing any plants themselves.
They hope that by using this approach they will be able to isolate and then Mass produce cannabinoids that are usually only found in trace amounts when extracted from plants.
One such cannabinoid is Delta-8-THC, which has been linked to tumor reduction and the death of cancer cells. At this moment, there is virtually no way for growers to produce plants with enough Delta-8-THC content to make and sell Delta-8-THC concentrate cartridges for instance.
So basically, Ginkgo Bioworks Inc. is trying to genetically engineer lab-grown cannabinoids. They call this approach "brewery economics".
Citing advantages such as not having to worry about climate conditions as well as the ability to produce cannabinoids on a more predictable and consistent basis, Ginko CEO Jason Kelly recently told Bloomberg that "the reality is that brewery economics is going to wipe the floor with farming economics".
Only the future will tell if Kelly's assumption is correct or not, but in today's world, there's definitely money to be made by mass-producing rare cannabinoids in a lab.
That being said I personally don't like the idea because I believe that cannabis should be natural and organic and that whole plant extracts or medications are the way to go. But that's just my opinion.
One thing is for sure, this isn't the first and surely will not be the last big innovation in the cannabis space.
And that's what's up!
source: bit.ly/2MfwF0C
"Take Action Today to Help Legalize Weed Tomorrow" -Kief Preston
START HERE: kiefpreston.com/
Wanna GROW? Free GROW BIBLE – https://bit.ly/2podIAg
NEED A VAPE? VaporNation has Da Buddah Vaporizer and ALL the BeSt Brands + FREE SHIPPING - https://bit.ly/2L6hOFp
SURFSHARK UNLIMITED No-Log VPN - https://bit.ly/2NKwPPn
If you enjoy my content please leave a comment, ask a question, like it, share it, and subscribe for more! It will help me grow my blog and motivate more people to stand up for cannabis and start enjoying its' many benefits.
Stay UP! -Kief
▶ STEEMIT steemit.com/@kiefpreston.com
▶ Pinterest – pinterest.com/kiefpreston
▶ Youtube Channel – bit.ly/2GPQg64
▶ Kief Preston's Time-Tested Edibles Cookbook Series http://bit.ly/2EXIwAZ
▶ My website KiefPreston.com
▶ You can also support the cause by shopping on Amazon for ANYTHING you need using this link amzn.to/2GrxPog
More FIRE TRACKS from LMR & Mr Go Hard https://bit.ly/2plIWbe
▶ Hear me on Smoke Radio here: https://bit.ly/2JTCgJw
》》》FOLLOW and LIKE the Weekly Weed News 2.0 Podcast on Spreaker: bit.ly/2HjLf99 or on Itunes, Stitcher, Soundcloud, iHeartRadio AND nOw on Spotify!