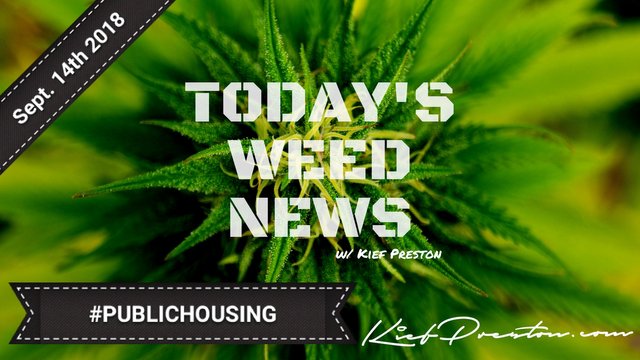 For today's weed news we go to the Department of Housing and Urban Development.
Even though medical cannabis is legal in 30 States, the fact that it is federally illegal still causes lots of problems for medical marijuana patients, even in their home states.
One big problem is the way that MMJ patients are treated by HUD.
According to Vice, legal medical marijuana consumers in medical states who disclose their MMJ patient status when applying for Section 8 low-income housing are automatically denied because HUD is a federal agency and the federal government does not recognize cannabis as anything beyond a schedule 1, addictive, dangerous and useless substance.
If they lie on their application and are later found to be medical users, patients risk getting evicted or worse, so that isn't a solution either.
The crazy thing is that over two-thirds of Americans live in states where MMJ is legal. So basically, the majority of America could potentially be forfitting their right to subsidized housing by simply following their doctor's orders.
Can someone please explain to me how the fuck that makes any sense at all?
HUD came up with the current policy of denying cannabis users any public assistance back in 2011, when there were only 14 MMJ states and no recreational states yet. Since then that number has more than doubled.
In a recent update about the issue, the Department of Housing and Urban Development clearly stated that this policy is going to remain on the books "unless Congress passes a law to change it".
So it looks like our leaders are still totally okay with throwing people out on the streets for doing something legal that their doctor says will help them lead better and healthier lives.
Is that what defending the will of the people is supposed to look like?
I really think it's time we vote in some new people because these fools seem to be doing only that which benefits them, not us.
Make sure you show up to the polls this November people.
source: bit.ly/2NGmqqY
"Take Action Today to Help Legalize Weed Tomorrow" -Kief Preston
START HERE: kiefpreston.com/
Wanna GROW? Free GROW BIBLE – https://bit.ly/2podIAg
NEED A VAPE? VaporNation has the Dr. Dabber Ghost Black Edition Vaporizer and ALL the BeSt Brands + FREE SHIPPING - https://bit.ly/2NwZOt0
SURFSHARK UNLIMITED No-Log VPN - https://bit.ly/2NKwPPn
If you enjoy my content please leave a comment, ask a question, like it, share it, and subscribe for more! It will help me grow my blog and motivate more people to stand up for cannabis and start enjoying its' many benefits.
Stay UP! -Kief
▶ STEEMIT steemit.com/@kiefpreston.com
▶ Pinterest – pinterest.com/kiefpreston
▶ Youtube Channel – bit.ly/2GPQg64
▶ Kief Preston's Time-Tested Edibles Cookbook Series http://bit.ly/2EXIwAZ
▶ My website KiefPreston.com
▶ You can also support the cause by shopping on Amazon for ANYTHING you need using this link amzn.to/2GrxPog
More FIRE TRACKS from LMR & Mr Go Hard https://bit.ly/2plIWbe
▶ Hear me on Smoke Radio here: https://bit.ly/2JTCgJw
》》》FOLLOW and LIKE the Weekly Weed News 2.0 Podcast on Spreaker: bit.ly/2HjLf99 or on Itunes, Stitcher, Soundcloud, iHeartRadio AND nOw on Spotify!