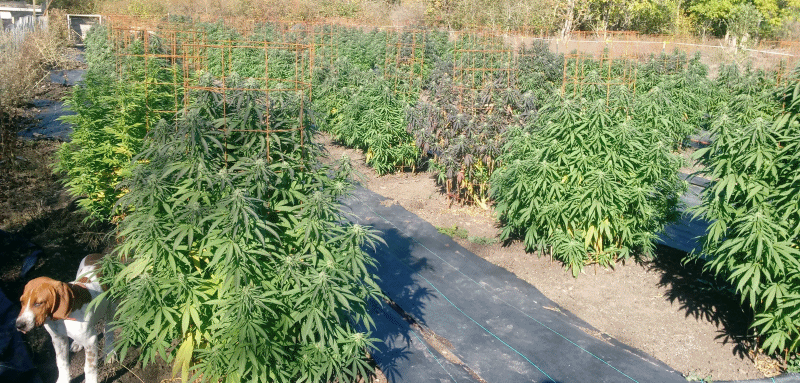 This second farm project has been absolutely crazy, but successful so far. Many of my articles that are about to release are backdated a bit, but I should catch up in about a week.
This season did not come without it's issues however, although problems were thankfully minimal. We had two sick plants, one plant that was falling apart but survived, one plant that was so stunted and stressed it had to be removed, and some brown spotting on yellowing leaves. None of these problems set us back in any kind of major way. We still have not had time to look up what the exact issue was with the spotted leaves or two sick plants. Does anyone have any idea what causes this?.. (pictured below):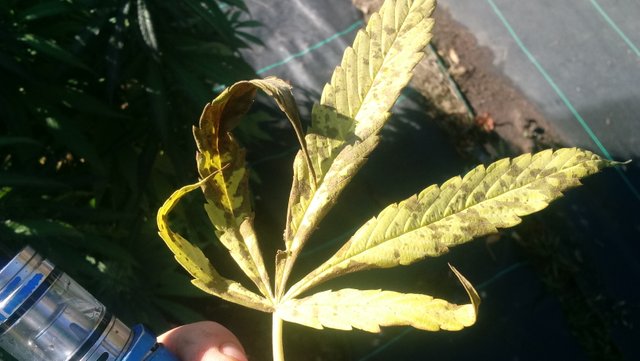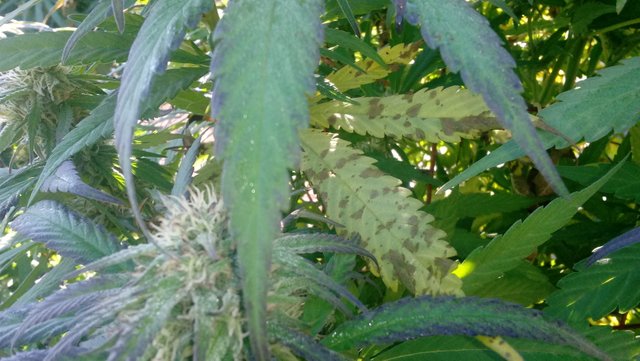 Here are photos of our two sick plants that made it to harvest: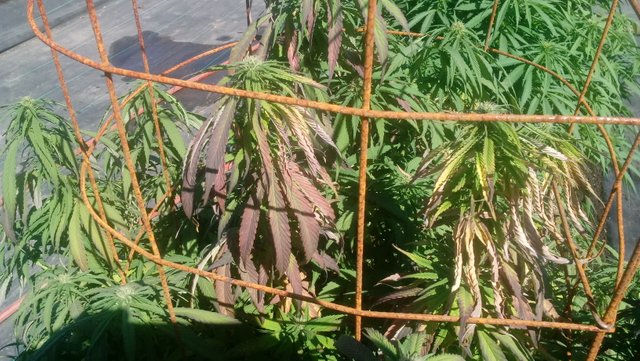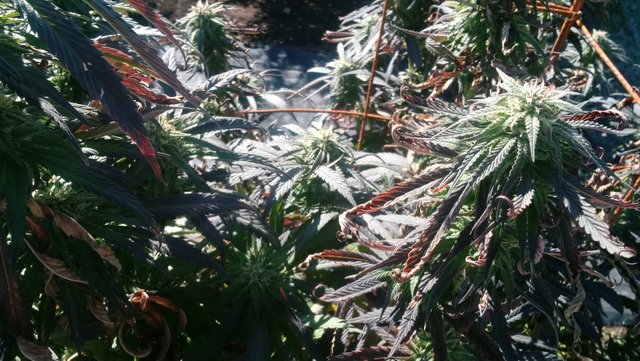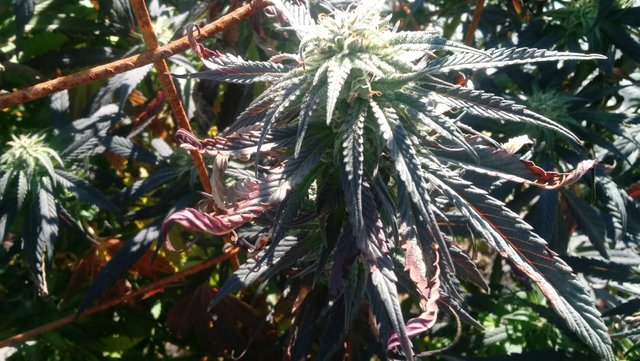 Best example shot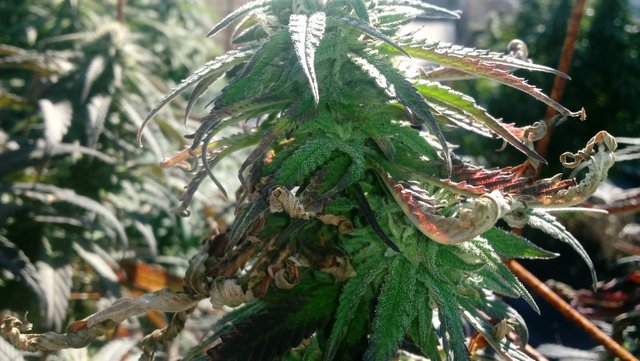 We also had an issue of birds marking their territory on one specific plant. I call this the bird bombing run site, as it seems the birds only targeted this one plant, and left everything else alone. I have no idea what this plant did to piss off those birds so... it may forever remain a mystery.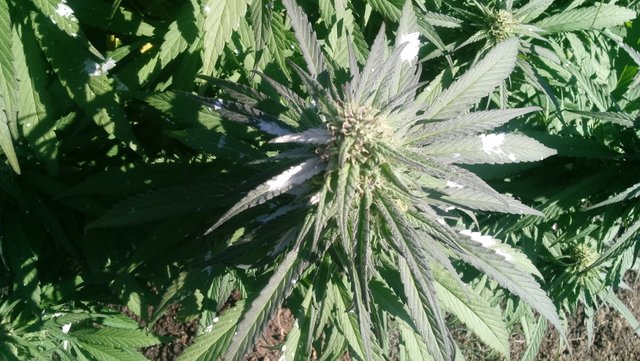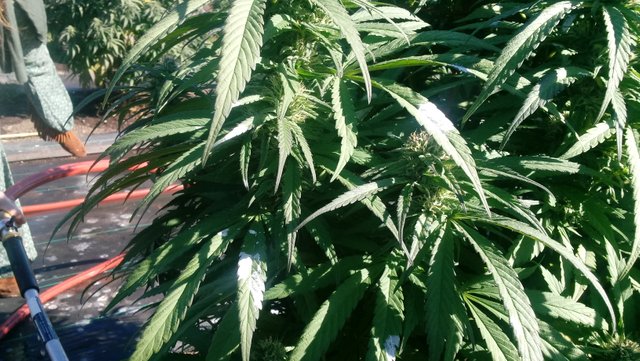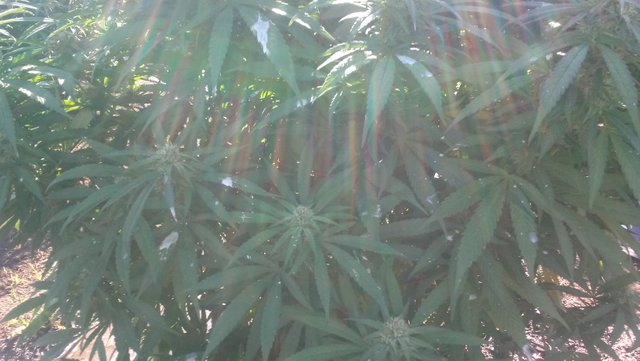 The Health of the rest of the garden is next to spectacular (minus the spotting issue), and am happy to achieve the results we did, despite the small stature of the plants.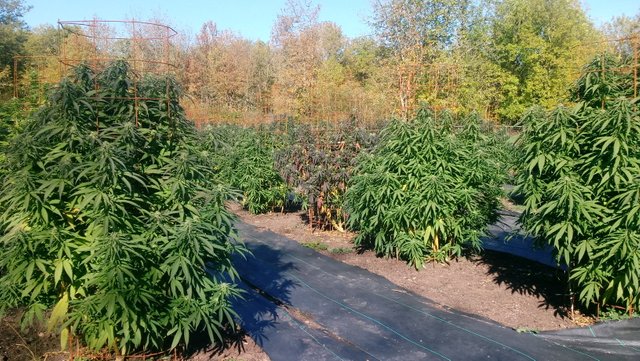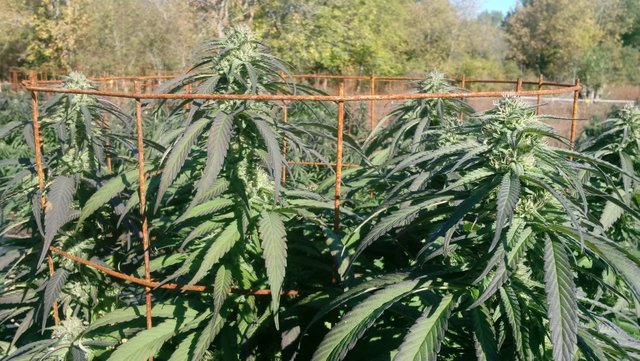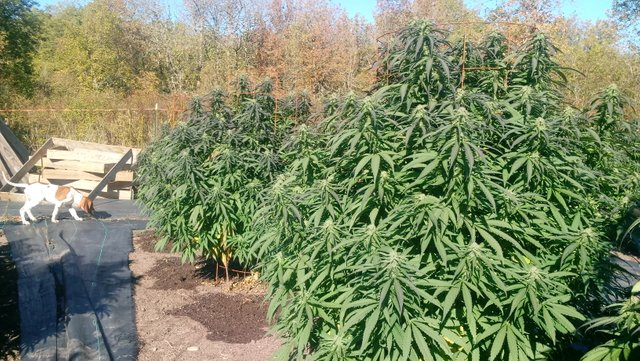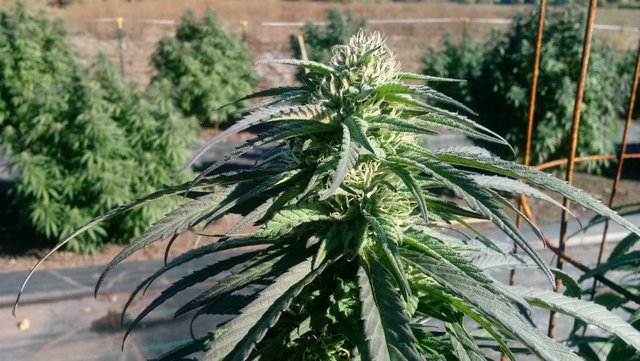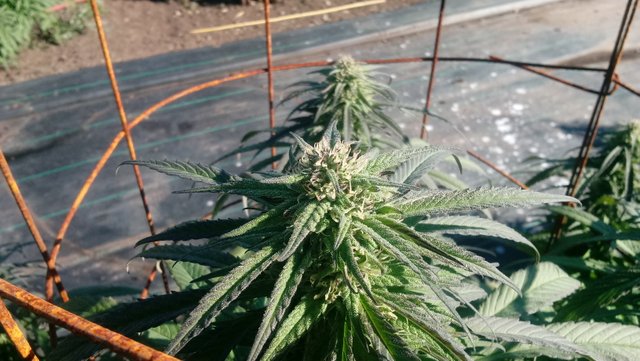 We actually harvested everything today, and missed a garden #2 update from early September (9-3), as well as the above update from 9-19. Pictured below is a few photos from early September... for your comparison.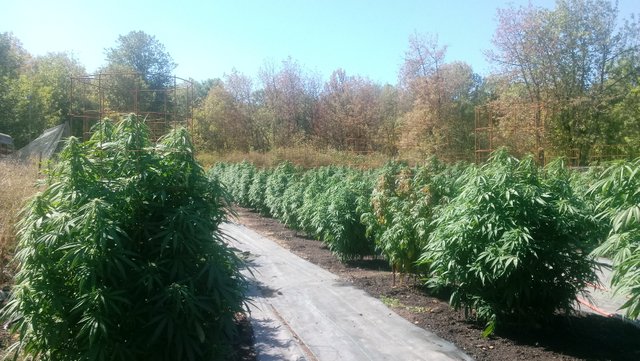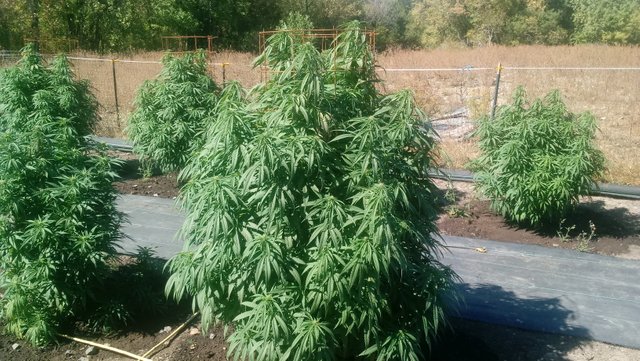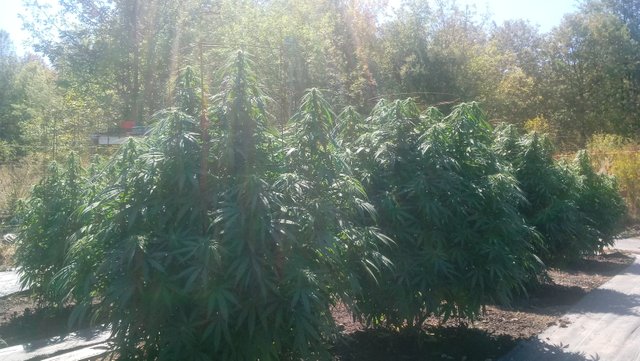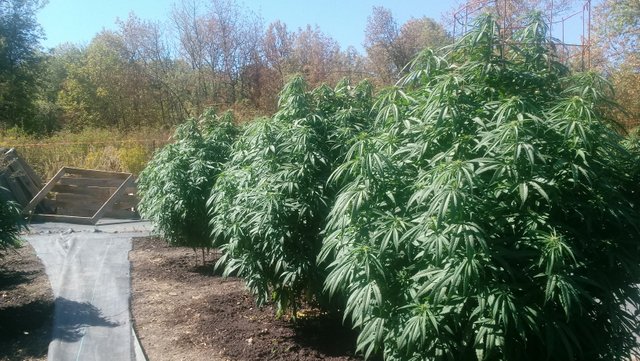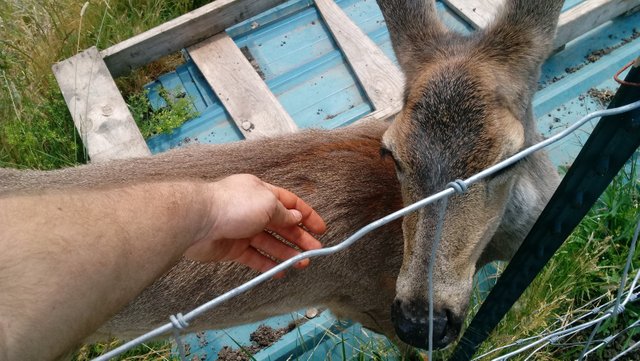 I also would like to mention that the Deer on this property did not end up eating any of our buds like I had feared. It is a fortunate grace, which I feel is a direct result of my objection of it being near our grow. I think they watched it more closely after I mentioned something about it. Our babies have most certainly grown up unscathed.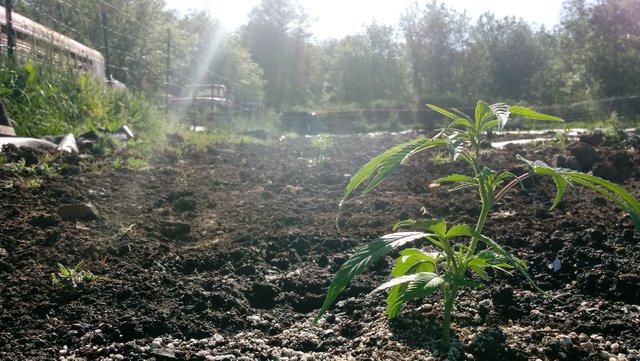 If you have been wondering who that cute dog is running around the garden in the photos, I cannot tell you his name (since I do not know it), but I can tell you that this is the cutest and most fun-loving puppy I have ever met. He lives a happy care-free life roaming the farm, and pretty much does whatever he wants, whenever he wants. This was the only animal out there that we let inside our gates... and how could we not, just look at him!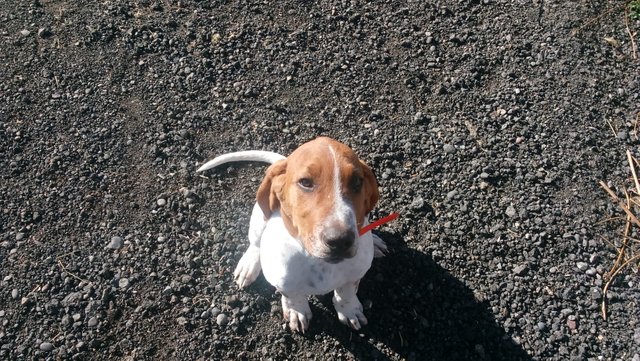 Below is a short video of me playing with the puppy. I had to record this to show you all just how cute this dog actually is. If you are a dog lover, and you thought the photos were cute, then you definitely need to watch this (click pic below to play):
I will have another update for garden #2 soon, that will complete this part of my grow series this year. There will also be an additional article down the road showing how the plants grew in each stage through present, with animated GIF images for display.
Blessings everyone & stay tuned - into the right frequencies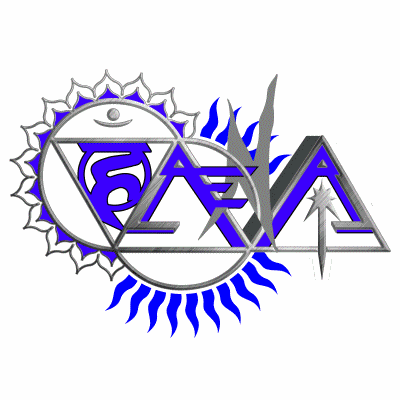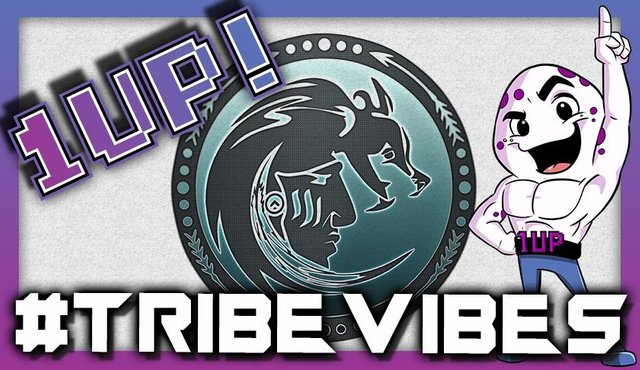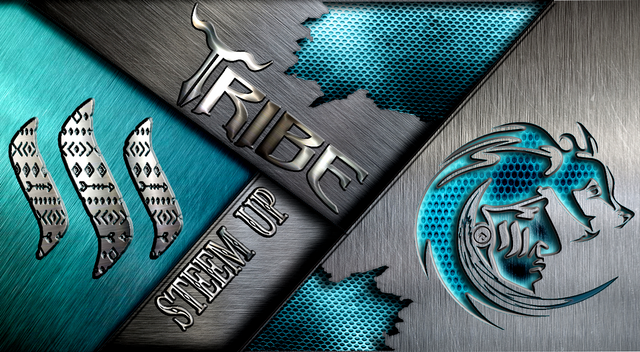 PLEASE CLICK HERE to view my blog with all my recent articles on cannabis, silver, Steemit, contests, cryptos, underground conscious Hip-Hop, healthy living, festivals, my collections, and MY STEEMIT STORIES! & have a BLESSED DAY!!