Monday Curation Show With @asonintrigue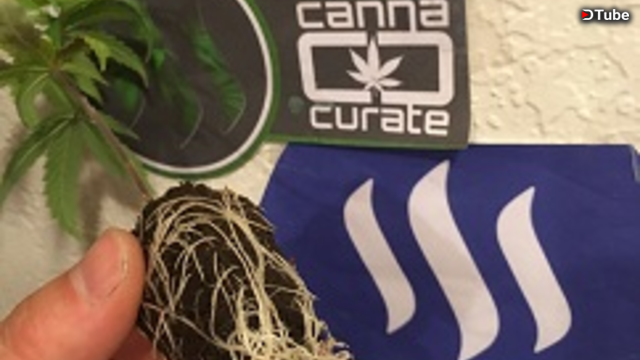 ---
What's up Dtube! So first let me apologize for not having our intro video out yet. Things are getting busy over at Canna-Curate. The cannabis community is growing into something really special. The price of Steem does not phase us one bit. We value people over money any day. So when you here us talk about community, we really mean it. You have 10sp or 100,000 we look at you the same. Anybody is welcome to join us along this ride.

Hope you enjoy this show from last night with @asonintrigue. One of our best shows yet! Looking forward to many more. Want to be a guest? Want a show on one of the hottest Discord servers? Hit us up. You can find Canna-Curate people everywhere ;)

Delegators: @alchemage, @amymya, @ArtisticScreech, @battleaxe, @billmega, @Bluntsmasha, @cannabiscurator, @conradino23, @cryptohustlin, @darkprince66, @davedickeyyall, @deanpiecka, @dynamicgreentk,@dynamicrypto, @d-vine, @ELAmental, @ericwilson, @fatkat, @foodforestbot, @fracasgrimm, @futuremind, @ganjafarmer, @goldendawne, @hotsauceislethal, @jonyoudyer, @kimmysomelove42, @k0wsk1, @krazypoet, @lyndsaybowes, @mandyfroelich, @marksheppard, @movingman,@msp-creativebot, @netgodbeerus, @olafurthor, @pataty69, @pharesim, @paradigmprospect, @phusionphil, @rakkasan84, @rawpride, @realkiki85, @SammoSK, @sgt-dan, @skylinebuds, @underGRound, @qwoyn

Trail Makers: @jonyoudyer, @Bluntsmasha, @conradino23, @ELAmental, @netgodbeerus, @cannabiscurator, @realkiki85, @doctorspence, @darkprince66, @cannaqueen, @hiatus, @tilestar, @naturalfox, @canna-collective, @deary, @foodforestbot, @nikema, @Tafgongthe1st, @loryluvszombies, @spicedlife, @gjones15, @mrunderstood, @benzeta, @stoned2thebone, @cannafarms, @thegreenhouse, @cultivar, @liquid-mike, @brockmorris, @ganjagirl, @MadPotters, @chey, @growingassets, @the-haze, @skylinebuds, @gingy710, @growroom, @kootsmedtree, @cowboyblazerfan. @suheri, @imammudarifqi, @grow-pro, @winnerchris, @twirlspin, @pdxlove, @cannabis-news, @cannuration, @steem420, @socialmisfit, @heyimsnuffles, @ambiguity, @phoenixwren, @batman0916, @greenfooteCO, @ceattlestretch, @njweedman, @superwoman916, @movement19, @bengiles, @growroom, @elderson, @hemp-lord, @deadisdead, @coffeebuds, @gregorypatrick, @asonintrigue, @freedomtribe, @bembelmaniac, @mango-juice, @powpow420, @oh-high-mark, @stonerfeed, @kaz2305, @derangedvisions, @veteranforcrypto, @rebeccaryan, @bigriffsbongrips, @spicedlife, @a1-shroom-spores, @kiefpreston.com, @dilwhosaskin, @argenisapaz, @sapphic, @paradigmprospect, @vegangod, @qwoyn, @borofreak, @sunnydays-r-over, @kawa23, @caperf35, @yogajill, @dynamicsteemians, @khackett, @zuculuz, @soundwavesphoton, @cannajess, @theywenttojareds, @moniroy, @tecnosgirl, @offgridlife, @mjgeeks, @cannabisrawuncut, @cannacannacanna


| | |
| --- | --- |





Hit that banner and come network and chill with like minded people.


12.5SP - 25SP - 50SP - 100SP - 250SP - 500SP - 1000SP
---
▶️ DTube
▶️ IPFS