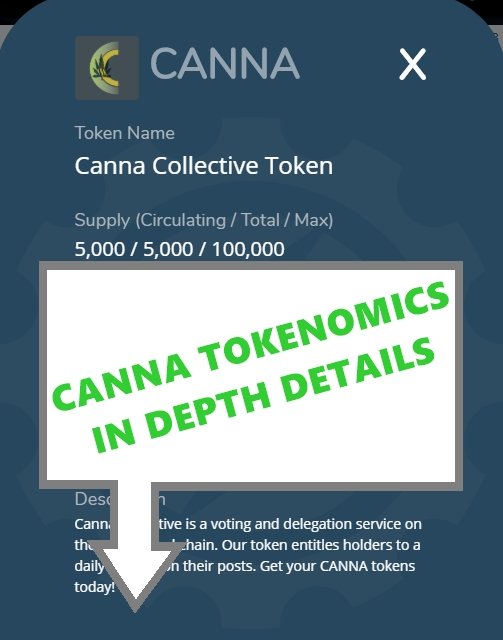 Yesterday we officially announced the launch of our new token and services offered by the @Canna-Collective account. This is going to give some more details about the CANNA token as well as some specifics about the future direction of the project.
Token Supply And Release Schedule
There will be a total of 100,000 CANNA tokens created and they are being released in eleven stages. Currently there are only 5,000 tokens in circulation, each priced at 1 STEEM each and available on Steem-engine.com. No tokens were airdropped, given away or held by the account as they represent STEEM-backed assets on the blockchain and will only be available through the market.
Each token stage will gradually increase in STEEM token price and will be capped at 2 STEEM per token at the final stage. Here is a visual representation of the token release schedule: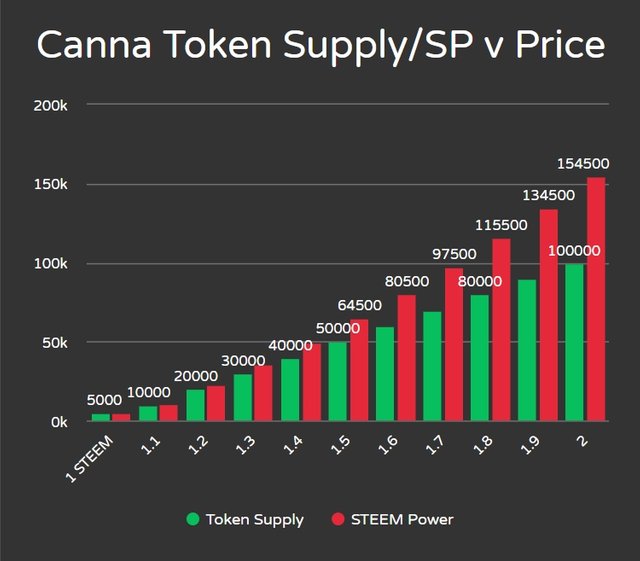 As you can see over time the STEEM Power generated through token sales will outpace the token supply, giving a boost to early token holders while still providing a profitable service to new investors through added delegations and curation/author reward re-investments into the account. The actual STEEM Power of the account is impossible to know at this time but it will most definitely be higher than the projected figures due to STEEM inflation and rewards.
Token Function, Purpose and Use Cases
The primary purpose of the CANNA token is to represent a vote share in the account @Canna-Collective. Token holders are entitled to a daily up-vote from the account at a pre-determined vote percent. Currently the voting is being automated through steemauto.com and token tracking is being done manually but we are looking into having these functions handled by a bot in the near future.
Every purchase of CANNA tokens goes directly towards the STEEM Power of the @Canna-Collective account, minus the 1% withdrawal fee that goes to Steem-engine's platform. This voting power will be split amongst the token holders according to their investment and the total number of tokens distributed at the time.
CANNA tokens are not necessarily speculative assets as their value is not intended to fluctuate short term given that tokens are distributed at a pre-set price on the market and they represent STEEM Power. However, over time we expect the value of STEEM to appreciate against the dollar, as well as the collective amount of STEEM in the account to increase. This will generate profits for tokens holders over time as the crypto markets grow.
Future Implementations
By the end of token stage three when 20,000 CANNA have been distributed the plan is to begin roll out of the staking feature on Steem-engine.com. There is a 1000 ENG fee (1000 STEEM) to enable this function for your asset so we will fund this through token sales during that phase. This will allow better control and oversight of the tokens as more people begin to join the Canna-Collective token pool. We do not intend to reward users with tokens for staking however, as each asset will need SP backing in order for the system to work; the staking function will only be used to ensure proper vote controls.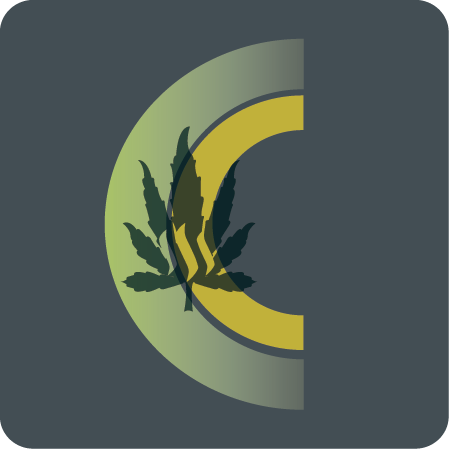 Benefits To The Community
In addition to giving the STEEM token more liquidity, all of the of Steem-engine platform tokens bring new levels of value to the blockchain. They increase user engagement with innovative user interfaces and assets. They also help develop and try out different tokenized functions in a wide range of projects.
The CANNA token was developed to support the Cannabis community by bringing them a new type of voting service that also offers delegation payouts and a curation trail. The token will power up the account which brings three different services together in one place:
Token sales back STEEM Power in the account- we all benefit through votes as the STEEM token appreciates over time.
Delegations to the account will receive weekly payouts in liquid STEEM. This is possible through post payouts and through start up delegation funds to other voting services.
Curation trail and vote-for-vote fanbase service. No spending STEEM required, no delegation required, just STEEM Power. (Strict no spam policy)
The token is just one part of the @Canna-Collective project but it may perhaps be the most integral part because it is the driving factor behind the growth of the STEEM Power. Help support your Cannabis community today with CANNA tokens 😎
DISCLAIMER: This Canna-Collective Token White Paper v1 is for information purposes only. Canna-Collective/Canna-Curate does not guarantee the accuracy of or the conclusions reached in this white paper, and this white paper is provided "as is". Canna-Collective does not make and expressly disclaims all representations and warranties, express, implied, statutory or otherwise, whatsoever, including, but not limited to: (i) warranties of merchantability, fitness for a particular purpose, suitability, usage, title or noninfringement; (ii) that the contents of this white paper are free from error; and (iii) that such contents will not infringe third-party rights. Canna-Collective and its affiliates shall have no liability for damages of any kind arising out of the use, reference to, or reliance on this white paper or any of the content contained herein, even if advised of the possibility of such damages. In no event will Canna-Collective or its affiliates be liable to any person or entity for any damages, losses, liabilities, costs or expenses of any kind, whether direct or indirect, consequential, compensatory, incidental, actual, exemplary, punitive or special for the use of, reference to, or reliance on this white paper or any of the content contained herein, including, without limitation, any loss of business, revenues, profits, data, use, goodwill or other intangible losses.