Cancer is defined as the abnormal growth and multiplication of cells in the body. It can also be called malignancy. Common types include-breast cancer, prostate cancer, skin cancer, lung cancer cervical cancer etc. Now symptoms experienced depend on the type of cancer.
Cancer generally form tumors, but then, not all tumours are cancerous.
Cancerous tumor have the ability to migrate from site of origin via the body's drainage systems to other parts of the body where the continue multiplying and disrupting body functions thus manifesting as the symptoms experienced. Not only do they disrupt body functions, they also steal nutrients and use them to grow.
It is said-" YOU GENE HOLDS THE GUN AND YOUR LIFESTYLE PULLS THE TRIGGER".
It is possible to have a "twisted" gene (capable of powering the multiplication of mad cells)without triggering the disease just by maintaining a healthy lifestyle.
Stop Excessive Drinking.
Stop smoking.
Stop applying just anything on your delicate skin, be sure your body creams and other skin preparations contains no carcinogens.
Eat good stuffs-fruits,vegetables and drink lots of water.
Exercise regularly
I'm Abigail Godwin Udoh and LETS
#STAY HEALTHY#
#STAY HEARTY#
#WIN TOGETHER#
#VIRTOUS QUEENS NETWORK#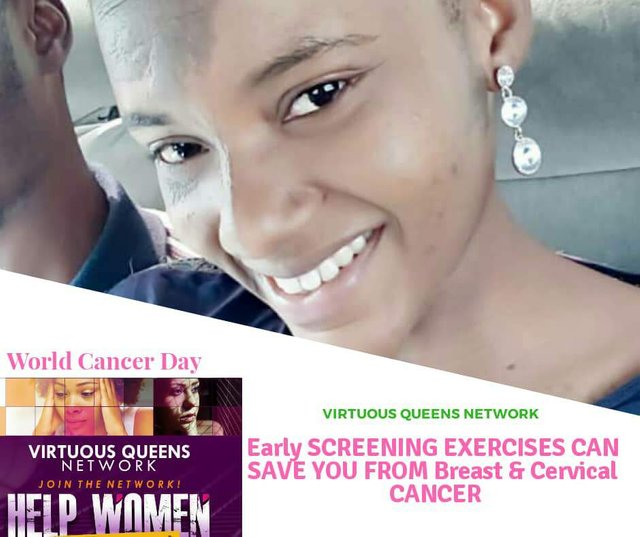 img by Virtuous Queens Network.
At this point, I'd really like to say thank you to everyone who takes time to read my post.
Please upvote, comment, resteem... And follow my blog!
I'd really like to get your thoughts on life's issues.
Love you loads!!
I'll be bringing in more messages and I've made a list of people who really inspire me on this platform... And I know this list can only get longer.
Thank you so much
💋💋💋💋💋❤❤
@chbartist @rynow @blessed-girl @darlenys01 @coolguy222 @Juanmanuellopez1 @certain) @wems @praditya @atlingz @midgeteg@vickykarma @lexymaine @brightsun@sanjoea
@alokkumar121@trailreward@mariannewest@freewritehouse@dwaygner@in-his-image@zulaqli@enjoycompany@praditya@remsorfh@wilsonblue5@zubbyfaith@natebuck@ronel@borrowedearth@missladybug@girlsfoundation@Adamdavid@magnata@issabellalucas@hugonelson@adenijiadeshina@angelinafederer@danielsamuel@liveyourlife@jessicaalex@hifa@juliaz@jordanwarren@tramelibre@wesleyvandersel@shashiprabha@frankhood@certain@rafique1953@wilsonblue5@newageinv@austineedward@bdncontent@kertmason@brittandjosie
Please note the list above are individuals whose simple comments and post have inspired me in one way or the other.. And I know there are many more people like that.
I don't regret mentioning you guys and I love the fact that you see things as they are and speak up for what's right.
Love you guys!!!
Posted using Partiko Android