Camwhores Private Video Bypass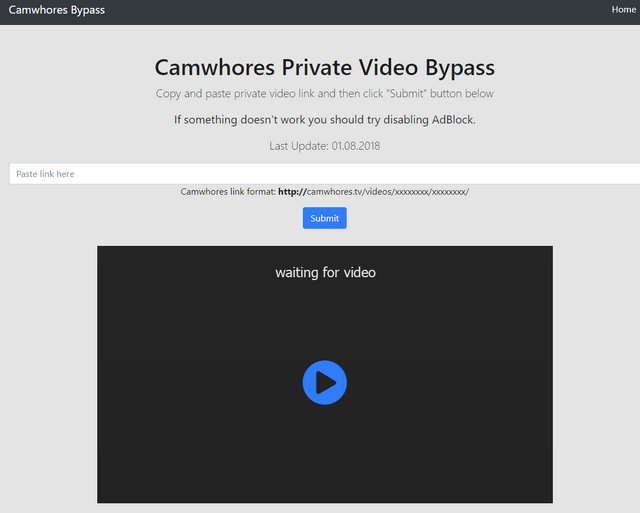 Hi! For the past two weeks, I've been working on Camwhores Private Video Bypass that will have a success rate of at least 90%. I managed to create such a tool and it has an even better success rate - namely 99%. It was a very hard task because Camwhores website has patched most of the popular loopholes in their code and I had to find something new.
... but firstly please let me give some pieces of information for people that don't know what Camwhores is.
Camwhores is an adult website where people are uploading recorded cam shows from popular cam websites such as Myfreecams or Chaturbate. Right now there are hundreds of thousands of videos uploaded. But there is one problem with these videos - you can't watch them until you are a friend of the user that has uploaded the video. This solution prevents uploaders from having legal problems because most of the models don't allow to record the videos. Camwhores is a free membership site but if you want to watch private videos you have to be a friend of the uploader. Some of them doesn't accept anyone into friends they just use the site to store their recordings. Majority of private video uploaders are requested having your own interesting videos uploaded and after that, they may accept your friend request.
Different people and different rules. But most of us don't want to upload any videos we want just to watch them. And that's why the Camwhores Bypasses were created. As far as I know, my Camwhores Bypass is the only one that is working properly. If you want just to test it head over to Camwhores Bypass
And if you want to know how the tool works read the text below...
As I said earlier for the past two weeks I have been working on the creation of working Camwhores Bypass that would make possible to download private Camwhores videos without being even a registered user. And I succeeded, the tool is online and working. Most of the recent Camwhores Bypasses were working for like few days or maximum few weeks. I created a bypass that is almost impossible to patch so it will probably work as long as Camwhores website will exist.
I started this project not because I wanted to download private videos but because I like challenges. The success rate of my bypass is around 99% (some of the videos are on a different server and can't be bypassed but they are a minority). If you head over to the link above you'll see that this is the simplest tool. You just have to copy and paste the private video URL to the form and click "Submit" button. And that's all - after a second you'll be able to watch the video directly on the site. At this moment you can't download the video because it could overload the servers as the tool may become popular but in the future, I may add that kind of option
As for now, the tool is completely free. But it will become popular I can add some restrictions like 5 private videos a day and premium membership to pay for the server costs.
And once more the URL to the Camwhores Bypass - Camwhores Private Video Bypass