Day 12 Santo Domingo de la Calzada to Belorado
This morning was FREEZING COLD! I couldn't believe how cold it was. I couldn't even think it was so cold. First thing that happened was Em and Court told us that they wouldn't be joining us. They felt they needed another rest day and so were going to stay behind. It was sad news but we let them go. I was now more at peace with leaving friends as I was taught by the camino that your paths will cross again when you needed them.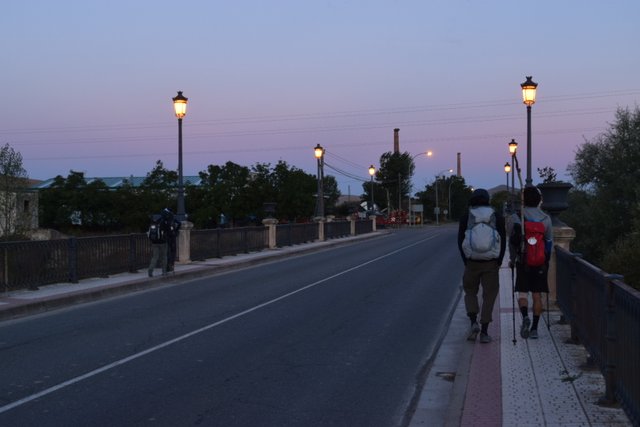 So we hit the cafe as usual. First stop, un espresso por favor! Then we were on the road. My hands were hurting it was so cold! Especially the finger that Emiel managed to bend in the unpreferred direction last night at a game of snap. We were walking with Emiel and Abi when we realised we were low on cash. On the camino you always have to have a little bit of cash in case your albergue doesn't accept card payments. So we left the others and went on a mission. When we came back to the camino path, we ran into Emiel who had thought he had lost his portable charger but upon returning to the albergue found it was in his bag all along. I guess the cold was affecting all of us.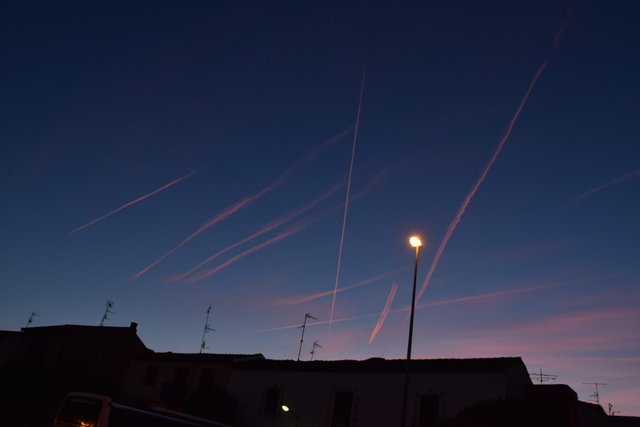 We were leaving the city of Santo Domingo de la Calzada when the sun began to cast jaw-dropping colours across the skies. Each jet in the air was highlighted by a bright Tuscan orange glow and the clouds around reflected that. Even though we were absolutely freezing we couldn't help but stopping and taking some pictures in awe of what was before us.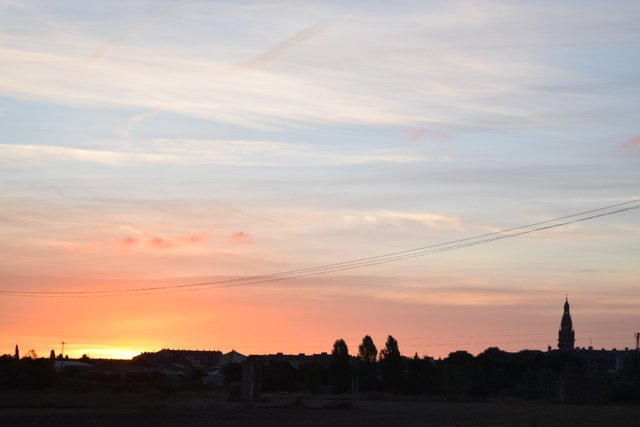 During this time Emily and Courtney appeared beneath the pastel-coloured skies. We were shocked but also understood that this is what the camino does for us. They said that because they were up anyway they thought they may as well join us on today's hike. We pressed on towards Belorado and before long the temperatures picked up and we felt bliss together. Walking in unison, an odd mob of walkers from all different countries and backgrounds. We learnt that our new friend Emiel was a government advisor in The Hague. He was responsible for briefing a member of their parliament on debates and meetings regarding criminal rehabilitation. It was very interesting to hear and he showed me a photo of his meeting with New Zealands very own Minister of Justice, Andrew Little.'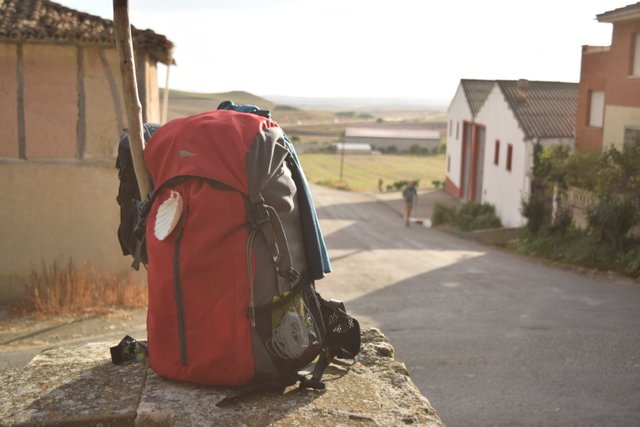 Our first stop on the walk led us to a little town where we regrouped and got another coffee. There was a trendy little coffee truck as we entered and they had a pilgrim's restocking corner. There were many useful items and the guide said to take what you need and leave what you can. I got a small length of string and rope to use for washing line in the dormitorios and some green tea. I left a little donation. After this we hit the bakery and grabbed a few baguettes for the road, how cultured are we?!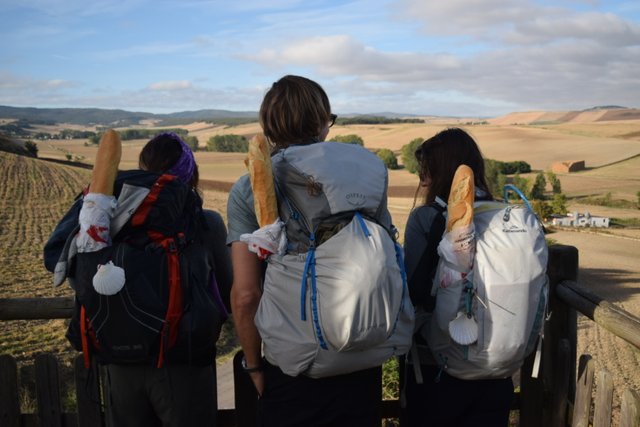 Departing the town we found a massive stack of hay. I called a photo shoot and we got a new allbum cover photo for our band.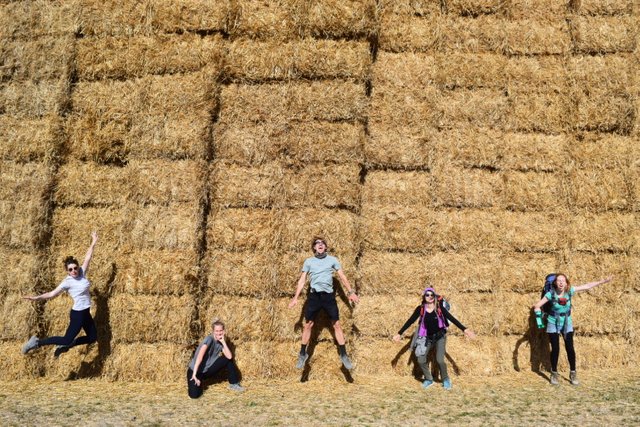 The next surprise the camino had for us was a small donativo albergue. We stopped for a nosy and found there was a donativo cafe and the hospitalero was holding the tiniest kitten I've ever seen. We melted a little bit and then took turns holding, feeding and donating. The kind lady described how the kitten appeared on her doorstep one morning and since then she has been taking care of it. It was tiny and so sweet, it took so much energy to leave.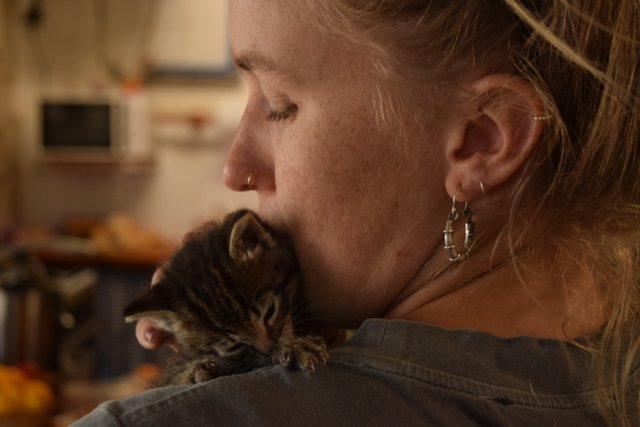 The final stretch followed a busy highway towards Belorado. It was very flat and noisy. I threw my headphones in, stretched my walking sticks out and powered my way to the first albergue in town. It had a swimming pool, a restaurant and because there were 6 of us we were able to secure an 8 bed dorm for ourselves for only 8 euros each! Perfect. Emiel and I decided to make the most of our money by jumping into the pool which we discovered was colder than ice water so we promptly jumped out. Micheal the American was there too and we had a chat and warmed up in the sun.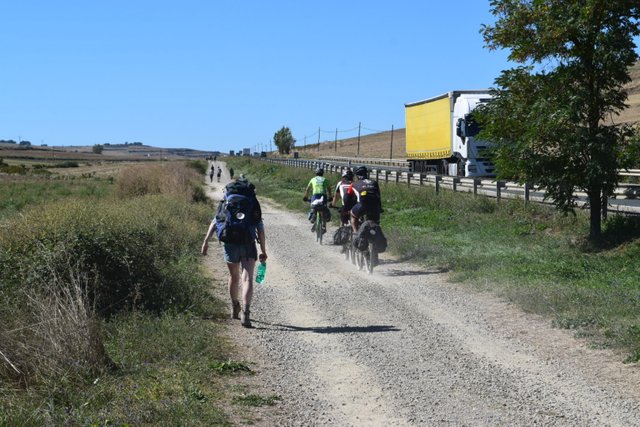 Dinner was reasonable. We were able to get a 3 course meal for 11 euros and they happily adapted it to make it vegan for us. Afterwards we played some more great card games. And another round of snap which I'm proud to say I won againest Emiel with no injuries this time. We were pretty well exhausted after this and had to call it a night. We retired to our private dorm and enjoyed another slumber party with our new friends.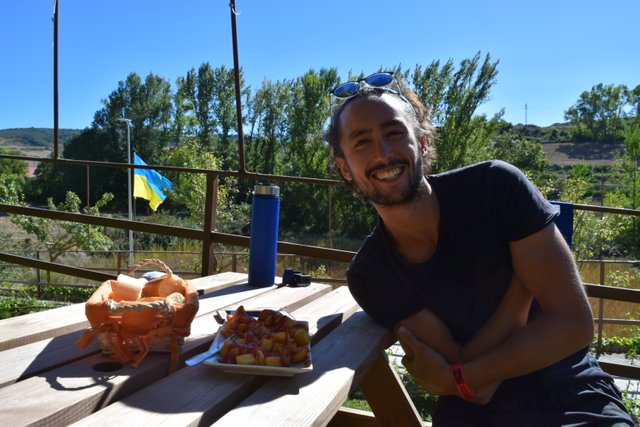 What will tomorrow bring?
PEACE