Day 03 Zubiri to Pamplona | the 3rd day hangover hits
Has anyone ever been to the gym, done a really intense workout and felt great afterwards. Even the next day, you feel like a beast. And then the 3rd day comes, your muscles stay to seize up. Your limbs become more like tree branches than articulated biological machinery. That's what i call the 3rd day hangover and that's what we had today. We started the day feeling quite bubbly and spritely, but after about an hour or two the muscles just didn't want top work anymore. On top of that, our breakfast choice (the next town's supermarket) was closed so we were running on empty!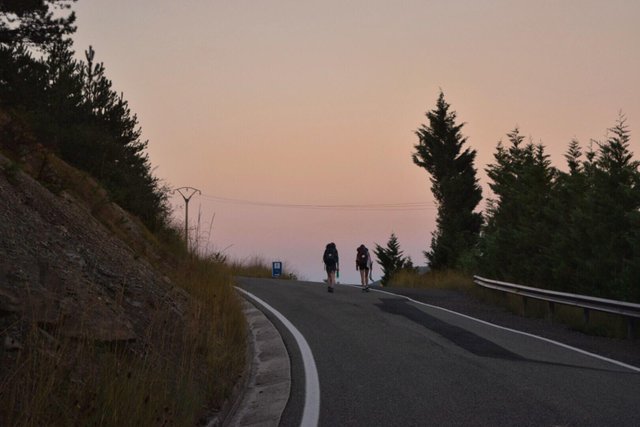 Finally after about 2 and a half hours we found a lovely little cafe next top a river crossing. Voila! But when we got inside they had sold out of their vegetarian option and all that remained was bananas and mandarins! We were out of luck.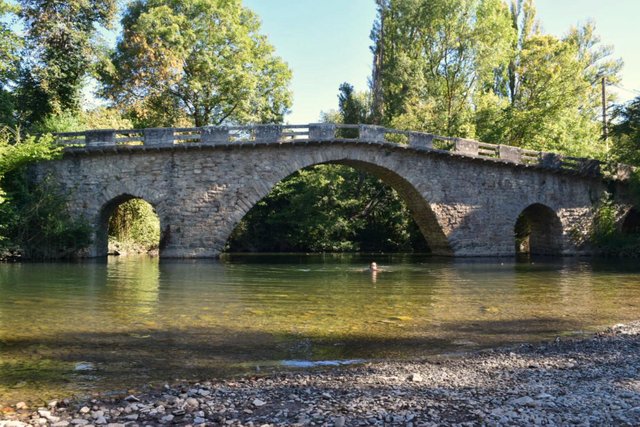 So we continued on. In order to boost our spirits a bit we stopped at another river crossing where a lovely Spanish family were having a Sunday swim in the river. I decided to join them and also show off a little bit by leaping from the bridge. We had a bit of fun, met the family including their little dog and then pressed on.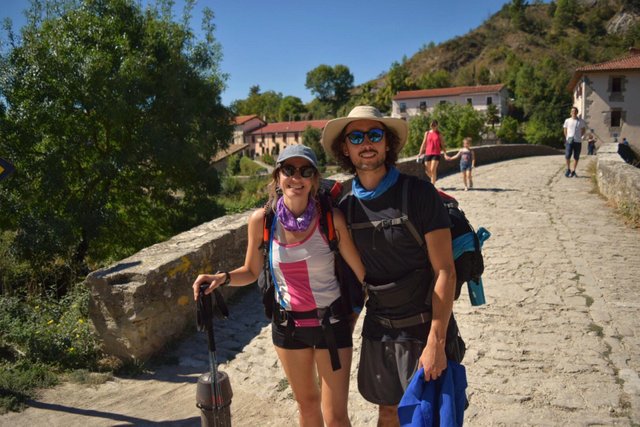 We followed the river which passed beautiful farmlands, a main road and cycle paths and eventually we were on the outskirts of Pamplona! Many pilgrims were struggling in the heat and we congregated in a nice little shaded part of the path before the final ascent into the old town. I think i was wearing my backpack wrong today as well because my shoulders were killing me!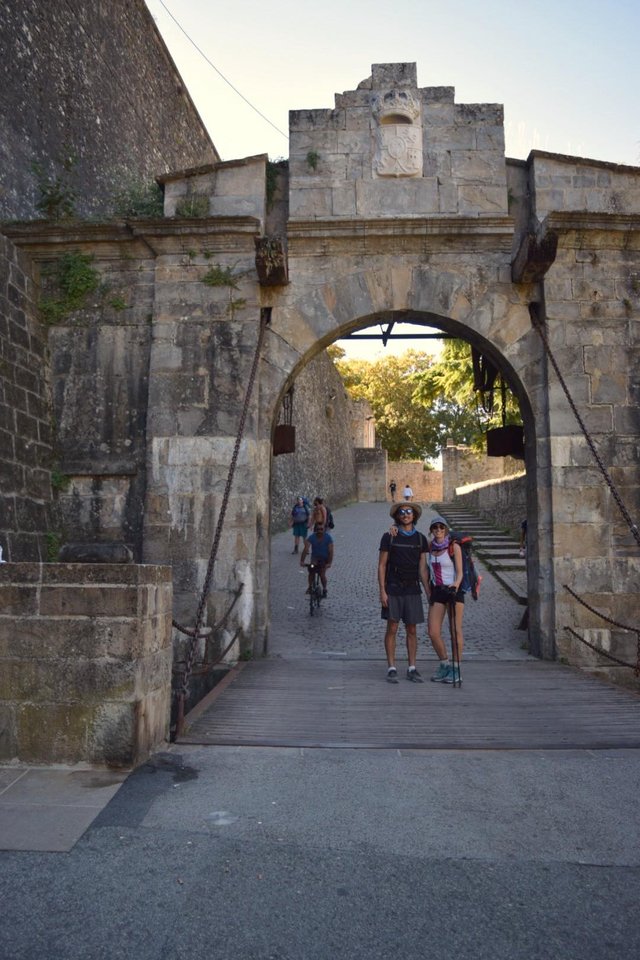 After a few words of encouragement we gathered the strength to make the climb. It wasn't a big climb but dealing with our aching limbs and the brutal sun beating down on us, it proved enough of a challenge to make stops on the way. When we finally did roll into Pamplona we were surprised to see a little festival going on! There were crowded streets and a band playing, bars were spilling out of their premises and their was an infectious joy in the air. If we weren't so knackered we might have dropped our bags and joined in the festivities. But we still hasn't had a decent meal so our priorities were elsewhere.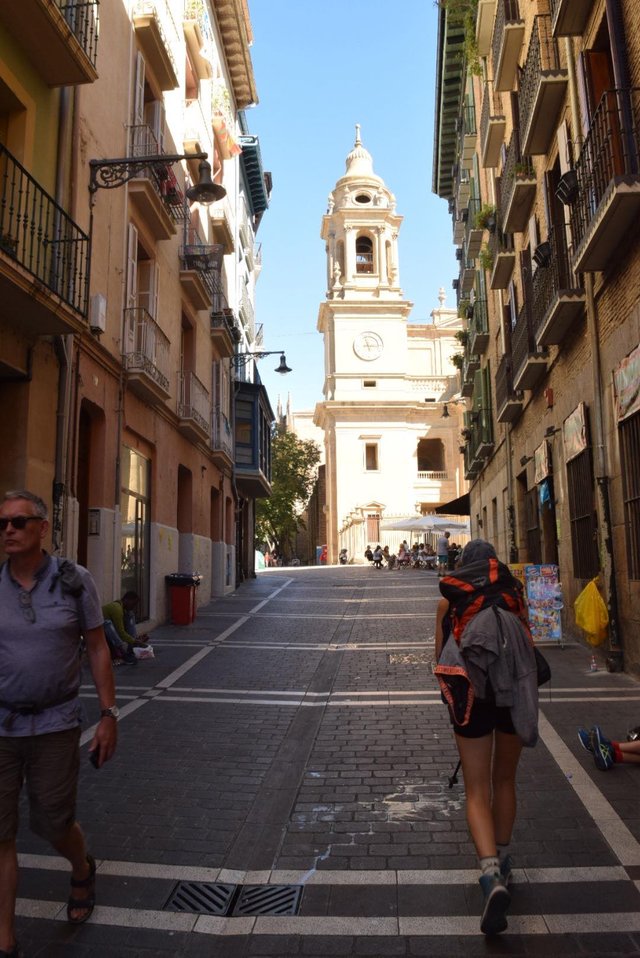 We checked in to the Albergue at the Cathedral and rushed off to find a bite to eat. To save a little money we bought some pasta and sauce and brought it back the pilgrim hostel where Mykael cooked us a beautiful spaghetti and sauce. We shared red wine and plenty of laughs. We were finally content with full bellies.
After this it was still early, around 6pm, and i didn't want to miss seeing anything. So i decided to go on an adventure around the old fortified city. Not before a quick few stretches in the hope of being less stiff tomorrow. The others joined me and i dragged them around a 12th century church, the massive Citadel, the town square and finally to a park that had an array of birds and deer.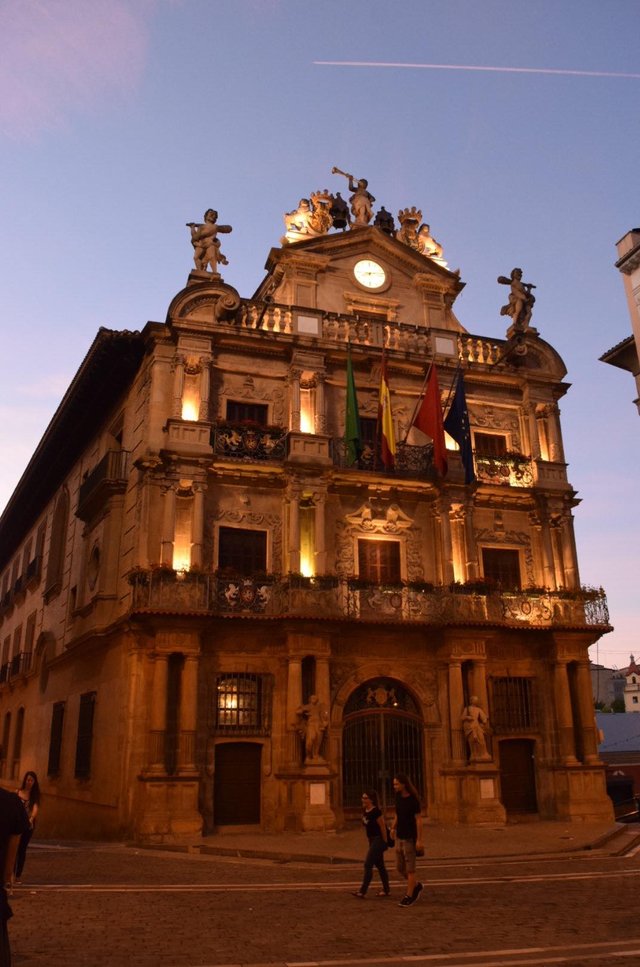 We saw some beautiful sights as we were heading home. The sunset cast gorgeous colours on the cities beautiful architecture, and planes flying above left daring bright yellow brush strokes through the sky. As if this place couldn't be beautiful enough. We also ran into a street gathering of festival goers who had persuaded a crowd of about 100 people to gather around nice and close and sing what sounded like a very traditional Pamplonian song. It was truly a joyous occasion. To top it off, just before we came to our accommodation we were nearly stampeded by about 50 screaming children. After they passed we saw they were running from men who had crafted bull's heads onto wheelbarrows and were scaring them as part the festival. This was a reminder that in a city as beautiful this, terrible traditions still take place and all is not as it seems. We could not help but feel sorry for the bulls who had been forced to play a part in this, for the entertainment of the men who were now passing that tradition onto their children. Needless to say, we didn't visit the bull ring.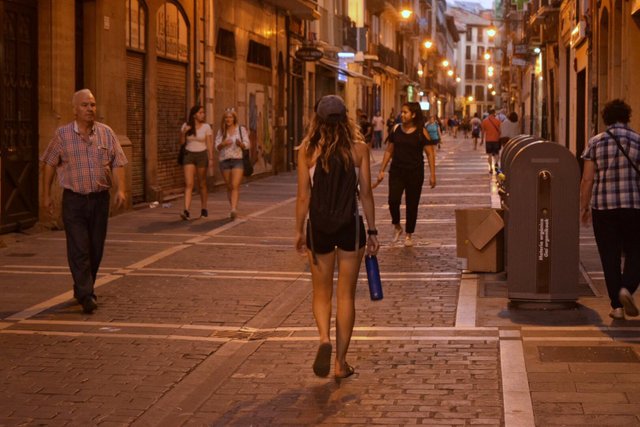 And lastly i saw a few more #Steemit stickers on the way! Cool!
See you all tomorrow!
PEACE