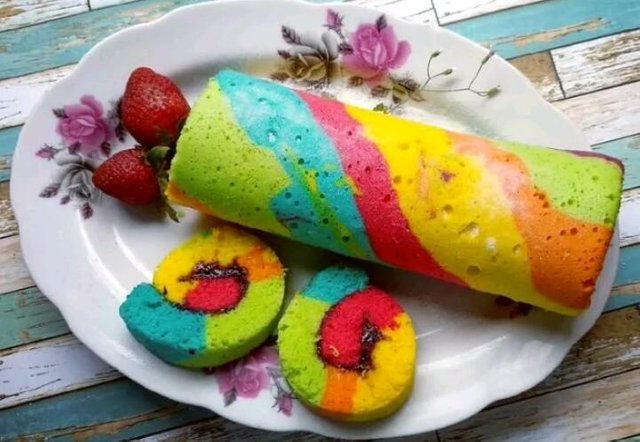 Ingredients:
100 gr wheat flour
100 gr sugar
3 eggs btr
1/2 tbsp sp
Salt taste
Sufficient vanilli
60 ml of vegetable oil
30 ml of liquid milk
Rainbow food coloring
Step:
1.Beat eggs, sugar, vanilli, sp and salt until fluffy
2.Enter the flour and stir slowly until mixed well. Add vegetable oil and liquid milk. Stir back flat.
3.Divide the dough into pieces according to the color you want. then give a dye to each one after it insert into dala pipping bag / plastic triangle
4.Prepare the pans, if I size 20 cm, so later can 2. Apply a baking dish with butter or vegetable oil and give a cake paper pad. Then the cookie dough layout until the color of the alternating hose.
5.Steam for a few minutes until done
6.Lift and roll. Then reopen the roll and apply it with jam or whip cream to taste. Then roll back the cake.
7.Cut and serve
8.Good luck.
thanks and do not forget follow me @romialfian01