Good day dear Steemians! I think all of you in one degree or another are interested in exchangers course of cryptocurrensies! And of course you heard about CoinGecko is one of the largest and earliest crypto data aggregator, which operating since early 2014. It currently tracks nearly 3,000 tokens from more than 230 cryptocurrency exchanges. And as you may know not so far ago they are integrated new Kyber Widget in cooperation with KyberNetwork.
About what you can read at their blog.
---
---
And in commemoration of this event CoinGecko announced CoinGecko Writing Contest! - Coingecko/KyberWidget Intergration And this article is my original entry for this contests.
This original widget helps to users to work with selected ERC-20 tokens right on site CoinGecko.com.
The selected ERC-20 tokens now are KNC, DAI, OMG, SNT, ELF, POWR, MANA, REQ, RDN, APPC, ENG, SALT, ETHOS, ADX, AST, RCN, ZIL, PAL, LEND, TOMO, and ZRX.
So exactly with this you can work without leaving site.
First of all to work with tokens I just signed up on site. It's not mondatory, you can use widgets without sign in. And it is posive moment in my opinion!
---
---
Then I choose for example OmiseGo token like it swown at the picture bellow.
---
---
Clicked on widget. At the picture it is highlighted with Blue colour
---
---
And honestly at this time I had some problems with because when I tried to open widget.
if at prevous time widget opened correctly(when I just knew about it), at this time I got just a black screen on my monitor.
---
---
But when I refreshed this page after 3 minutes of waiting and selected again the same token widget worked correctly.
---
---
So at the first step you can choose from list from which token you want swap
---
---
At this time I choose BNB and then I selected another one ERC-20 token from list
---
---
---
But as you can see at next step you need to insert ammount of tokens which you want to swap. But untill that moment when you have confirmed that you agree with terms of service you won't make the next step. Button "NEXT" will be simply inactive
---
---
---
At the second stage you'll need to input your adress in widget. There are several ways how you can do it.
---
---
And when you imported your adress all you need to complite just simply unlocks his wallet using Metamask to confirm your transaction! Also if something is going wrong with market situation you can cancel you transaction.
As you can understand with this widget it's easy like one, two three!
So this widget should make all process as it was shown before:
With new widget transactions become confidential; seamles and secure. Also you can build in this widget at your site or app, and even make real token exchange service.
If you liked this new integrated widget all you need to do for use it is just visit official site of CoinGecko.
---
Now I would like to make some remarks about this great platform! First that this platform is multilingual. At right сorner you can coose your native language. In my example I used english version of site. But for somebody it can be easier on his native language.
---
---
Now if you want to build in some widgets on your site then you need go to widgets page There you can find Coin List Widget; Coin Price Chart Widget; Beam Widget(which was launnched just at the beggining of November); Coin Price Marquee Widget; Coin Price Static Headline Widget; Coin Compare Chart Widget
---
---
And customize the widget as you like.
---
---
After it you can copy code there as you wish. And it is of course one more undoubtedly a positive thing!
---
Also CoinGecko has light and dark mode. How looks light mode you can see on pictures above, and if you want to change it for dark mode just click on smal lamp symbol(highlithed at right corner on picture bellow) and dark mode will turn on.
---

---
Now one more moment to be more user friendly Coingecko has several tabs, which can help to users find all information which can be need simply. For it user just need to switch from one tab to another at right side of site page. At pictures bellow you can see overview of available tabs with information about current market sityation.
---

---

---

---

---

---

---
And even more information about currencies you may find at other pages of CoinGecko site.
---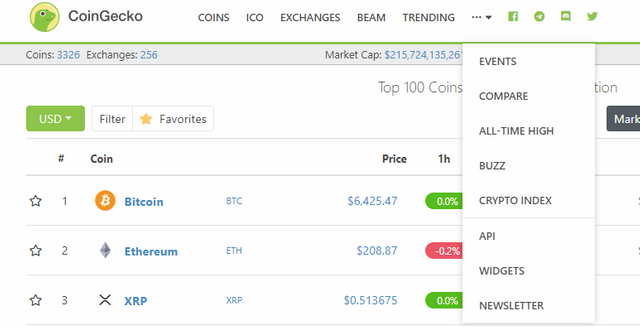 ---
As you see now each user can find at one trading platform so much information as it possible!
So I wish to all of you Easy Exchanges and Excelent market with your tokens!
And if you value your time you can definitely use CoinGecko aggregator for your exchanges!
---
Disclamer
The information contained within this post shall not be taken as financial advice. I am not an advisor and none of your investing should be carried out based on any information presented here. The above information is for educational and entertainment purposes only.
Images in this article are clickable, original and were taken by me at official site of CoinGecko.
Thank you for reading! Sincerely yours @travoved !