Good evening!
It's Tompa!
Today I will write about using "steembottracker"!
[steembottracker] (https://steembottracker.com/)


There was an article that I wrote before, but I could not find it ...
Steamit can not bookmark, so it is common.
Aside for that, go ahead!
Here is the site to use
What is steembottracker?
If you transfer SBD to a specific account, you get a vote by returning it.
Why use it, what will happen if you use it?
I will explain.
Benefits ①
First of all, you can get a big vote with this tool!
Although it goes around by the market price, if 1 SBD remittance it is 2 $, 5 SBD → 10 $
I will return it as a big vote in a wind that has just come back.
So, I think that it would be better if you have some afford to SBD.
If it is now Steem 330 yen, SBD 200 yen and there is a relationship between the market and it is very effective.
# Benefits ②
Increase reputation score.
As one of the reasons for raising the reputation score, $ related vote comes in.
If you get a big $ it will lead to a rise in score.


I do not feel that if reputation score is high if it is said whether merit exists, I wonder if it is better to have w
(I will add it next time as I understand it.)


# Benefits ③
This is a story that may not be true.
When seeing a lot of $ from it from the end, "It might be a good article?" Then I think that there are not a few people saying "vote shitoko".


So, maybe even a little vote will increase.


! [Sample ①.png] (
)
There are some notes on using ##.
The part of ① is the minimum transfer amount and maximum transfer amount.
For example, buildawhale would have to do at least 5SBD if it is not.


The part of ② is the probability of how much profit can be made.
If the Min part or the MAX number is negative, the probability of becoming minus is high, so let's select the account that is positive for that part.
I think that the account which is none / 10% as much as possible is stable.


I heard that there is a possibility that Vote will not be done if the part of ③ is 5day or 6day.
So, let's choose an account on 3 or 3.5 days.


In the part (4), you need to select an account whose Total Bids does not exceed Vatte Value.
It seems that there is a high possibility that it becomes negative even if it is voted that it is an account with Vatte Value exceeding Ttotal Bids. (I have not tried it)


⑤ is the time to vote.
So, you do not have to worry so much, maybe.



こんばんは!
トンパです!
今日は『steembottracker』の使い方について書いていこうと思います!
steembottracker


以前に書いてくれていた記事があったのですが、見あたらず…
Steemitだとブックマーク出来ないのでよくありますよね。
それはさておき本題へ!
使うサイトはこちら
steembottrackerとは
特定のアカウントにSBDを送金すると、おかえしでvoteがもらえる仕組みになってます。
なぜ使うのか、使うとどうなるのか?
から説明していきます。
メリット①
まずこのツールを使うと大きなvoteがもらえます!
相場により前後しますが、1SBD送金すると2$、5SBD→10$
っといった風に大きなvoteとして返ってきます。
なので、SBDに余裕ある方ならやった方が良いかと思います。
今ならSteem330円、SBD200円と相場の関係もありとても効果的なのかなと。
メリット②
レピュテーションスコアがあがる。
レピュテーションスコアがあがる要因の一つとして、もらったvoteの$が関係してきます。
大きな$をもらえばその分スコアの上昇にもつながります。


レピュテーションスコアが高いとメリットあるのかと言われるとそこまで感じませんが、高い方がいいのかなとw
(詳しくわかったら今度追記していきます。)


メリット③
これはあるかもしらないしないかもしれない話です。
沢山の$がついてると端から見たときに、『いい記事なのかも?じゃあvoteしとこ』って人は少なからずいると思います。


なので、少しでもvoteが増える原因にはなるかもしれないですね。


使う上での注意点も何点かあります。
①の部分は最低送金額と最高送金額です。
例えばですが、buildawhaleなら最低5SBDからじゃないとダメという事です。


②の部分はどのぐらい利益が出来るの確率になります。
Minの部分かMAXの数値がマイナスだとマイナスになる確率が高いので、その部分はプラスになっているアカウントを選びましょう。
出来る限りnone/10%となっているアカウントが安定していると思います。


③の部分は5dayとか6dayだとVoteされない可能性があるというのを聞きました。
ですので、3dayか3.5dayのアカウントを選びましょう。


④の部分はVatte ValueをTtotal Bidsが超えてないアカウントを選ぶ必要があります。
Vatte ValueをTtotal Bidsが超えているアカウントだとVoteされてもマイナスになる可能性が高いと思われます。(試したことはない)


⑤の部分はVoteされるまでの時間です。
なので、あんまり気にしなくても大丈夫かもしれませんね。


後は、レピュテーションスコアが50以下の方は使うのは微妙かもしれません。
理由としては、現在日本のコミュニティーにおいて支援してくれるアカウントが存在します。
50以下だとvoteがもらいやすく比較的稼ぎやすい状況にあると思います。
なので50越えてから利用する方が個人的にはいいのかなと思ってます。
ツールの使い方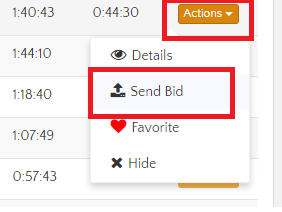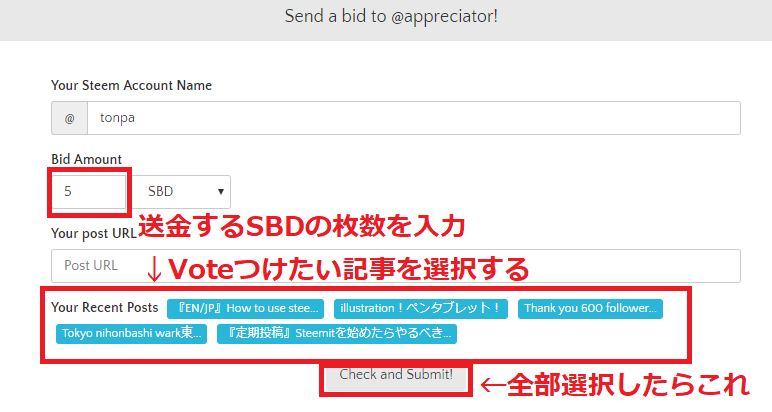 後はVoteされるの待つだけです。


お読みいただきありがとうございました!


自分ごとですが、DateCoinアンバサダー任命されました!

日本コミュニティー支援アカウント @SJTは僕も含め4人で運営してます。
※現在一人休止中
@sjt は日本人の記事を定期的に紹介し毎月MVPを決めてSBDをプレゼントしています。
是非フォローお願いします!
★Steemit始めた方はぜひ最初に読んでほしいです!
★SNSやブログ紹介
・ALIS
・SOLA
★swiftdemandを毎日無料で貰おう