Hello Steemians, Hope for Generations Ministry has invited me (your steem ambassador) to make a presentation on Steem and Steemit.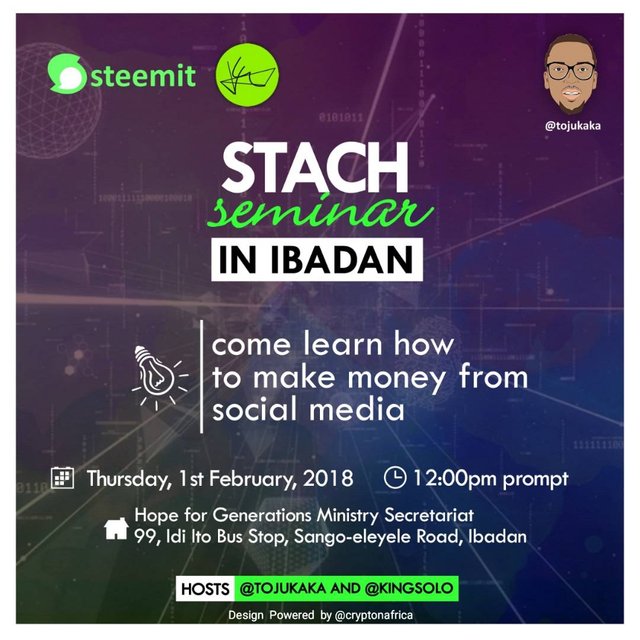 I don't think I've ever said no to any request to make a presentation on Steem and Steemit to a group. I've refused countless request to present to individuals because I hate to waste my time. I take it as my responsibility to promote Steemit because that's what I love to do; I love to talk and make presentations and meet new people; I love to sell; Steemit is a fantastic product and because I've been so generously supported by the whales here.
Promoting Steemit is just my way of saying thank you. Sometimes I do feel pressure to do stuff for Steemit. If you've never gotten an upvote from @thejohalfiles, you may not know what I mean. It gives you such a boost to work. Sometimes I take a nap and I wake up feeling like "damn! I could have done something for Steemit with this one hour, maybe reply a personal message or assist someone who is having a difficulty with any of the apps or curate a post or make some research or something."
Anyway, these are the details of the seminar. Its happening tomorrow and if you are in the city of Ibadan, catch me there!
Time: 12:00pm. It's going to last for several hours so don't be late.
Place: Hope for Generations Ministry Secretariat, 99, Idi Ito Bus stop, Sango-eleyele road, Ibadan
Anchor: The event is put together by @kingsolo
Guest Speaker 1: My humble self @tojukaka(your steem ambassador)
Guest Speaker 2:@thelovejunkie
Thank you for reading.
---
Special thanks to @cryptonafrica and @samgodfrey for giving me a lovely thumbnail/flyer.
---