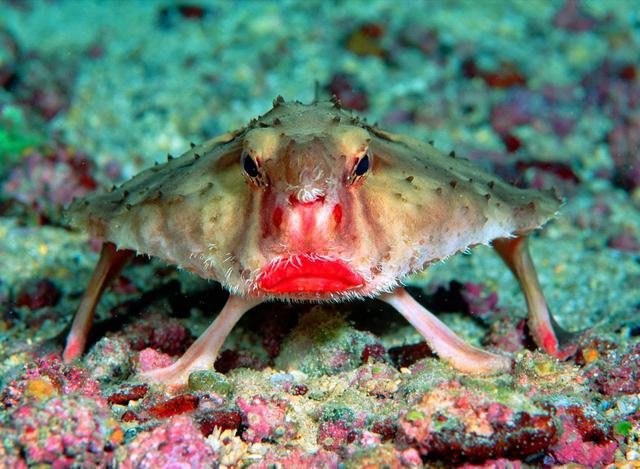 It is a fish that attracts much attention with its red lips. Its lips look like made up woman´s lips but there isn´t special reason for this.
Red lipped batfish is unique in the world with a feature. This fish is only fish species in world that can walk with 4 feet. Although its fins are designed to walk, sometimes it can swim as shaking its tail but this doesn´t happen everytime. Maybe its discontented facial expression is because it has to walk over.
Finally, red lipped batfish can´t be hunt because of its hard and tasteless meat.
Kırmızı dudakları ile dikkat çeken bir balıktır. Onun dudakları, kadının dudaklarından yapılmış gibi görünüyor ama bunun için özel bir neden yoktur.
Kırmızı dudaklı yarasa balığı, bir özelliği ile dünyada eşsizdir. Bu balık, dünyada 4 ayağı ile yürüyebilen tek balık türüdür. Yüzgeçleri yürümek için tasarlanmasına rağmen bazen kuyruğunu sallayarak da yüzebilir, ancak bu her zaman olmaz. Belki de hoş olmayan yüz ifadesi, yürümesi gerektiğindendir.
Son olarak, sert ve tatsız eti nedeniyle kırmızı dudaklı yarasa balığı avlanamaz.