Amidst the many indicators we are told to look for when determining the potential value of a coin is the quality of "the team". Of course, many other factors are to be considered. The purpose of the coin is important. " What problem does the coin solve?" is also a good question.
When evaluating some of the teams involved with the blockchain and cryptocurrency, it is hard to overlook the success of Dan Larimer.
During the past 7 days, the combined activity of Bitshares and Steem accounts for over 67 percent of total Global blockchain technology. Steem leads with 47.6% of activity. Bitshares accounts for 20% which is matched by Ethereum, also at 20%. Bitcoin represents an astonishingly low number of only 5.2% of all blockchain activity. The remaining currencies combined account for only 7.2% of total Global Blockchain activity.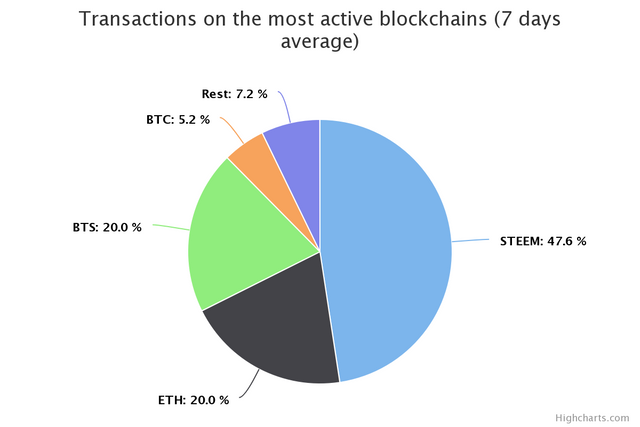 As more institutional money moves into the cryptocurrency markets, one can be certain that investors are going to take note of these numbers. Keep in mind that EOS is not even in the picture yet. Imagine what these numbers might look like after the introduction of EOS. For these reasons I think we are positioned to see tremendous growth in both Steem and Bitshares. I think many conventional investors who might otherwise be afraid of the cryptocurrency market will see Steem and Bitshares as a safe bet.
CURRENT MARKETCAP OF THE MOST ACTIVE BLOCKCHAINS