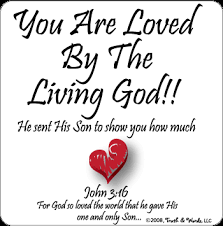 Image source:Google Images.
Being loved is life's second greatest blessing, Loving is the greatest.
Nothing can bring a real sense of security into the home, except through love.
Where love is, God is.
The best use of life is love. The best expression of love is time .The best time to love is now.
Love is the door way through which the human soul passes from selfishness to service.
The chains of love are stronger than the chains of fear.
Everything God does is love, even when we do not understand him.
Love is not only something you feel, it is also something you do.
Love is a Gift of God.
Faith makes all things possible, while Love makes all things easy.
What does Love looks like? It has the hands to help others. It has the feet to hasten to the poor and needy. It has eyes to see misery and want. It has the ears to hear the sighs and sorrows of men. That is what love looks like.
The one eternal lesson for us all, is how we can love..
Love ends hatred, aggression and jealousy.