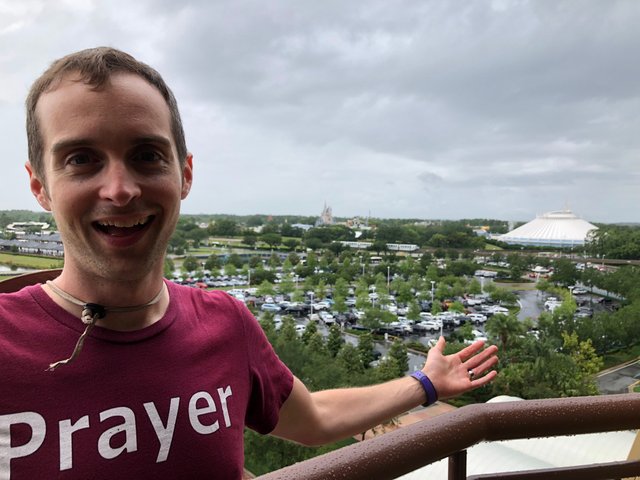 On our way to Disney's Contemporary Resort at Walt Disney World in Orlando, Florida yesterday I was listening to Miracles Happen: The Transformational Healing Power of Past-life Memories by Brian L. Weiss and Amy E. Weiss when a medieval battlefield past life experience rocked my world and helped me see the souls driving alongside me on I-4 instead of just the cars and the bodies.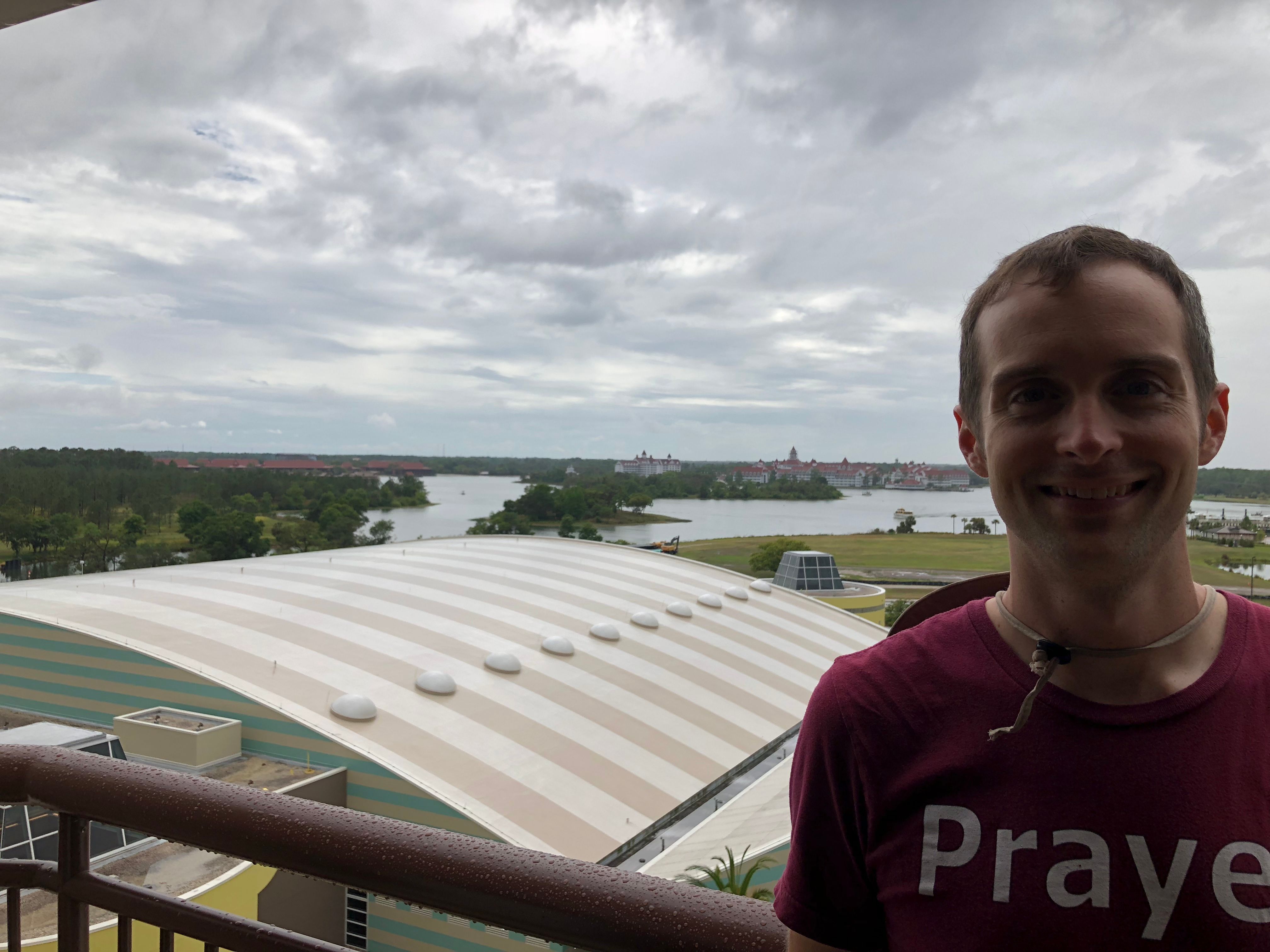 @laurabanfield and I arrived at the Contemporary Resort after years of saying we wanted to stay there as we passed through on the monorail to and from Magic Kingdom for our second babymoon two months before our son is to be born at the end of June. The pictures above were the first two she took showing the view of Magic Kingdom from our balcony.
Technically it was are first together because I was sick for the first one and Laura went instead with her friend while I stayed home and played video games. Laura was both sick and pregnant this time and decided to go anyway. She says she has to be the one of us pregnant because if it was me I would be intolerable.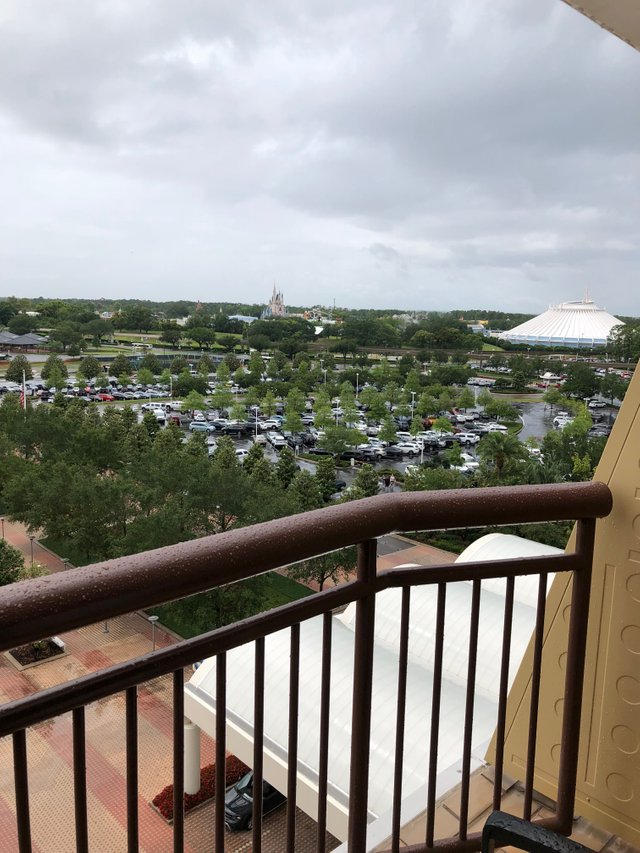 I remember thinking one night in this hotel room would feed an entire family in Venezuela for a month and being grateful for the opportunity to stay here thanks to all of the generous giving of money to me online. Just an hour before that, I had a vision of a future where first a few of us and then the majority decide to give up using money and holding positions of power over each other. While it might seem like a fantasy today, this is the future I intend to help build and I personally would love to give up money today. I am not sure exactly how it will happen and I remain open to living without money or power in the future along with asking to be of service in helping that transition take place in my lifetime.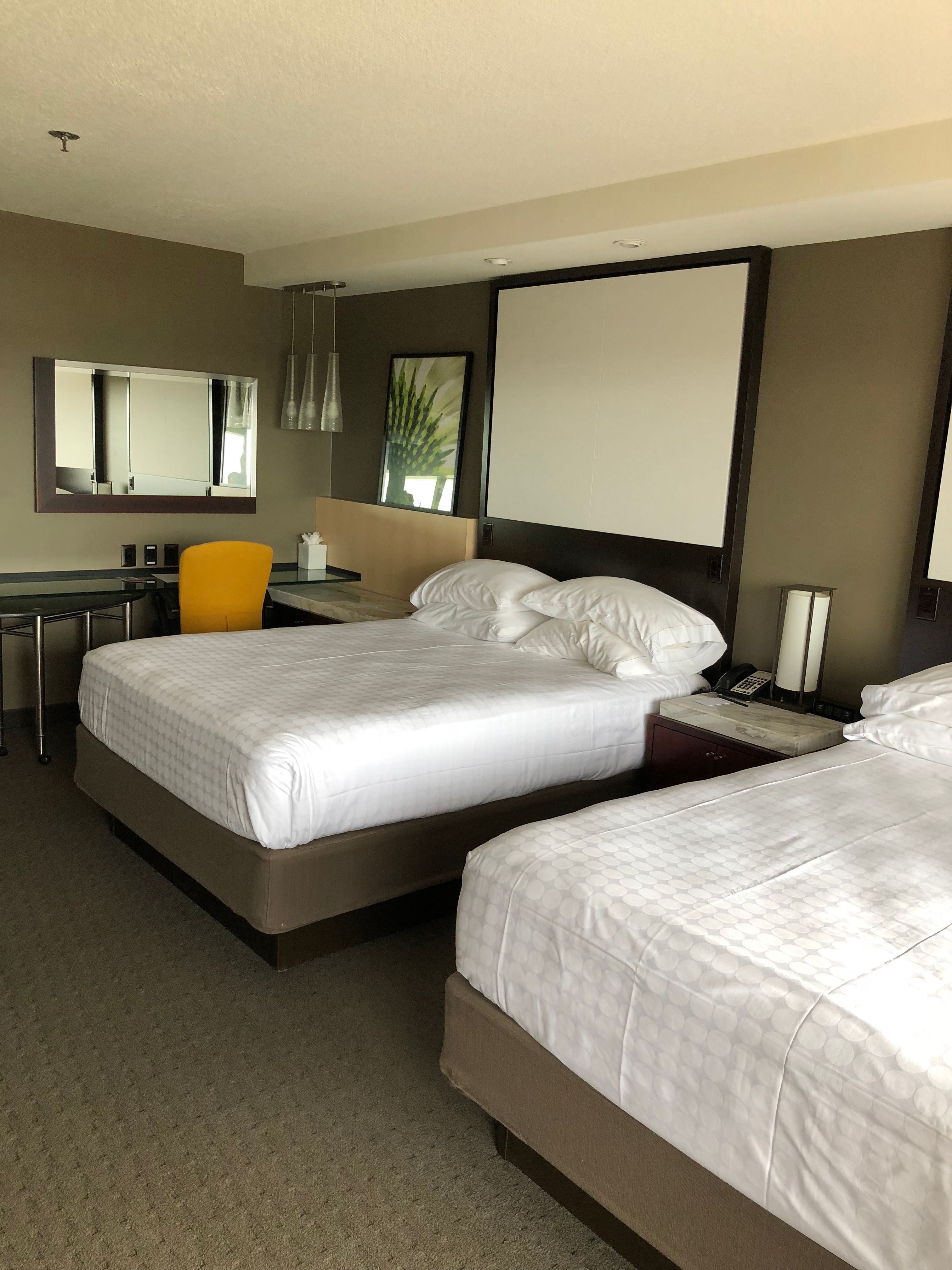 As we looked at our beautiful room, I wondered if without money and power anyone would want to stay there or choose to help keep it up. I think everyone would probably just pitch in and help more instead of having staff paid to clean up and maintain. I tried to do my part wherever I could by keeping the room clean and asking for one tooth brush instead of two after Laura and I forgot ours.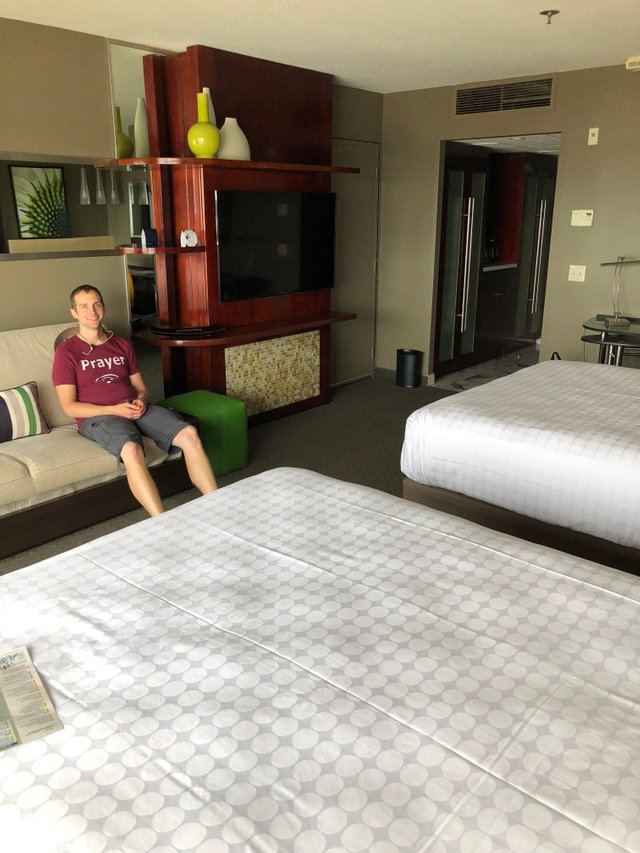 Going to Disney while being somewhat conscious of the bigger picture is intense. I know my purpose is to love those around me the same as everywhere else. Meanwhile my mind recently has started considering the environmental impact of everything I do which makes staying at a hotel like this and going to Disney an awkward experience of how do I fully enjoy life here while asking for the least in return and making the smallest mess without being totally obnoxious?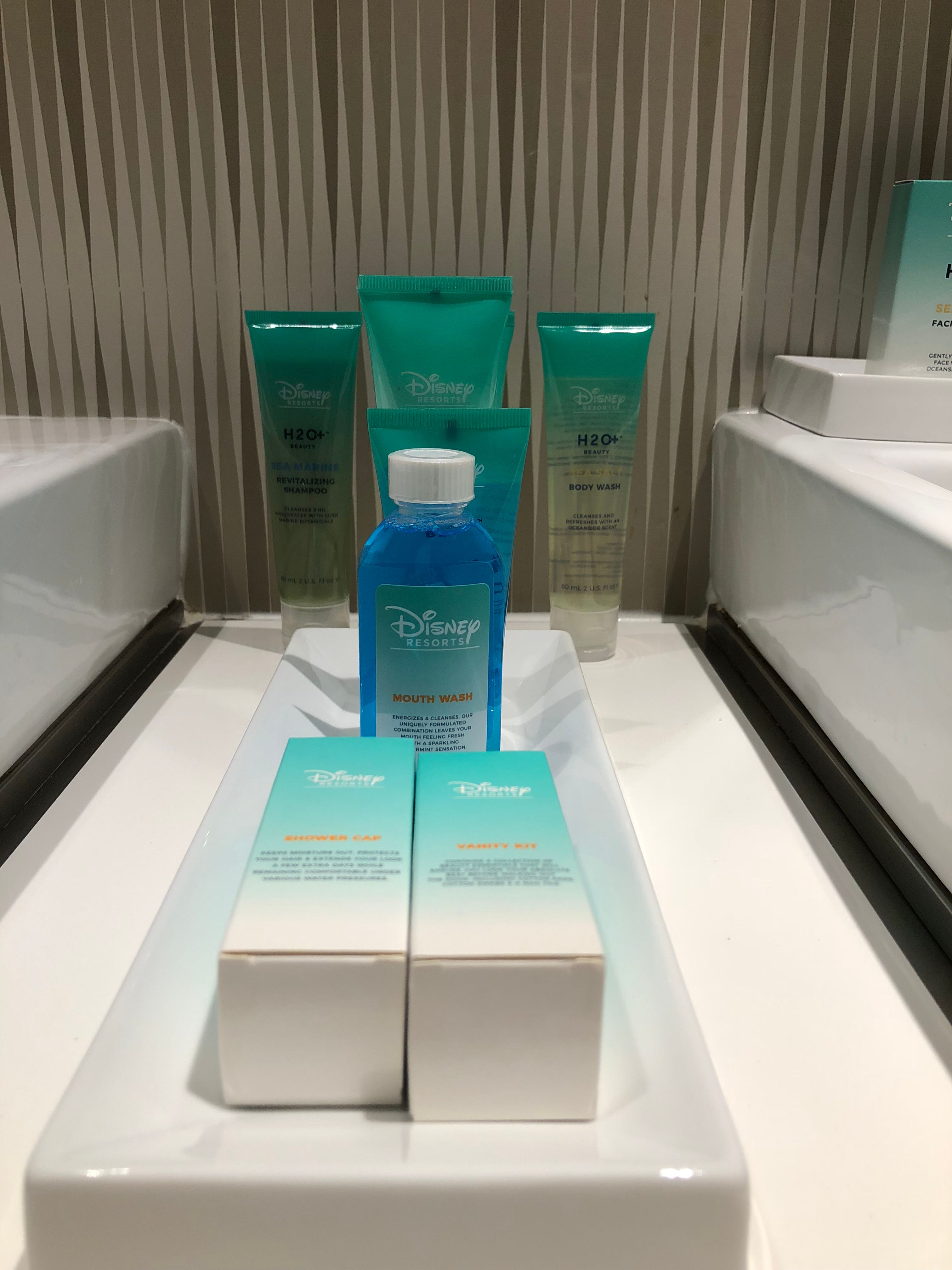 A few solutions like refilling a water bottle from the water fountains and ordering the smaller cardboard box of popcorn instead of the bigger plastic tub came to mind. I had the inutition I would be best off keeping our plastic spoons from our dole whip the first time we got it that day but threw them away because I was not expecting a second. Six pieces of plastic silverware just for Laura and I for a day at Disney.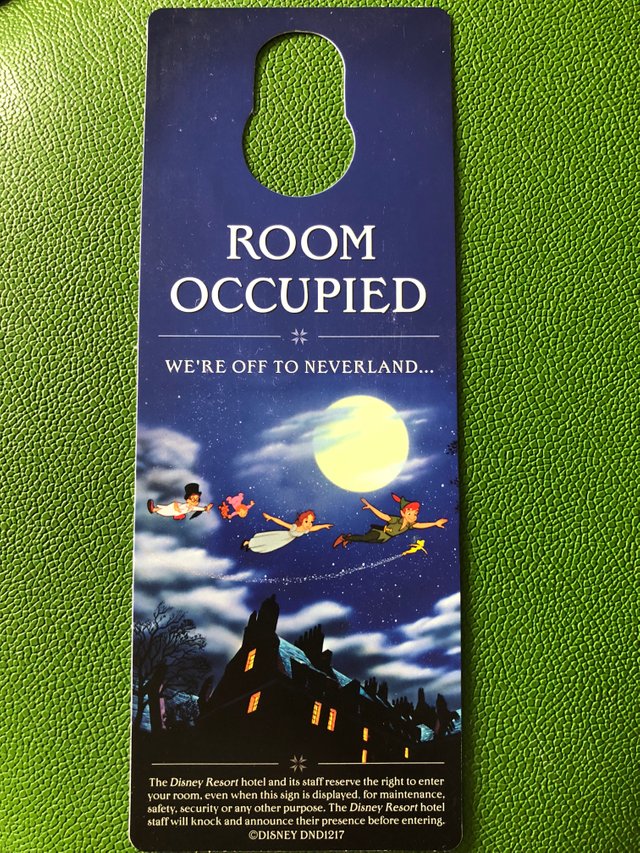 During this body's life I have stayed in many beautiful hotel rooms and this one met even the most ridiculous expectations from automatic night lights to two sinks and a real shower curtain instead of those glass designs that go halfway back and let all the cold air out. There even is enough space in the bathroom to put a pack and play :)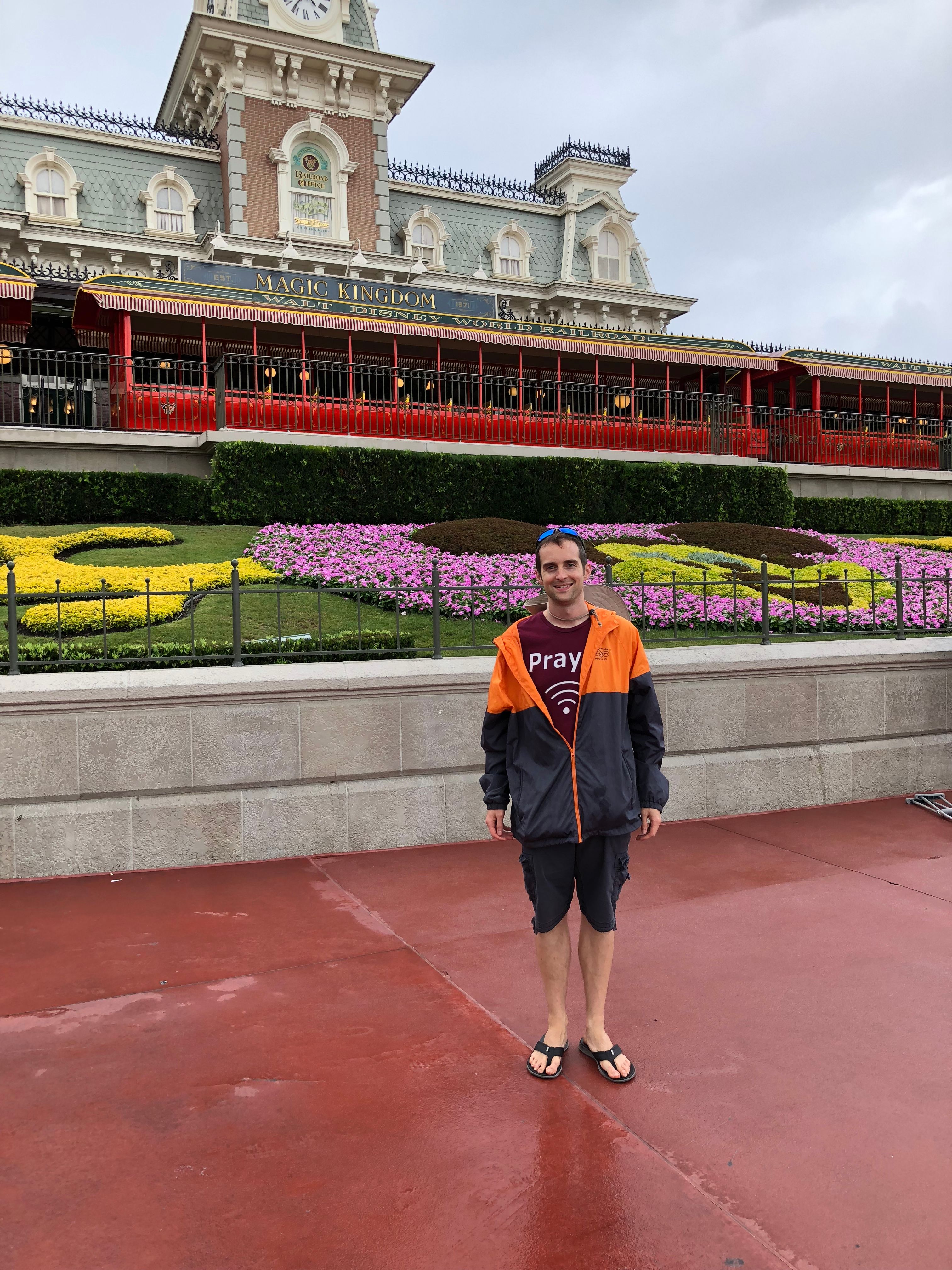 We prepared for the rain and were not bothered by the cloudy day. In fact, the rain makes for some of the most open experiences at Disney because so many people stay in the hotels instead until it clears up. As we went to leave the hotel room to go to Magic Kingdom, bringing sunglasses seemed optimistic and it turned out that was what I needed an hour later.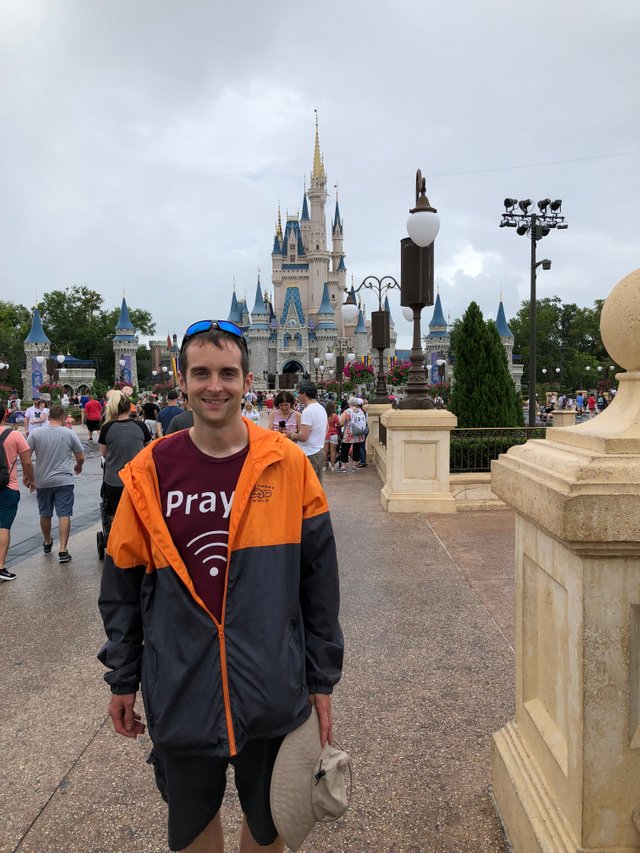 After previous trips to Disney challenging me to find a way to see the new metal detectors and security in a loving way, I found this time after reading Miracles Happen: The Transformational Healing Power of Past-life Memories for two hours in car beforehand, I could easily see that the security check points in addition to being a monument to the God of Fear and separation could also be seen as evidence that I had guardian angels and was safe wherever I go. At the time I thought this was an amazing breakthrough which motivated me to share the thought with Laura. She remembered me saying the same thing last time which I did not.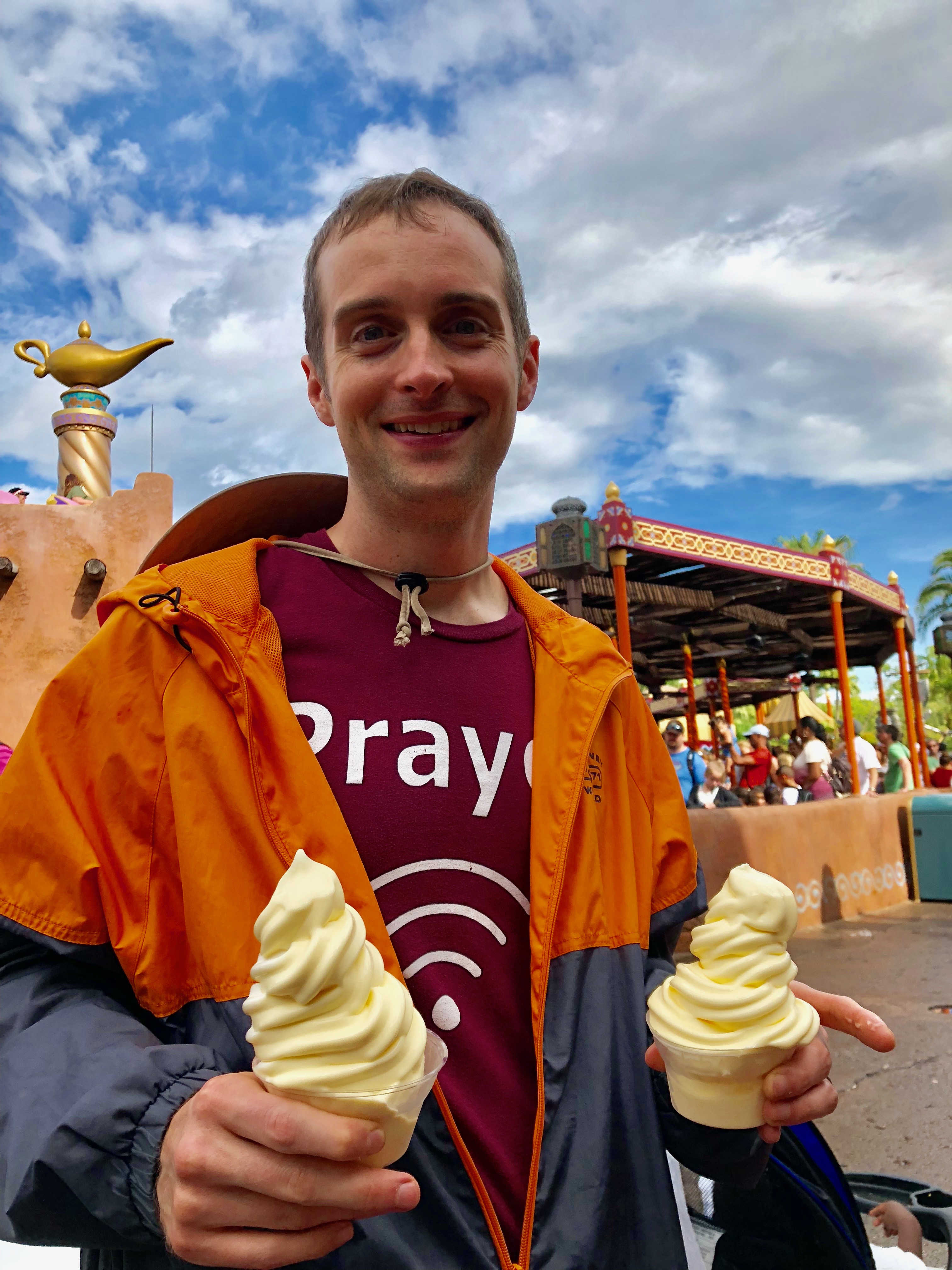 For the last two years, I have mostly eaten vegan after reading How Not To Die just after I experienced the maximum possible mood drop just after having a meal loaded with several different kinds of me, tons of added oils, salts, and animal products. When I realized how I ate impacted my mood, I was and still am consistently motivated to think about how I want to feel and think when I eat. The best part is that I feel better than ever today about treating myself in moderation to something extra tasty and minimally nutritious (why is that word so hard to spell tonight) which then makes the mood and energy drop kind of funny instead of something to see a doctor about because I consciously chose the experience instead of feeling like a victim. It is therefore with a big smile I let you know I ate two dole whips including one with soft serve ice cream along with two boxes of popcorn and one of the bags of nuts at Disney and did not even experience a mood drop along with returning to eating like a health robot immediately after leaving. Alright except maybe that half of a dairy free ice cream sandwich today I split with my daughter but whatever.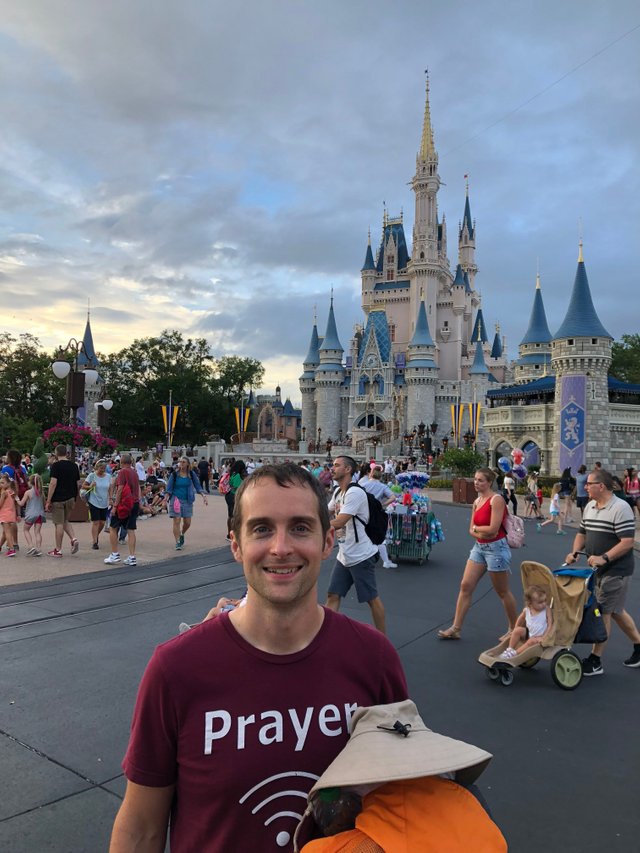 Baby all that matters is the beautiful life, the beautiful life right Kesha?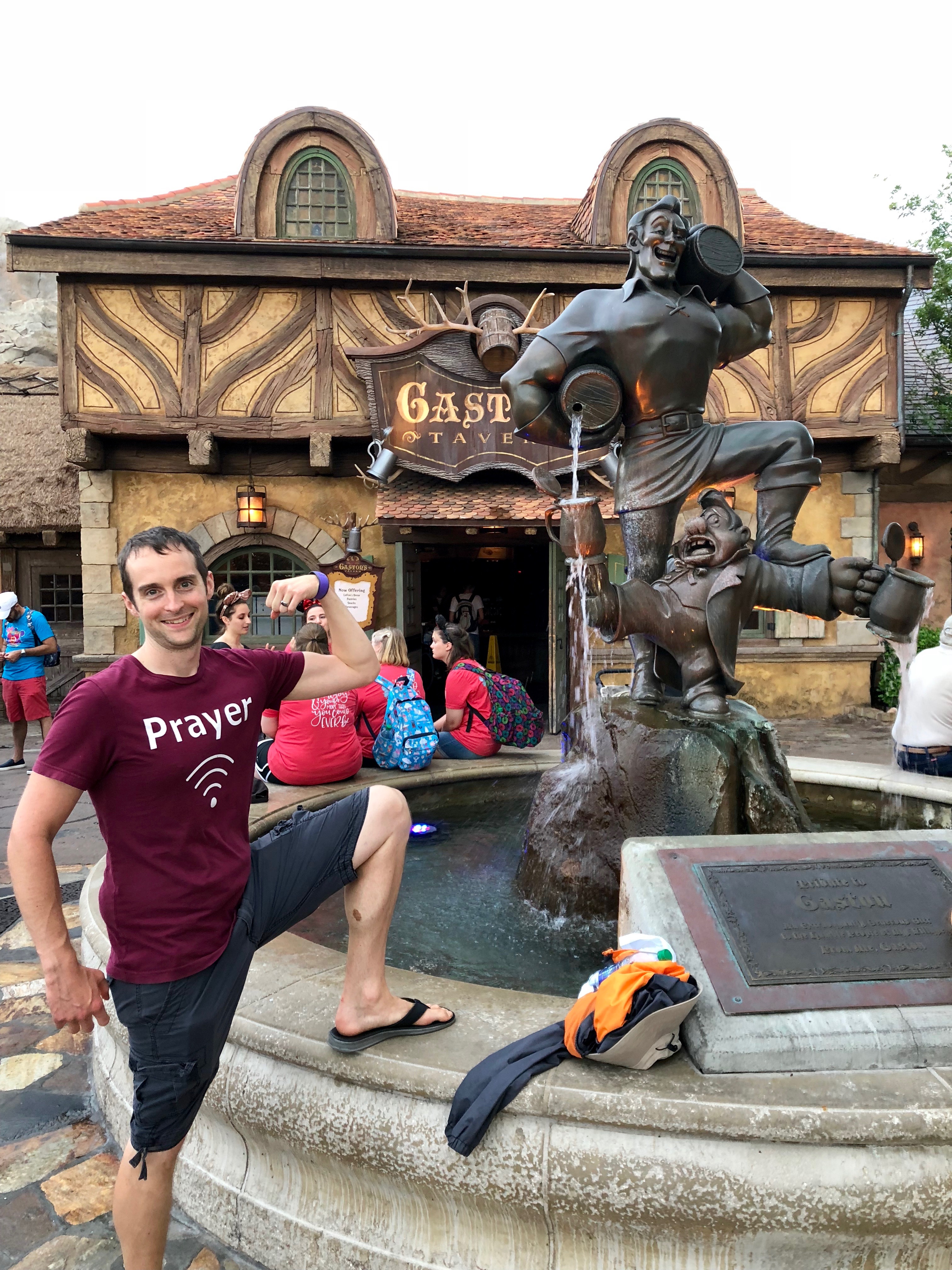 After getting rejected 4 times at Be Our Guest, we ate at one restaurant for Laura that had corn dogs and the Mexican restaurant which had an awesome southwest salad where I put an entire tomato worth of slices on top and ate most of them before sitting down. I normally wear glasses when I am out and tried to find Laura when she found us a table. Several minutes passed and I experienced the sensation of being there lost and alone which made it really nice when I put my glasses on after about five minutes and found her after walking all the way around without seeing her the first try.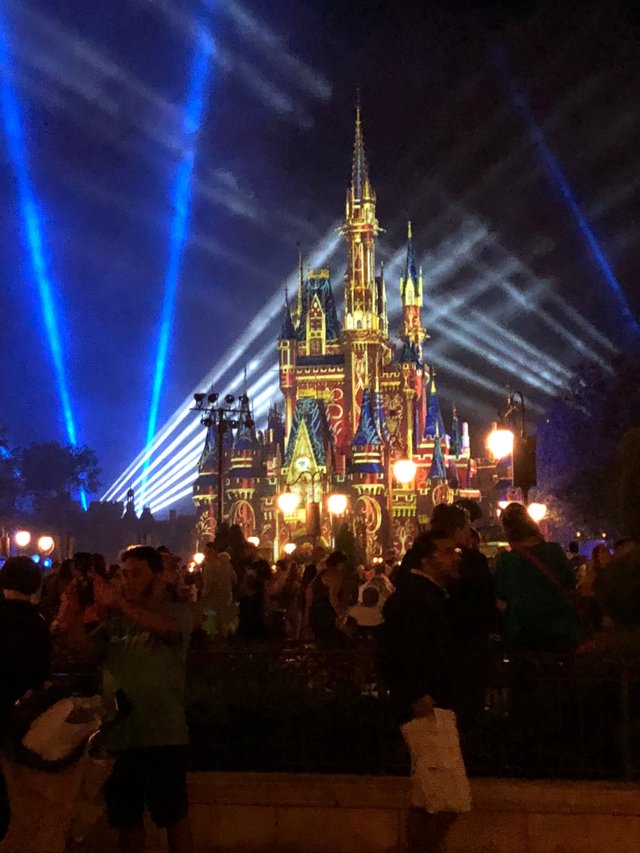 We watched the castle show together from two tables which thanks to the rain had seats with a great view. From the point of view of having a simple life, the amount of stimulation is crazy from fireworks, lights, and literally someone flying from the castle over out of view. I stood in line next to a young man just graduating high school and waiting for a cup of water refill as I considered whether to get popcorn and nuts or two boxes of popcorn. I found this out by asking what he was going to order and he replied he did not have any cash. He declined my offer to buy him whatever he wanted and said he would be going out to eat afterwards. A couple in front of me appeared upset because their popcorn had too much salt and they asked for another bucket. I tried to radiate some extra love to the employees at the stand and enjoyed my burnt popcorn as soon as I got it.
After giving myself a pat on the back for being so kind to offer to buy the young man anything he wanted, I realized I had not even considered letting him go in front of me to refill his cup of water and instead had allowed him to wait behind me for about 3 to 5 minutes as I ordered nuts and popcorn while taking my sweet time swiping my credit card. That thought brought a smile to my face in gratitude as I realized I at least was able to notice that after the fact instead of not seeing it at all.
Laura and I retired to our room at around 10 pm and watched the water show which left me nearly drooling (according to the spellcheck apparently it is not drueling lol) wondering wtf I was watching. Laura remarked that after the castle show it seemed pretty basic. I hoped that someone else was at least watching because in all the times we had been to Magic Kingdom I never remember seeing that.
This morning we woke up and took our time going down to breakfast. I am grateful I resisted the temptation to check my discord channel, the comments on any posts, the Steem price, or do anything besides resteeming. I am clean off of checking the Steem price for about 36 hours now. Maybe I can make it another day or so before I find a reason "I have to check it." I am really hoping for that future without money.
Laura and I enjoyed a breakfast at maybe it was called once upon a time or some other restaurant downstairs I cannot be bothered to google right now. I got a bowl of oatmeal which turned out to be a lot smaller than I expected. Seeing how small the oatmeal was compared to Laura's big breakfast plate just helped me to remember a roommate I had after college who always told girls he had a small penis prior to having sex with them because then when they saw his apparently average sized equipment they would be pleasantly surprised. At the time I did not understand why a man would do that and now it makes perfect sense. For the record, power, money, cool toys, and fame do not increase penis size or self worth at least in my experience. On the other hand, eating a whole plant based diet as recommended in How Not To Die does increase the frequency and stability of an erection without any of the risks from taking pills.
After almost 2,000 words written in an hour after I initially started with the idea of posting this with pictures only, maybe it is time to stop now mack? I wrote this post with the intention of communicating the most valuable parts of my experience on this trip to Disney so that you might experience it as I did. I started reading The Subtle Art of Not Giving a Fuck: A Counterintuitive Approach to Living a Good Life by Mark Manson which may give me an excuse to increase the amount of profanity in my posts because I enjoy a healthy dose of it here like seasoning on carrots. Sometimes profanity helps us get down the more uncomfortable parts of life that we need to digest to fully experience love and joy.
If you want some more of that I just got the courage to release my stand up comedy on YouTube today two months after putting it on Steem. I realized that I do not give a fuck about my YouTube ad revenue or the amount of dislikes the video gets compared to truly making a difference in this world and maybe helping someone today not feel like a worthless piece of shit like I used to feel like if you got the truth out of me. If you want some more laugh and crazy stories, you might enjoy it or be one of the people leaving a dislike.
Love,
Jerry Banfield
Shared on:
Let's stay together?
Our Most Important Votes on Steem are for Witness!