Consensus 2018 will be held in Newyork from May 13rd to May 16th, it is the biggest blockchain topic conference in the world, over 7,000 people have registered for this year.
I am going to this conference, and will attend most of the activities of the the blockchain week. Also, I will be very pleased to meet people, so if you would like to meet me for potential collaboration, please leave me a message, thanks.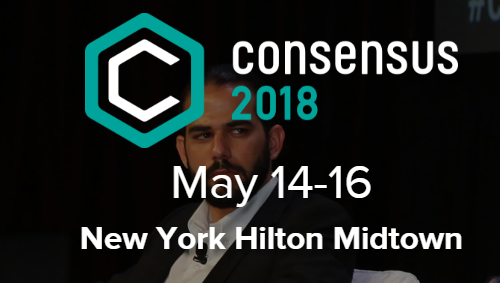 纽约共识大会办到了第四届,从最早的千把人,到去年的接近3000人,今年参会人数据说接近7000人,是历届最大的一次。上万的票价,加广告商和项目方的赞助,办个活动都能赚上亿人民币,除了币圈,相信很难在其他地方看到这种情形了。确实,上万的票价有点黑心了,但即便如此,全世界的区块链行业的人士仍然趋之如鹜,来参加这个大party.
从注册开始,邮箱已经收到了十几封邮件,都是各个项目方推广自己的项目的,很显然,大会主办方把我们的信息卖给了项目方或者赞助商。也正因为此,本次大会遭到了Vitalik的抵制,原因是V神不想自己的名气被用来当作获利的工具。
我这次去凑个热闹,未必是为了能听多少演讲,因为可以看视频或者直播。主要还是想见几个项目方。13号-16号都在纽约,欢迎来约! 不过下次如果还是这个情况的话,貌似不需要注册买票了,只要到时间来纽约见朋友就可以了。
另外,圈内都说逢会必跌,但共识大会却是个例外,不信看下图(来自金色财经的统计):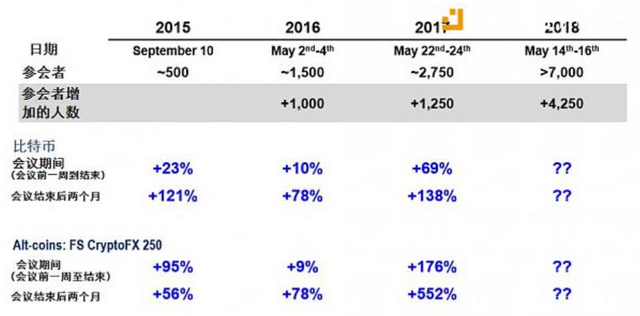 可以看到,每次共识大会都是上涨的开始。这次我感觉还是这个趋势,因为这几天的暴跌似乎就是为了给未来一些天的上涨腾出空间。