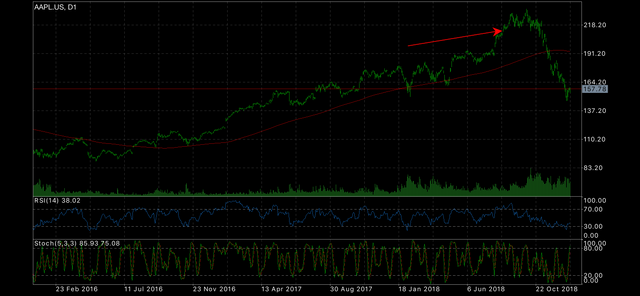 The TV and talking heads on CNBC, from an intermediate to longer term perspective, may be some of the worst real time advice that is available to the mainstream today. You have to understand that they are making money off your clicks, and off your views and even the "Best" are mostly only good at "buying and holding" Let's take a look at $AAPL over the past few months.


I have marked an area of $AAPL that, infamous Buy and Hold investor, Warren Buffett claimed to the world that the iPhone was greatly undervalued. Berkshire Hathaway is now currently 25% long this stock from this arrow, and look where it is now. Good luck Warren. Everyone one who knew what they were doing (managing money) should have been getting people out of the way in Q4 for the carnage that is ensuing.
Mr. Buffett is one of the best investors of all time, but when you hold $KO (Coca-Cola) forever, you have to live "forever" to reap the benefits. Sure if he holds $AAPL for the next upturn then it will be a winner, but he isn't going to live forever. You can clearly see the past 3 times you SHOULD NOT have been buying AAPL and this is when most people WERE buying AAPL.


In my opinion that is why Buying and Holding is a complete joke of a strategy over a certain age, because life does not get shorter. But that is a conversation for another day. Looking at the chart above you can see the past 3 times you should have sold, and the past 2 times you should have bought. Is this a third time you should be buying now? I believe we will need weeks to find that out but there will be plenty of time to get in and NOT lose money here.
PS, if the iPhone was undervalued st 215, it is WAYYYYY undervalued at 143 :)
---
Published by Hey I'm Snuffles
on

with SteemPress
https://mentormarket.io/heyimsnuffles/why-i-say-turn-off-the-tv-aapl-spx-qqq/
---