The Learning Curve & The Roller Coaster 🎢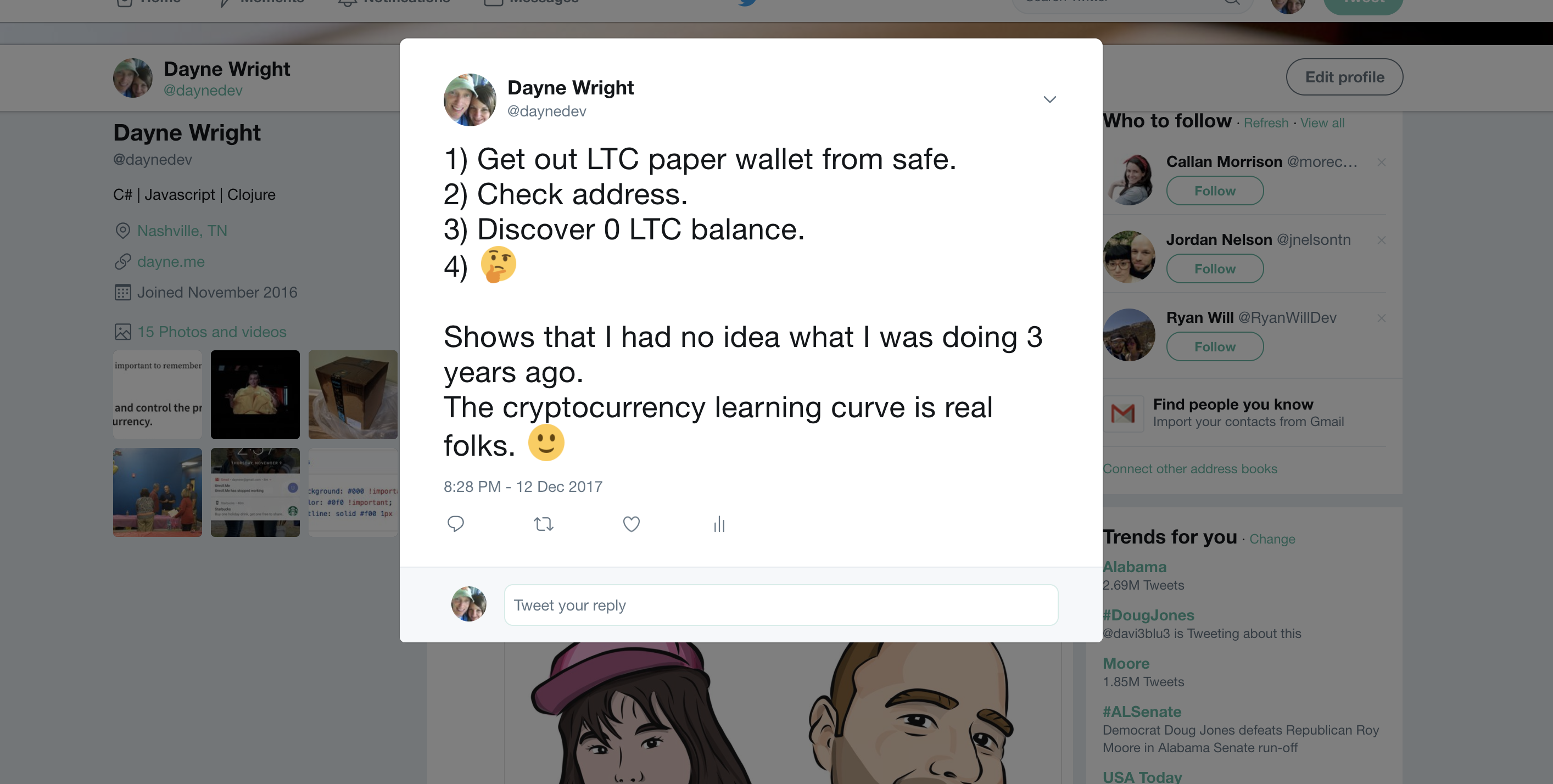 I remember reading about Bitcoin around 2012 or 2013. It seemed interesting but it didn't peak my interest and at that point I was still working in sales and was not looking at technology the way I do. The idea behind the blockchain and the impact it can have would have been lost on me.
Fast forward a year or so and I started getting on Coinbase and slowly figuring out how to purchase small amounts of Bitcoin, and at one point I even grabbed a little Litecoin. I had no idea of public keys and private keys and the risk involved with simply moving these coins around. I just assumed (as I am sure a lot of people do) that Coinbase is like a bank. 🏦
The more you learn the more you realize that you MUST own the private keys to truly own the cryptocurrency.
After that, I looked up how to move my coins to a paper wallet and proceeded to transfer them over. I put a paper wallet with Litecoin in our safe and forgot about it until things started to really move. Crazy how LTC and others have grown!! 📈
I decided to get it out and checked the public address only to find out it was ZERO. NOTHING. Somewhere along the road of moving it over I messed something up. Looking back on it now it doesn't seem that hard to get coins over but when you are new to this stuff every part is a potentially huge learning curve.
I know I should have checked and tested with a small amount first. I know I should have confirmed it was in the address before storing the paper wallet. I guess at the time I didn't realize I even needed to make sure the transaction went through. I honestly can't remember.
As I discovered this it made me realize that every blockchain or Bitcoin expert out there has a story about where they messed up or didn't get it. Sure, some are just for a few minutes but for most of us it was a few weeks or months or even years.
What about you. Do you have any stories or experiences as you found your way through cryptocurrency?