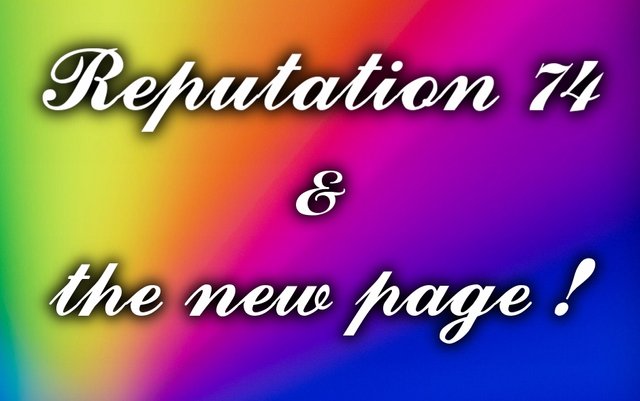 ---
I'm happy to reach the reputation 74 finally. I always motivate myself to keep pushing in steem and I always find a new challenge to not stop. Steem is going lower and lower in the price and less people active on it. I see it as an opportunity to be noticed. Any bear market has a certain time to end. I still think that someday we will all be happy here.
All the crypto world is in fact new. I look at this all in 10 years from now. Take a look at other crypto project and what they are building, they will all need a social media to post in. So, guess where they will go.

We also have a lot of good things built on steem and we have people really doing their best to promote it. I think we will see the effect very soon. After this crypto winter, I think 2020 is the year. We already see bitcoin going down and more and more people are investing in altcoins, so maybe that what will make all the alcoins including steem, grow the next year.
But, we still need more people who will promote this technology. We don't have to look at this only in the perspective of earning money, but we have to look at the things build here and all the opportunities we have. Not only in steem, but generally in the web.
Let's take a look for example at the application we have on android and how many things we can easialy do with our phones. If we mix the use of steem applications with all those applicating we have, we will grow very fast.

So, we can create cool videos, logo, pictures and a lot of content to promote ourselves and steem after.
Now, I see it the only way t boost steem growth. Every single steemian has to do his best to grow his account in other social media first, and only then start to promote steem. I even created a video about that, it will be published soon.
So, I can't tell you that my next challenge is the reputation 75 knowing that I will get there anyway. But, I will tell you that my next challenge is at least 1000 followers in every single social media where I promote steem. I'm almost there in youtube, twitter, already there with facebook and not yet with tiktok and instagram.

You can help me by following me there and let me know how to find you so, I will follow back as well :
---
Facebook group , Twitter, Quora, Reddit, Youtube, Instagram.