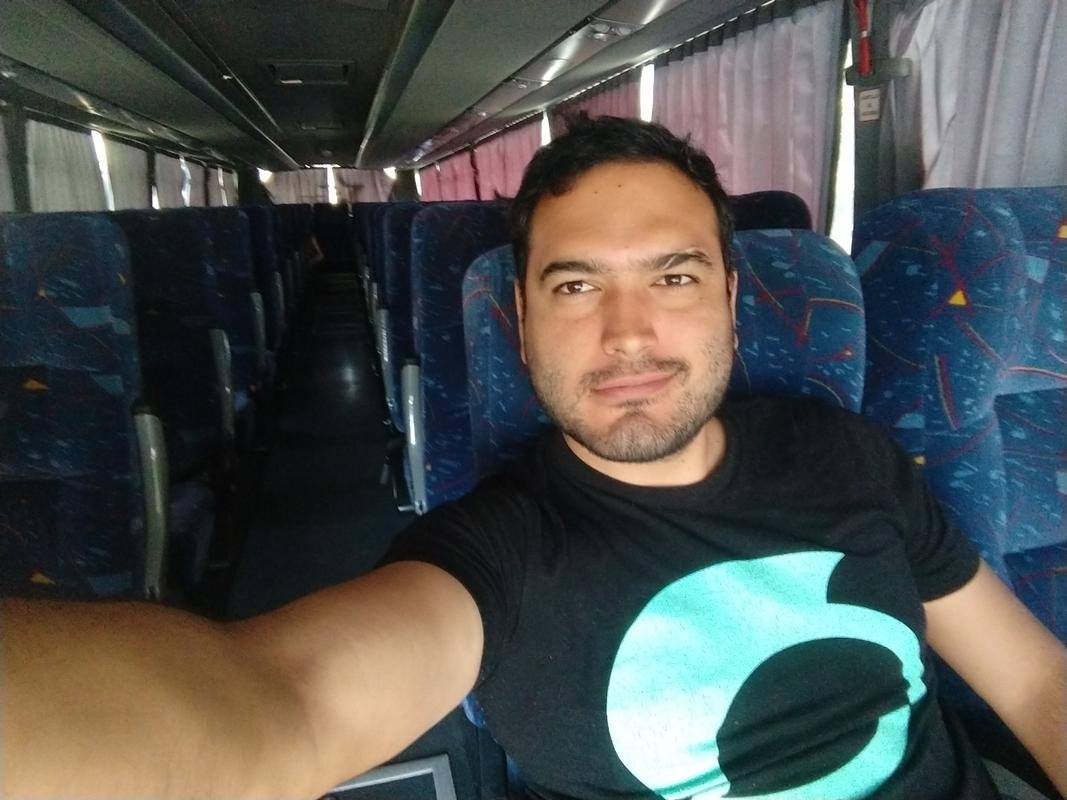 Oh yeah, I have the whole bus for myself. I guess thats the advantage of oversleeping and taking the 10 am bus instead of the 6 am. Did you notice? I am wearing my Steemit T-shirt I got from @sjennon and @things when I checked in to SF2 back in November 4 in Lisbon.
I can't believe it's been more than 6 months since I met so many amazing people. Hey @roelandp, I believe last year around these days you announced the venue for SF2, are we getting any hints soon?
For those who haven't heard of him, @roelandp is the Steem Witness who organizes the coolest event of the year: The Steem Fest.
Six months since I went to Europe for the first time. 180 days since I was able to put a face to many usernames with whom I interacted and engaged over the previous six months since I joined Steemit.
I have no idea what the future holds for me and even though I have some plans in mind, some people have told me that due to the size of my Steemit wallet - even if 99% of it is delegated - I shouldn't be so open about my whereabouts all the time, so I'm going to listen to other people for once in my life and I'll tell you about them using a different timing than I'm here today and I'll be there tomorrow as I used to. This is hard for me because I do believe that having an open communication blog allowed me to connect with my readers and also it made it easier for them to relate to my experiences in real time.
One thing is certain, I'm starting to see the light at the end of the tunnel and I'm hopeful I'll be able to adventure again soon.

---
Most of you - around 80% of my followers -met the back home Eric, not the adventurer Eric. From April to November I was focused in one idea: Travel wherever I wanted, with the lowest budget ever seen before, and taking all the risks a sane person wouldn't take.
Hopefully, in just a few days I'll be able to go back to the roots and give my followers what my username promises: a true nomad soul's adventures.
You see, for me, life is not about worrying about the future. This doesn't mean I don't care what happens 10 years from now and definitely doesn't mean I don't think of how to somewhat secure my future. What it means is that I came to realize that the present is 100 times more important than the future and whatever I do today, matters more than whatever I do tomorrow, and whatever I do tomorrow, matters more than what I did today. Do you see the difference?
I don't have a girlfriend or wife, I don't even have a Titan killing long term booty call to worry about (if you understood this reference, I bow to you kind sir/lady). I don't have children, I just have some dogs who get enough love and attention from my family and this family knows about my need to adventure as frequently as I can.
So, as you can see, I have nothing keeping me here, and I have really nothing to worry about while risking my life in exchange of adrenaline and adventures.
I can't wait to tell you about this new Odyssey I'm planning to conquer but I'm pretty sure it will kick my previous adventures's ass.

---
Remember I told you I was getting fat because I stopped smoking? Well, I haven't smoked in a while (maybe one every week or so when I can't fight the stress of being a virtual whale but being broke irl) and I'm losing weight already. I started going to the gym and to eat healthier and I'm little by little going back to my normal weight and handsomeness (yeah right).
Anyway, this freewrite wasnt as long as the one from last week but that's how freewriting works, sometimes you get enough inspiration to write the Bible and sometimes you are just in the mood of writing an E.L. James tier post - I mean this in a bad way of course, try reading the book, needles to my eyes I tell ya.