What is the time in Wordpress? How to change the Wordpress time-zone?
Thomas is writing lots of articles that he wants to have published at different times. But, when he sets an article to be published at 12.00, it is often published one hour later. How come? What time system does Wordpress run with?
Thomas once tried to help someone to have an article published at exactly 00.00 on New Year's Eve, wishing everyone a happy new year. But, it turned into a major bummer, because the article was published at 23.00 instead. What caused this? How can Thomas make sure it will not happen again?

Fix the time zone of your Wordpress installation
Thomas has found a way to solve this problem once and for all. To do so, he goes to
Settings
and chooses
General
in the Wordpress menu. Under General Settings he can find an option which is called "
Time Zone.
"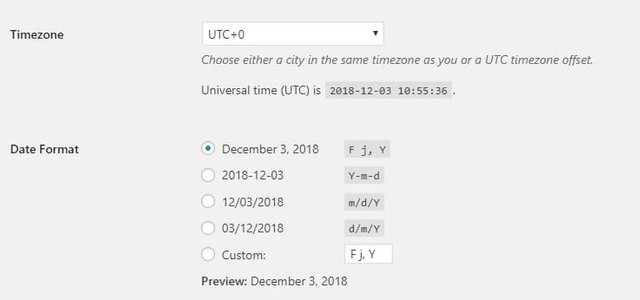 Above you can see a picture showing what this is like. First, you can see that the time zone is set to UTC +0, and beneath you an see what this actually means when it comes to the time of the given Wordpress installation.
If Thomas lives in a country which is UTC +1 and Thomas sets an article to be released at 12.00, it will be released at 13.00 in his local time, because Wordpress will publish it at 12.00 UTC +0 time. The easiest way to fix the trouble is by changing the time zone so that it will reflect the time zone you are in!
Thomas is a bit confused, but at least he understands how it works. He will not fail again if he tries to publish something at exactly 00.00 on New Year's Eve, that is for sure!

---
Posted from my blog with SteemPress : https://www.thethomasstories.com/what-is-the-time-in-wordpress/
---