🕊 Marketing strategy for Twitter profile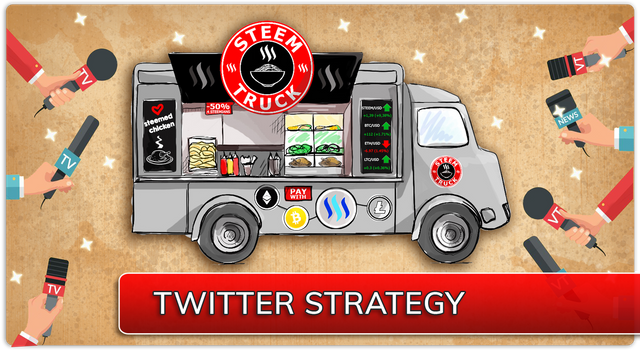 It's time to start promoting the project in the mainstream! The third platform for which I prepared a marketing strategy is Twitter.
It is a platform on which, apart from fans of good food and travel, you can find many enthusiasts of cryptocurrencies. The characteristic feature of this platform is that it is used by older people than the ones you can meet for example on Instagram. So this is a place that gives me a chance for serious business proposals and the opportunity to receive a donation, which can help the project take a big step forward.
That is why on this platform I will focus more on promoting our ecosystem and the activities of Fundition.io. Of course, on the profile there will also be a place for content related with food and travel.
That's why I've prepared a set of activities that I'm going to carry out to reach a wider audience.
Target group:
Users between 24 and 48 years old
Interests:
Cryptocurrencies, blockchain technology, food, travel
Amount of posts per week:
5
Types of posts:
▪ information and curiosities related to the Steem blockchain,
▪ commenting events related to the cryptocurrencies market,
▪ photos of interesting dishes with a short description,
▪ photos of interesting dishes with a short description,
▪ posts promoting the STEEMtruck project,
▪ posts promoting the Steem ecosystem,
▪ posts describing the activity of the Fundition.io
For published posts I have already selected a set of hashtags, which I will use regularly to promote my content.
In the case of Twitter, I will focus primarily on interaction with other blockchain fans, and after some time, for comparison, I will launch the first advertising campaigns.
Once a week on my profile I will publish a summary of actions on Instagram.com with current statistics.
If you want to help promote the STEEMtruck project, leave follow on my profile today and let your friends know about it!
Click and visit the profile:
If you want to support the STEEMtruck project with your donation just click on the banner below. I would be grateful for any kind of support.
Send a donation via Fundition.io to support the STEEMtruck Project ⤵