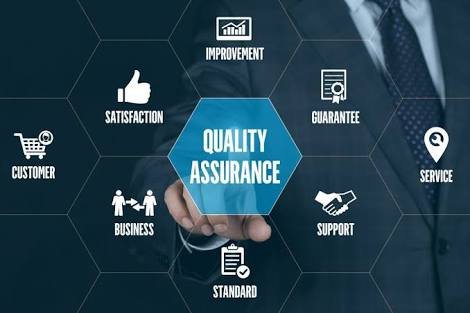 Source

Quality control is pertinent to upholding manufacturer's stance and reputation in manufacturing industry. Quality goods increases in market shares and gets the needed patronage from the buyers. Quality goods reduce the risk of reproduction for replacement of damaged goods. Quality goods are highly valued as customers are always satisfied with them.

POINTS TO CONSIDER
---
1 Improved Products
2 Consistency
3 Increases Market Shares
4 Cost Cuts
5 Risk Reduction
6 Resource Conservation

IN DETAILS
---
---
1 IMPROVED PRODUCTS
---
To produce quality products, professionals are employed and the manufacturing process is well handled. When there is quality control in production, the end product is of good and acceptable standard. To improve products, there's always a standard set and must be followed strictly during production.
---

---
2 CONSISTENCY
---
Quality control has a greater role to play in building consistency throughout the assembly process by eliminating redundant processes and scrapped materials. Quality control helps enhance consistency in production as professionalism is highly considered during production. Here, due process is followed, well trained personnel are used and high standard materials are used for production.
---

---
3 INCREASES MARKET SHARES
---
There are lots of brands that dominate the market, not that there are no other brands, but because they maintain high standard in production. The higher the quality of your products, the higher the patronage. When your company maintain standard in production, customers are satisfied and are willing to spread the testimonials about the company to others.
---

---
4 COST CUTS
---
Quality goods do not get damaged easily. When quality goods are produced, costs of repairs or replacement is reduced. Quality production comes with quality standard of production; raw materials are properly utilized during production. Thus, efficient quality control can cut costs in a transparent way.
---

---
5 RISK REDUCTION
---
Quality control gives an entrepreneur an assurance that all of his products are on the same level when they are finished and can be delivered to customers without the risk of damages which would call for replacement.
Quality control is not really easy, but with the right software, an intuitive optimization can bring about improvement. With the right software, a clearer picture of what is desired for production can be seen and guideline followed to achieve it.
---

---
6 RESOURCE CONSERVATION
---
Quality control helps in resource conservation because every production is well planned and resources are effectively utilized. For production to be carried out, due process is followed and the goods produced are of the expected standard. Quality control prevents wastages.
---

---
REFERENCE:

Thanks for reading!