HR Research about Starbucks Company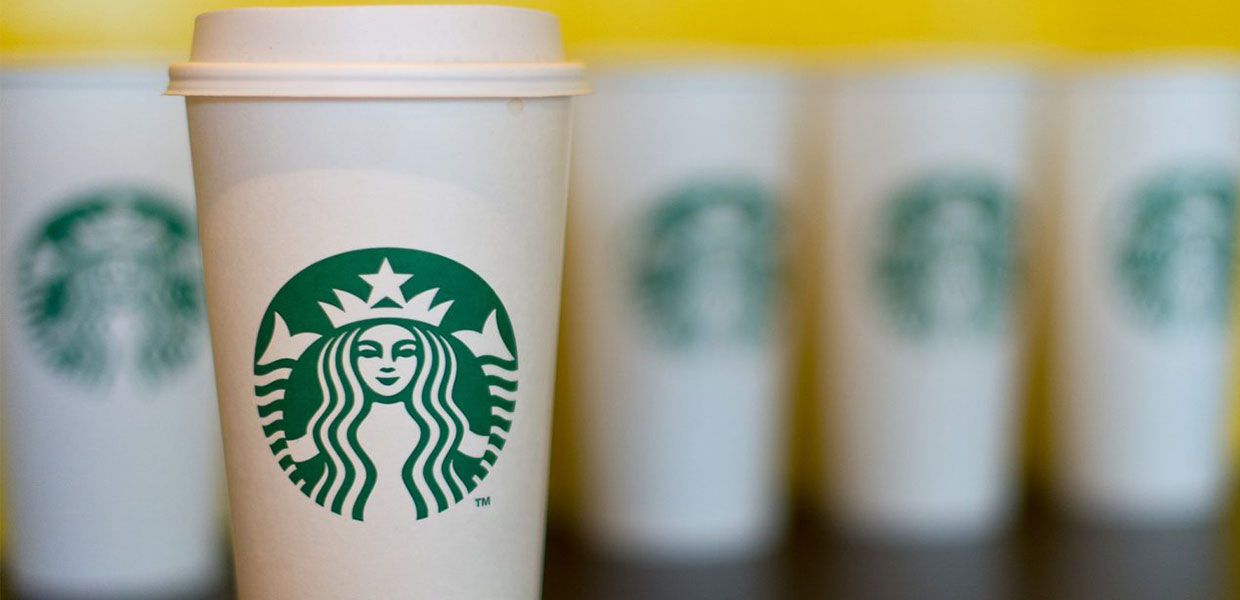 ) Introduction:
Starbucks is one of the largest American coffee company and coffeehouse chain in the world and its very profitable organization. . It is a global coffee brand which provides different, creative products and fine services. Starbucks was founded by three students in Seattle in 1971 year. As of November 2016 it operates 23,768 stores in worldwide locations, including 13,107 in the United States, 2,204 in China, 1,418 in Canada, 1,160 in Japan and 872 in South Korea and a lot others countries. The organization depends on a main competitive advantage, retail of coffee. Some of Starbucks products are beverages (coffee, tea, Tazo, soda, juices), pastries, whole coffee beans and merchandise (mugs, CDs, cattle's, cups). The logo of the Starbucks means siren or twin tailed mermaid which are draw by the singing in Greek mythology, and a Starbucks means name of the main character in Mobidick tale. The name was chosen like this because two of students which are founders of company were historian and one was literary man.
A basic business or competitive strategy for Starbucks.
So in Business Management there are three types of competitive strategy, it's a Cost Leadership, Differentiation, Focus sometimes its calls Porters generic strategies.
The most appropriated strategy to help Starbucks is differentiation. I choose this strategy because Starbucks do different things from others coffee shops and the thing which they focus is differentiation because they serve people in different ways and design for coffee and new beverage for every season is something new and special for somebody. So customers focusing on small but pleasant. For example the quality of coffee, or special designed cups which are all recycle or designed, inside of store also, so here we can use also focus strategy of competitive.
 3) Workforce requirements at Starbucks

· Change reactive approach with more precise interventions.
· Decisions are based on clearer understanding of critical factors and relationships –in effect, a 'risk audit'
· Figure out which roles or jobs have biggest business impact?
· Which will be hardest to fill internally and externally in the future?
· Which skills and competencies will become increasingly or decreasingly valuable to future performance?
· Which talent segments need to be protected as feeder pools?
New employers must get X hours of training, in getting to know about coffee, also to greet and serve customers. They are provided with full health insurance. And how everybody knows employers share in the company's growth up to X percent of their gross pay, and a stock-investment plan allows them to buy shares of Starbucks common stock at a discount through payroll deductions that why in Starbucks everybody calls each other a Partner, to keep in mind its mission statement, monitor management decisions, and submit comments and questions if they encounter anything, so employers feels better then hireling. And Starbucks employers have an 82% job satisfaction rate. But it's not just the benefits that attract employees. Another company survey found that the top two reasons why people work for Starbucks are "the opportunity to work with an enthusiastic team" and "to work in a place where I feel I have value." After finishing trainings employers get black aprons displaying the title 'coffee master'. This apron worn by employees, who have completed the coffee master course which educated in coffee toasting, growing regions, roasting and purchasing.
Specific Human Resource policies and activities to produce these work force requirements.
The specific HR policies are called 'SWOT' means "S" for Strength, "W" for Weaknesses, "O" for Opportunities and "T for Strength.
· Strengths
determining the strengths of your HR practices involves looking at how well your HR staff handles employee request. A staff that welcomes questions from employees and applicants alike is an obvious strength based on HR's goal to provide efficient customer service to employees. Other potential strengths include HR staff, their functional expertise and knowledge of HR disciplines. Which are considered strengths or internal factors to impact HR practices.
Factors like this: Starbucks Corporation is a very profitable organization, earning a profit of $2.54 billion of US dollars in 2016.The company generated a sales of more than $20.16 billion in 2016. It has 238000 employees all over the world.
It is a global coffee brand built upon a reputation for fine products and services. Starbucks was one of the Top 100 Companies to Work For in 2016. The company is a respected employer that values its workforce. The organization has strong ethical values and an ethical mission statement as follows, 'Starbucks is committed to a role of environmental leadership in all facets of our business.
Starbucks is the leading retailer for brand specialty coffee in the world Strong brand image with the motto 'The Starbucks Experience'. One of the strongest franchises in the world with more than 6500 licenses shops in the world.
Cafes positioned in high street locations, malls, within other businesses areas like offices building. Wi-Fi Internet service in all of Starbucks retails. The process of preparing the product does not need highly sophisticated technology. They have limited number of strong competitors. Have a Starbucks Workers Union which helps employees to inform their thoughts to management.
· Weaknesses
Starbucks has a reputation for new product development and creativity. The organization has a strong presence in the United States of America. It is often argued that they need to look for a portfolio of countries, in order to spread business risk. The organization deepens on a main competitive advantage, the retail of coffee. This could make them slow to diversify into other sectors should the need arise. High pricing which cost not all kind of market could buy Starbucks' products. Starbucks considered 'American Global' which cost sentimental issue for customers in some countries. To focus on US domestic market. For example in China it's quite expensive for most of population.​
​
· Opportunities
They are very good at taking opportunities. In 2004 the company created a CD-burning service in their Santa Monica cafe with Hewlett Packard, where customers create their own music CD. New products and services that can be retailed in their cafes, such as Fair Trade products. The company has the opportunity to expand its global operations. New markets for coffee such as India and the Pacific Rim nations are beginning to emerge. Co-branding with other manufacturers of food and drink, and brand franchising to manufacturers of other goods and services both have potential.
And also for employee because how I said they are all partners and they can give an idea or something else it gives to employees a chance or opportunity to show themselves, the potential employees are educated people which make it easier to train them. Customers are not price sensitive. (Depends of country how I said in weakness) Growth of economy in the markets in Indonesia, especially in urban areas. The democratic economy policies in Indonesia make it easier for Starbucks to expand their business. People in Indonesia has kept the positions of Starbucks as one of the best meeting point. Some of Starbucks beans are harvested in Indonesia island of Sumatra and Sulawesi. Starbucks purchasing high quality beans in these island at premium prices to help farmers to support their families and invest in a sustainable living. Starbucks paid an average price of $1.20 per pound against the commodity average price of $0.40-0.50 per pound.
· Threats
Starbucks are exposed to rise in the cost of coffee and dairy products. Since its conception in Pike Place Market, Seattle in 1971, Starbucks' success has led to the market entry of many competitors and copycat brands that pose potential threats. Global financial crisis which make peoples tend not to spend too much money.
Issues stated that Starbucks exploit their workers by paying a very minimum wage with a very high standard of work they need to fulfill.
Suggest for metrics you could use to measure the success of the Human Resource strategy
There are three possible competitive strategies planning. They are, cost leadership, Differentiation and Focus.
1. Cost leadership,
Star bucks target high class customers. It is good and currently the strategy running well. But I suggest to do something with middle level customers, and with countries with not good currency to US dollar, maybe something chipper but under the name of Starbucks.
2. Differentiation
Consumers can recognize the different Starbucks stores have different menus, other than the standard menu. This make the customer feel fresh when they enter in to any store. Especially at the coffee shop they need to do many changes regarding what they make every day. This is a way that we can attract the consumers and also we need introduce different food items and drink items. It's better with no changes maybe something new for other style customer's maybe special stores with special design for most population of location or something with new trend.
3. Focus
 The Starbucks makes a lot for design and vibe in stores, for example asking and saying your name so you fill more attractive, and the main thing its chairs and pillows and fast internet and that the rule of company but for customers its more it's like a stereotype of Starbucks, that there feels home. And no need to change.

Conclusion
After all information which I learned about Starbucks and wrote it to you, about workforce requirements, specific HR policies for Starbucks, and my suggestion, we can tell that my ideas close to CEO of Starbucks Howard Schulz because he did same thing in 2004th I think when the Starbucks had a competitive crisis, but he did more for differentiation, he just closed half of stores to make it more special for people.