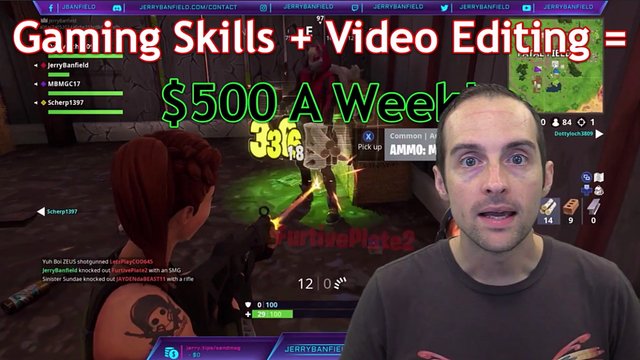 How do we combine our video gaming skills with video editing, to earn $500 a week?
If you would like to see the answer to this, would you please watch this video and leave a like if you find anything helpful because that's the first step to making this a reality?
$500 A Week Gaming + Editing Videos?
If you will enjoy reading and contributing to the discussion for this post, will you please join us on the YouTube video below and leave a comment there because I read and respond to most comments on YouTube?
If you find anything helpful in this video or funny, will you please leave a like because you will feel great helping other people find it?
The first step is to imagine to see that it is possible because other people are doing it then to go forward.
Now, this sounds so obvious, and yet it can be really difficult. I am offering a job right here to you watching the video or reading this post for $500 a week to edit my gaming videos when you follow through with the path I've laid out for you.
Why?
Because I don't have time to edit all of my own gaming videos and I need help from an experienced gamer who knows what to look for in the video, who maybe already watches my gaming videos and therefore can do something fun and earn money off of it.
That is the vision.
I'm grateful today that it's my real life and that's what motivates me to share with you. If you aren't interested in editing my videos, but you do want to turn your gaming skills into $500 a week, I hope this will also be helpful for you as I lay out the path to using your video editing skills combined with live streaming in order to earn the most money from gaming.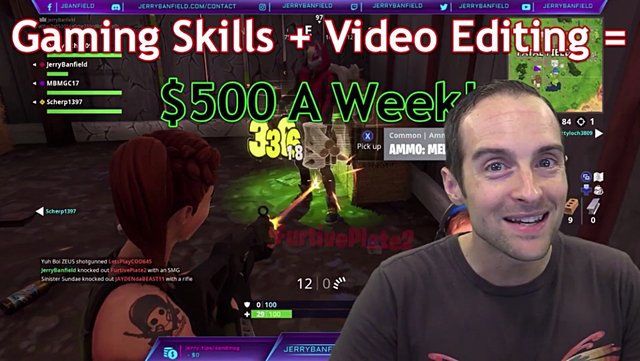 If you want to do like I'm doing and earn money all different ways from gaming, then what you really need is to live stream, and then edit the recordings of the live streams into shorter videos people can watch.
When you combine the two of those, you can make $500 a week when you combine ad revenue, donations, subscriptions, and partner deals or brand deals with your channel.
Read more on my website at https://jerrybanfield.com/editing-gaming-videos/.
Love,
Jerry Banfield
https://jerrybanfield.com/
https://jerrybanfield.com/blog/
https://jerrybanfield.com/books/
https://jerrybanfield.com/contact/
https://jerrybanfield.com/freecourses/
https://jerrybanfield.com/masterclass/
https://jerrybanfield.com/partners/
https://jerrybanfield.com/podcast/
https://jerrybanfield.com/resources/
https://jerrybanfield.com/steem/
https://jerrybanfield.com/twitch2019/
https://jerrybanfield.com/wirecast/
https://jerrybanfield.com/youtube/
https://jerry.tips/emaillist1017
https://jerry.tips/songsbyme
https://u.jerrybanfield.com/
https://www.facebook.com/jbanfield
http://itunes.apple.com/podcast/id915442105
https://www.patreon.com/jerrybanfield
https://soundcloud.com/jbanfield
https://teespring.com/stores/jerrybanfield
https://www.twitch.tv/jerrybanfield/
https://twitter.com/JerryBanfield
https://www.youtube.com/jerrybanfield