Jeff Bezos, Amazon CEO, Announces Divorce from Wife of 25 Years
This announcement is so noteworthy because Jeff Bezos is the world's richest person at this point in time. Almost everyone worldwide has heard of Amazon or used it at some point in time to save money on the purchase of online goods. Jeff Bezos has been lauded as a business genius.
According to a report by Bloomberg, Jeff Bezos is worth $137 billion with a $12.5 billion year-to-date change. The second closest on the list is Bill Gates with total net worth of $93 billion with a $2.54 billion year-to-date change.
But, if this divorce goes through, it's likely that his wife, MacKenzie Bezos, will take half of his assets. Washington State law allows for an equitable split of assets when a couple divorces so the business may take a dip in price if that happens.
So far, the divorce seems to be extremely amicable and both parties claim they will be friends following the divorce but the outcome of this situation remains to be seen.
The Announcement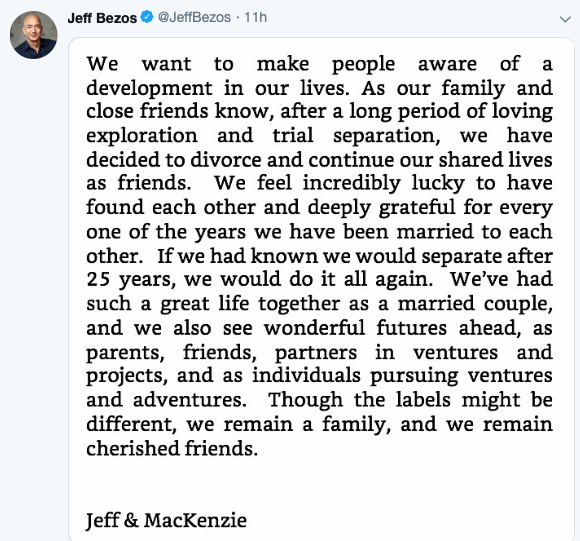 Retrieved from Twitter
The announcement of the divorce was put up on Twitter, a medium that Bezos doesn't use often. It has been said that if you want something to go public quickly, use Twitter. And this was no exception! News outlets picked up on the story quickly and the rumors started.
More About MacKenzie
MacKenzie Bezos was one of Amazon's first employees (she worked as an accountant) after the pair met at D.E. Shaw, a hedge fund/tech development firm prior to the start of Amazon. Insiders at Amazon claim that part of the business plan was actually written while they drove cross country from New York to Seattle.
She is a Princeton graduate that always had ambitions of becoming an author but put her own dreams on hold to support her husband. Growing up in San Francisco, she would write elaborate stories in her free time and was considered shy and introverted. She credits Jeff with being the social one of their pair.
Her first book was 142 pages and written at the age of 6! Unfortunately, that book was lost in a flood and was handwritten so no other copies exist. Not afraid of hard work, she has held employment as a: saleswoman, dishwasher, waitress, hostess, library monitor, cashier, data entry person, nanny, tutor, and then research assistant!
Surprisingly, MacKenzie was the one to ask Jeff to lunch, they were engaged within 3 months, and then married 3 months after that. They only had been married a year before moving to Seattle to start Amazon!
Dedicated to her work and the desire to become an author, she wrote her first manuscript over the course of 10 years, oftentimes in the bathroom in the middle of the night as time allowed. Her first book, "The Testing of Luther Albright" won an American Book Award in 2005. Her second book, "Traps" was published in 2013.
The announcement of the Bezos divorce is sad and tragic for them and for their four children but, hopefully, Jeff and MacKenzie can stay friends and be civil while moving through life. The price of Amazon dipped slightly following the post of Twitter but seems to have recovered already for the most part. Time will tell if the couple splitting will impact the company long-term. Best wishes to both of them and their family!
Thanks for reading!
Ivy