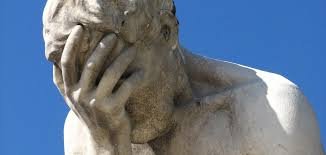 Deception by Policy
Private businesses create policies and procedures.
The fact that they are not in the best interest of their customer is not the point.
The ability for them to stagger any responsibility is.
In/Out of a Phone Contract
Case in point.
We had a phone on a 24 month contract @ $100 per month.
We were sitting, chatting, when I said, "I think it's been about 2 years".
I rang Optus (telecommunications company) and asked them when did the 24 months finish.
"Yes, it has finished." said the Customer Service.
In today's technology - why weren't we notified.
Their reasoning to me is, "That is your responsibility".
So, if I had paid for another year or two, for a phone that was already paid, then that was my own fault.
Wow, imagine paying off your car, and then, because you didn't realise, because you have a direct debit, that the car was paid off many years ago - that would be a crime - and yet, with modern technology, it is just a policy.
We are now on a data only plan and saving $70 per month.
Out of Contract Inflation
Our company electricity bill went out of contract.
When I compared the contract rate, to the standard rate, there was no difference.
So, I opted on not being on a contract.
I was told, "Contract rates provide certainty, and, electricity prices will rise."
I was thinking that a few % payrise was fine - the Electricity companies always win anyway.
For the next few months the price was steady.
Enter into this year, and the price doubled - 100% increase because they could - because we were out of contract.
I was told that it was my fault because they offered me a contract several months ago.
Really? Long term customer, who has no intention of changing suppliers (As the market has no true competition anyway) gets penalised due to being happy with the current structure?
So, I got put onto a contract. What a crappy taste - I said, why not just roll me into a contract?
ANSWER: Because you have choice.
A choice of being ripped off by different companies, foreign & domestic, for an asset that our Government sold to pay off its debt.
Apathetically, we take it. 'Cause, "why make trouble", is the attitude of a lot of Australians these days.
You didn't pay an invoice
We went to ship an item via FEDEX.
Our account wouldn't enable a shipment with an ERROR code of some sort.
Ring up FEDEX.
"You owe us money for an invoice that hasn't been paid."
"Really? When? How much?"
"From last August and it is $83"
I said "We spend $5000 per month and you have shut my account because of $83?"
"Yes"
Angrily I asked "And every invoice before, and after, has been paid. Did you even think that maybe we didn't have a copy of the invoice?"
"You would have received a letter."
"We have an account manager, email, an account for >15 years... OK, I will pay the $83, can you reactivate the account please? "
"That's not up to me. You will need to write a letter to the credit department to ask for a special reactivation."
... It took them 3 days to reactivate, causing a delay in our business - that was somehow our fault.
My account manager rang me up. I asked him to come out to visit - he is too busy.
I am hamstrung as both DHL and FEDEX operate the same way.
I said please, can you please, call me if ever there is a problem.
His reply "We will do our best, but our systems are not designed in this way."
Efficiency vs Bureaucracy
There are huge benefits in creating processes and procedures.
Standard ways of operating lead to less errors & clear steps = increased productivity & quality.
However, if a person follows their policies and processes, can hide behind them, robotically deal with a situation - then the whole objective of the system becomes redundant.
In a true market, this should allow for more adept, customer driven businesses to enter the market.
However, Government regulations make it hard for a small company to rise and challenge the dinosaurs.
This probably leads to slow innovation in more capital intensive industries, such as power, car, transport, which leads to a slow race to the bottom.