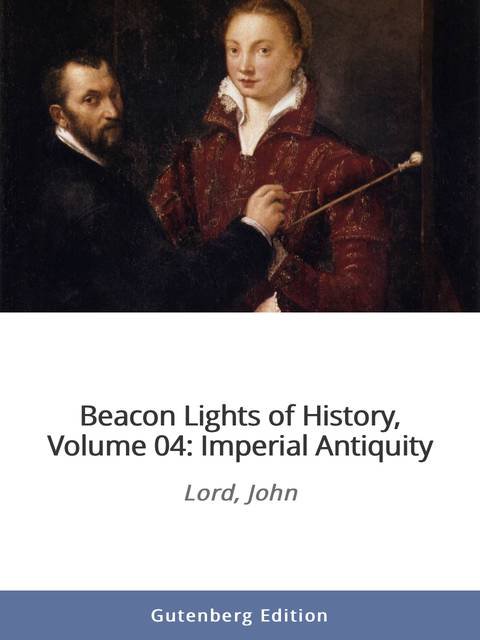 Lord, John
---
목차
 
    The Project Gutenberg eBook, Beacon Lights of History, Volume IV, by John Lord
    E-text prepared by Juliet Sutherland, Charlie Kirschner, and the Project Gutenberg Online Distributed Proofreading Team
    BEACON LIGHTS OF HISTORY.
    VOLUME IV.
    IMPERIAL ANTIQUITY.
    CONTENTS
    BEACON_LIGHTS_OF_HISTORY
    CYRUS THE GREAT.
    JULIUS CAESAR.
    MARCUS AURELIUS.
    CONSTANTINE THE GREAT.
    PAULA.
    CHRYSOSTOM.
    SAINT AMBROSE.
    SAINT AUGUSTINE.
    THEODOSIUS THE GREAT.
    LEO THE GREAT.
@bukdb 가 게시하는 포스팅은 북이오에서 스트리밍으로 제공하는 전자책들의 정보페이지입니다. 스팀잇 사용자들이 북이오 플랫폼에서 구입한 전자책에서 링크를 통해 인용을 할 경우 이를 보팅을 통해 보상하기 위해 자동으로 생성됩니다. 북이오가 스팀잇 블록체인을 통해 하고자 하는 일들을 가입인사 글에서 확인하실 수 있습니다.