There is a way to use more than 5 tags on your post?
I recently discovered something I thought was impossible - getting more than 5 tags on your post on the steem blockchain. But it seems this is not the case and this is actually something that you can do with the Steemshot app. My guess is that this is some kind of bug, but I'm seeing more and more posts with a higher than 5 number of tags.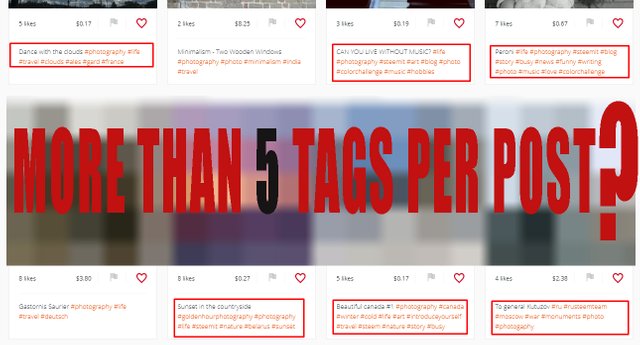 As you can see on the blurred out screenshot from their web app, there are a lot of posts with more than 5 tags and this can be checked through multiple interfaces:

That's on steemit...

That's on busy...
Is the tag limit something that is supposed to be a hard limit imposed by the blockchain itself? Or is it something that all the interfaces have decided to keep and that Steepshot has suddenly decided to break? If it was just consensus, this means that it's only a matter of time before somebody makes a tool to add more tags to your posts without having to limit the type of posts you can do like Steepshot does.
From what I can see on steemd.com about those posts, the tags are just a simple json field, so if Steepshot could enter more than 5 values, so could every other interface out there. And you know what's going to happen if tags become unlimited - tag spam! Everybody will start stuffing their posts with tons of tags to get as much exposure as possible. Sure, tags will become more flexible and more niche tags will be able to thrive a bit more because people would be able to use them, but popular tags are going to get bogged down with unrelated content even more.
I was thinking of testing this out from Steepshot, but it's more than obvious it works and I can't post such a long post from there.
---