The Shooting Range
Bucket List Vlog
Me and my girlfriend @azria recently got back from the US after a 14 day road trip from New York to Kentucky and back.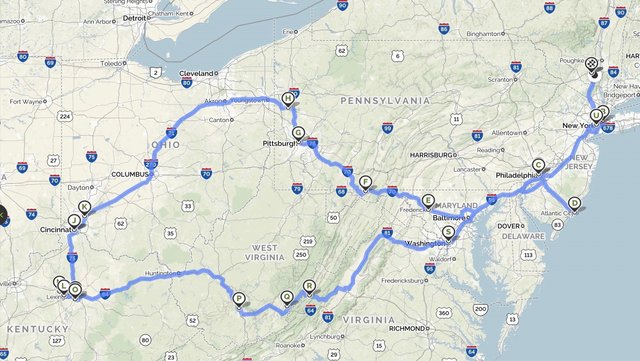 We initially went for our great friends, John and Lauren's wedding. So I saw a good opportunity to add a few items to the bucket list whilst we were there.
The first one is;
Visit a shooting range
The place we visited was called "The Machine Gun Nest" in Maryland.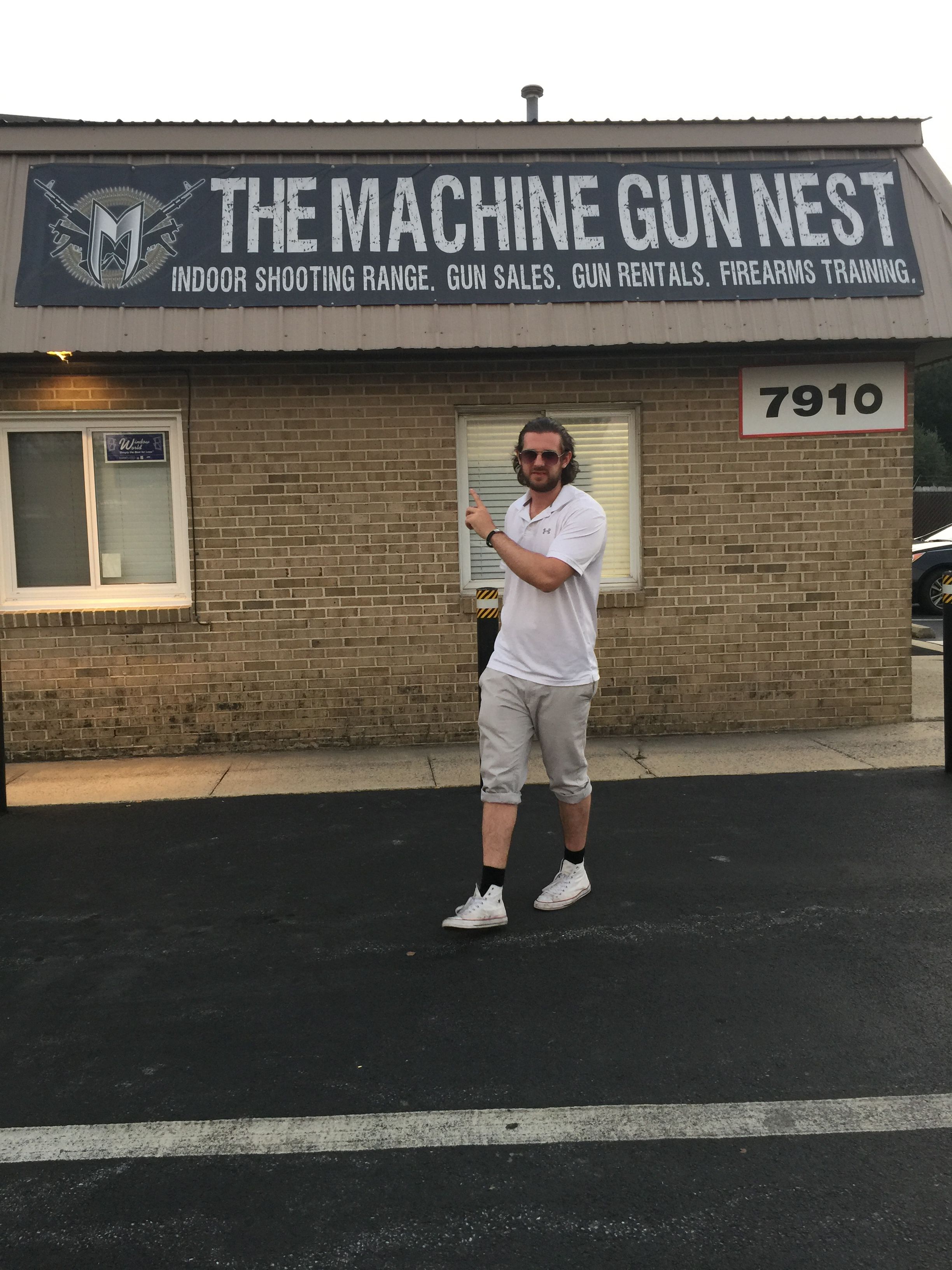 Now to those of you reading in the U.S, this post wont seem so special as you have these shooting ranges all over the place. But for an Englishman, where the closest we can get is doing clay pigeon shooting, it is pretty fun. Handguns and rifles are very illegal in the UK and really not something you ever see, let alone get the chance to have a go at.
We met Micheal at the range who was a really nice guy and very knowledgable. He taught us the differences between some guns, the magazine size, single action and double action, safety, and how to check the chamber etc.
Single action is where each time you pull the trigger a round is fired. Double action is where, 1 full trigger pull fires a round, then on the second trigger pull, the trigger requires a smaller pull as the hammer is left cocked from the first fire. (I may have phrased that slightly wrong but the gist is right). We both preferred single action as its the same every time.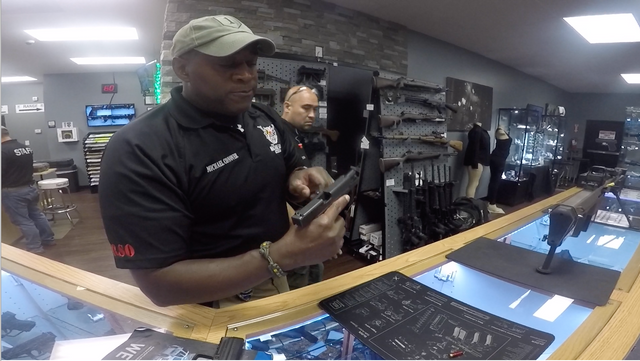 One thing I was blown away by was the selection. I felt like I had just walked into an Ammu-nation store from GTA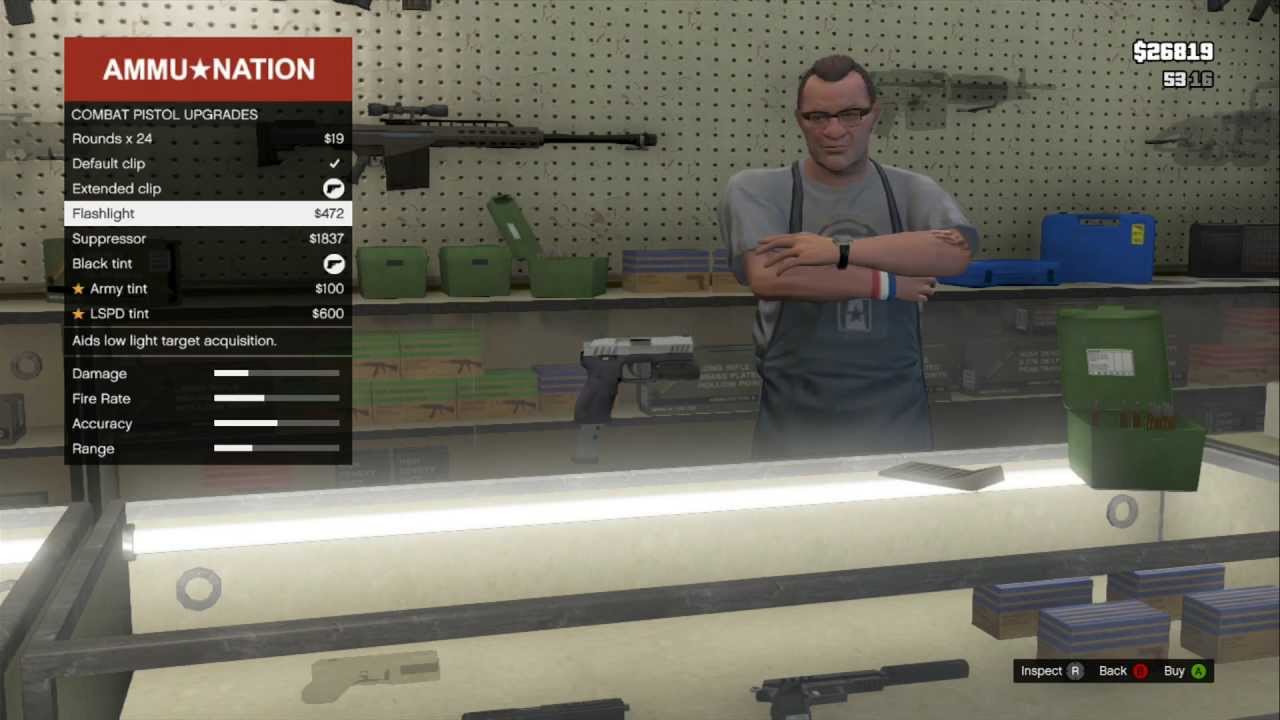 I mean, check out this insane wall of guns. You could rent or buy all of these!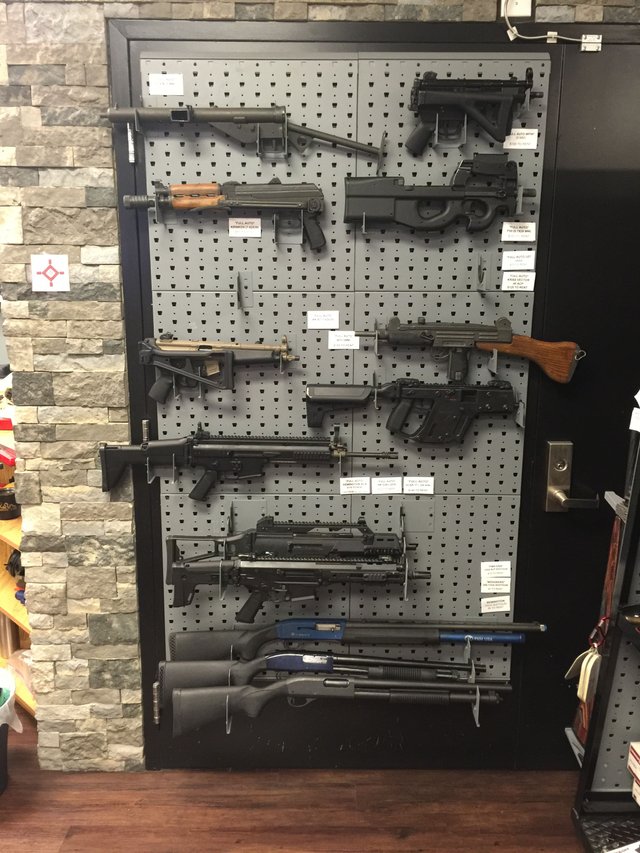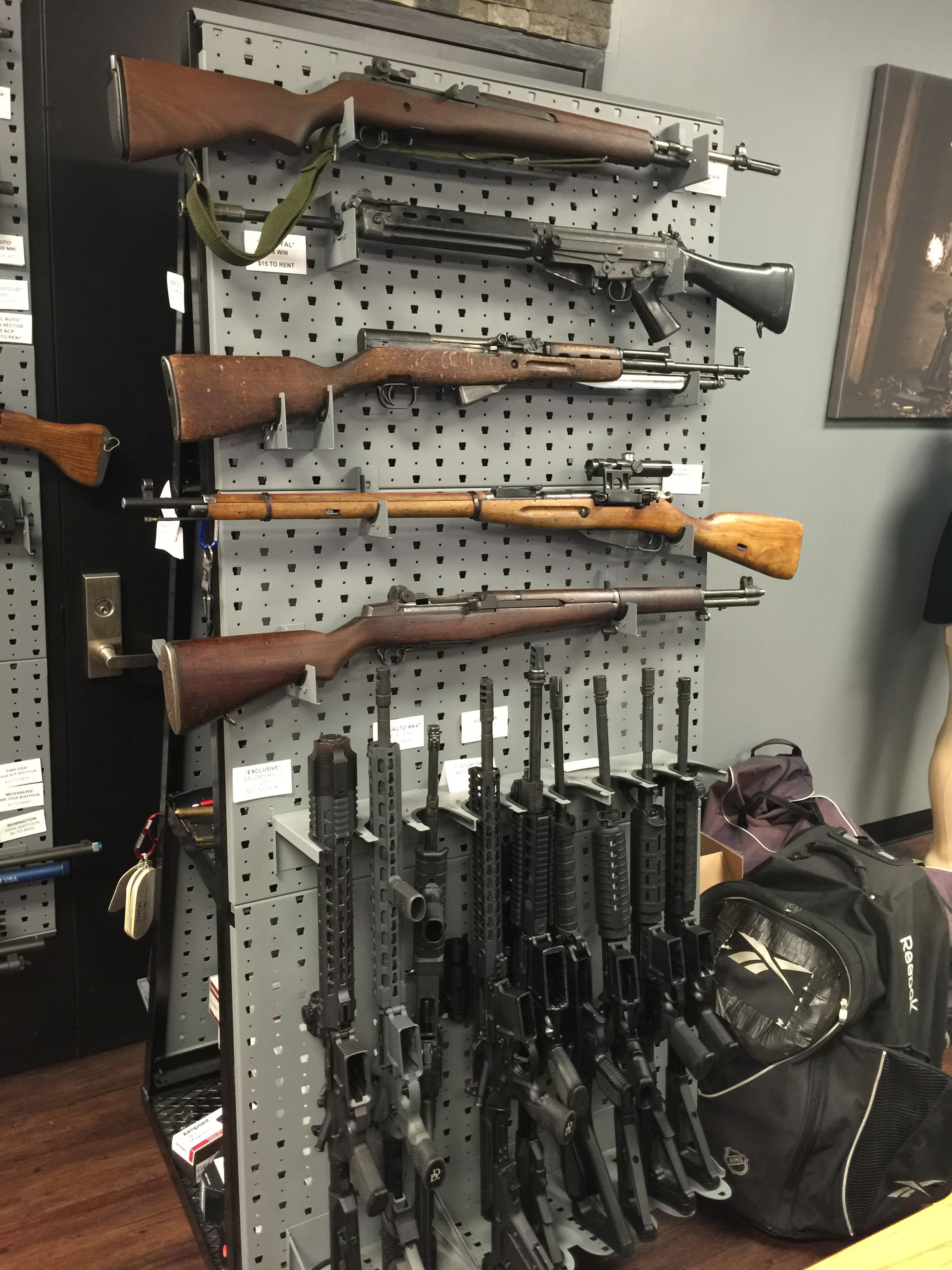 and finally, if those are just not big enough, you can always rent a belt fed Browning Machine Gun for only $175.00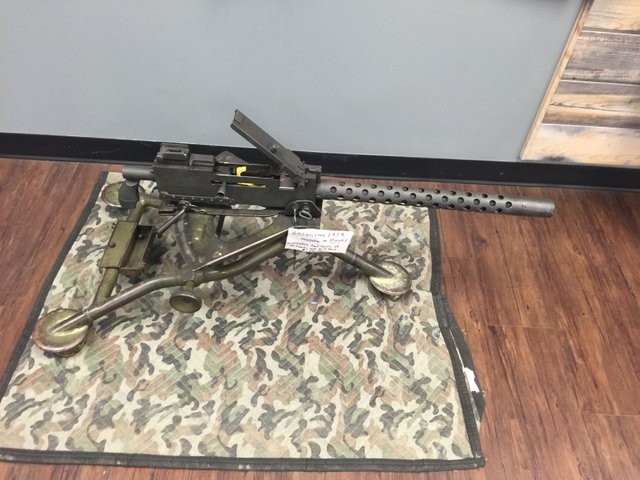 They were really cool about letting us take some photos of us messing about..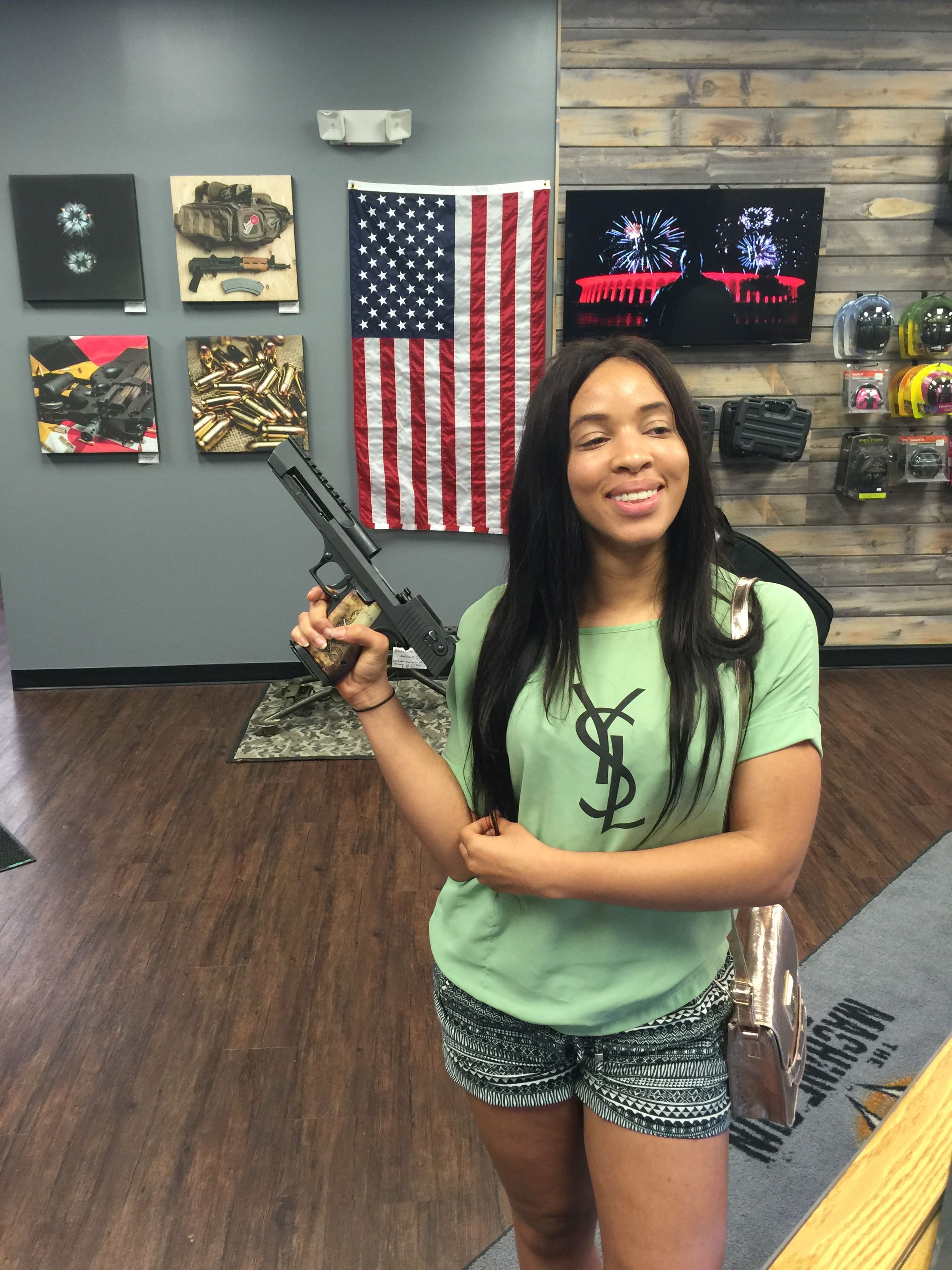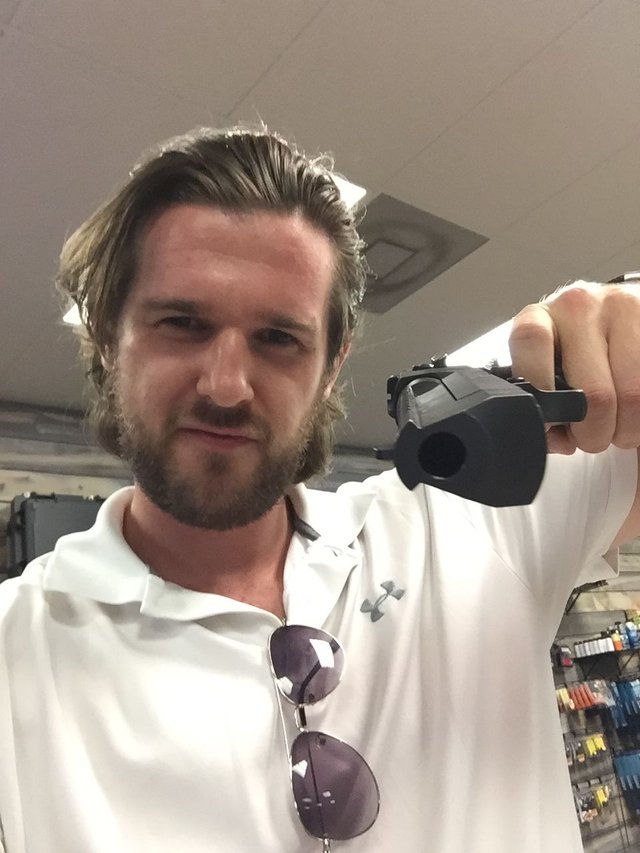 So we chose a load of guns to try.. I got carried away and got;
1 Glock 17 Single Action 9mm Handgun
1 H&K P30 Double Action 9mm Handgun
1 Desert Eagle .50 cal
1 AR15 .223 Semi-Auto Rifle 9mm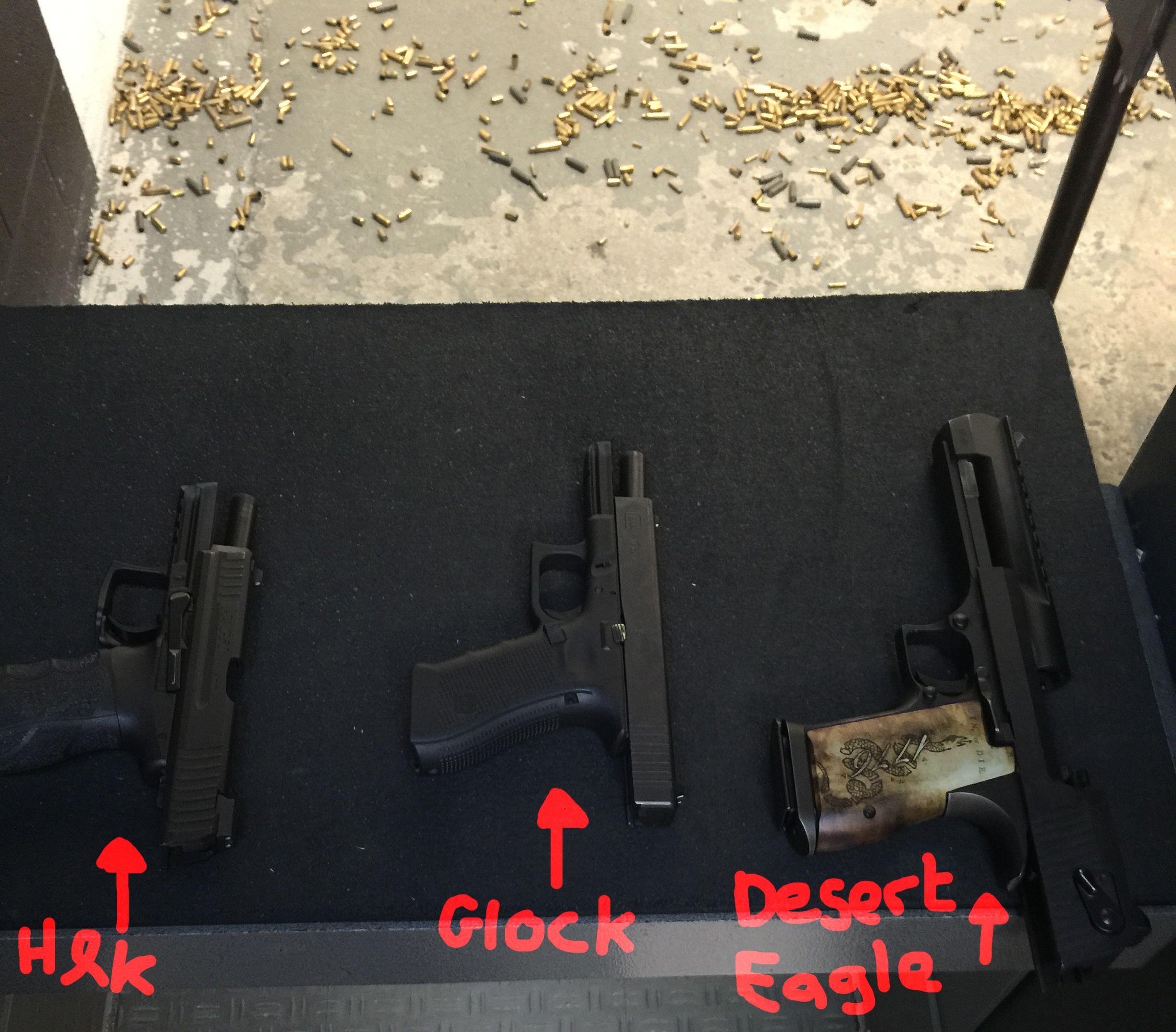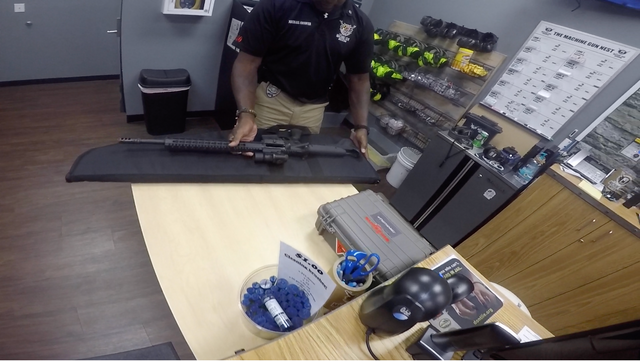 AR15 .223 Semi-Auto Rifle 9mm ...with a Red Dot Sight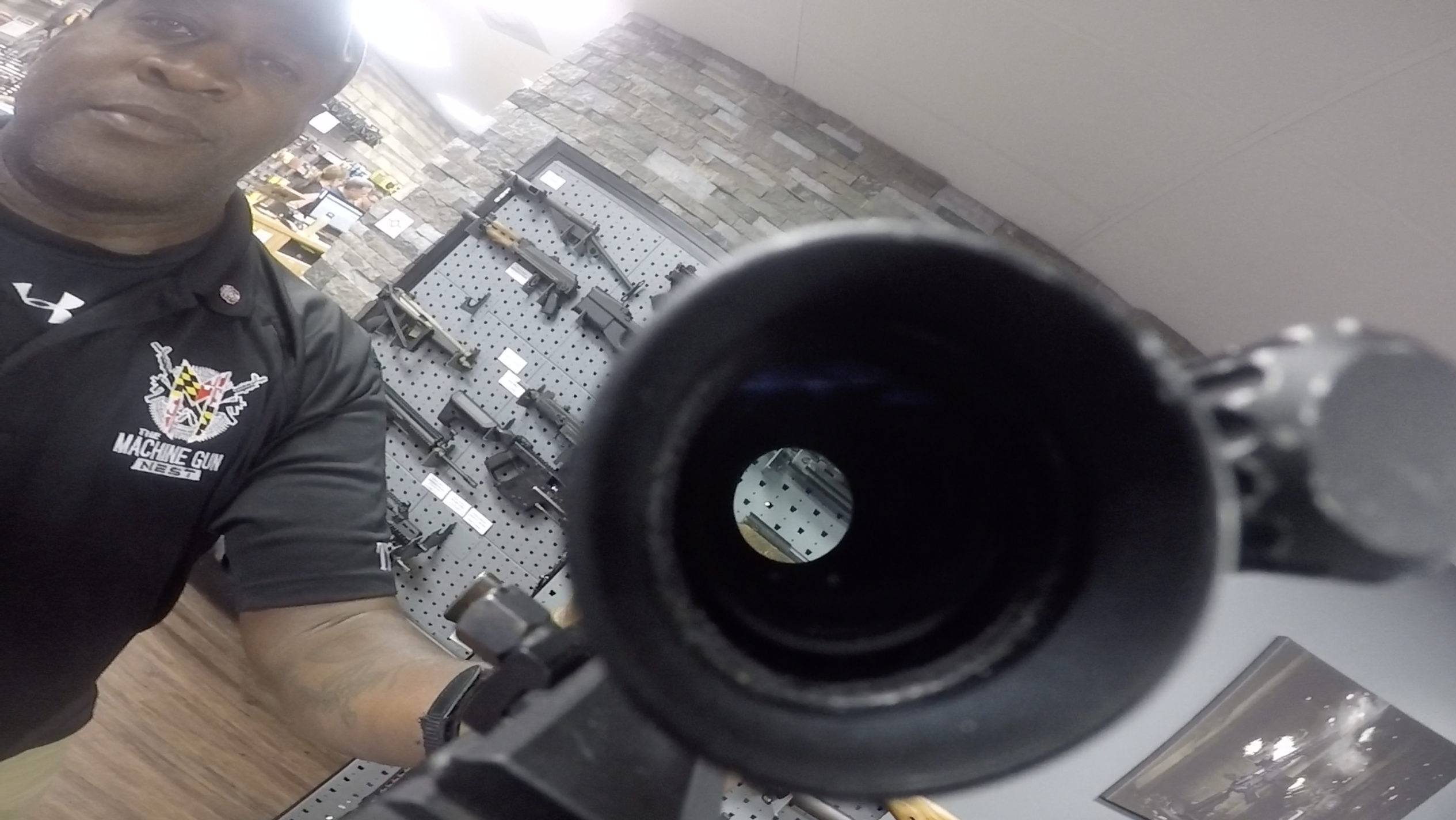 The experience wouldn't have been complete without some COD Zombies style Zombie targets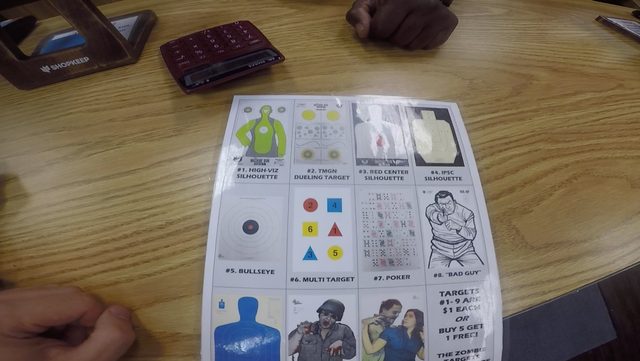 We then hit the range!
You get a control dial on the wall to set how far away you want the target to be.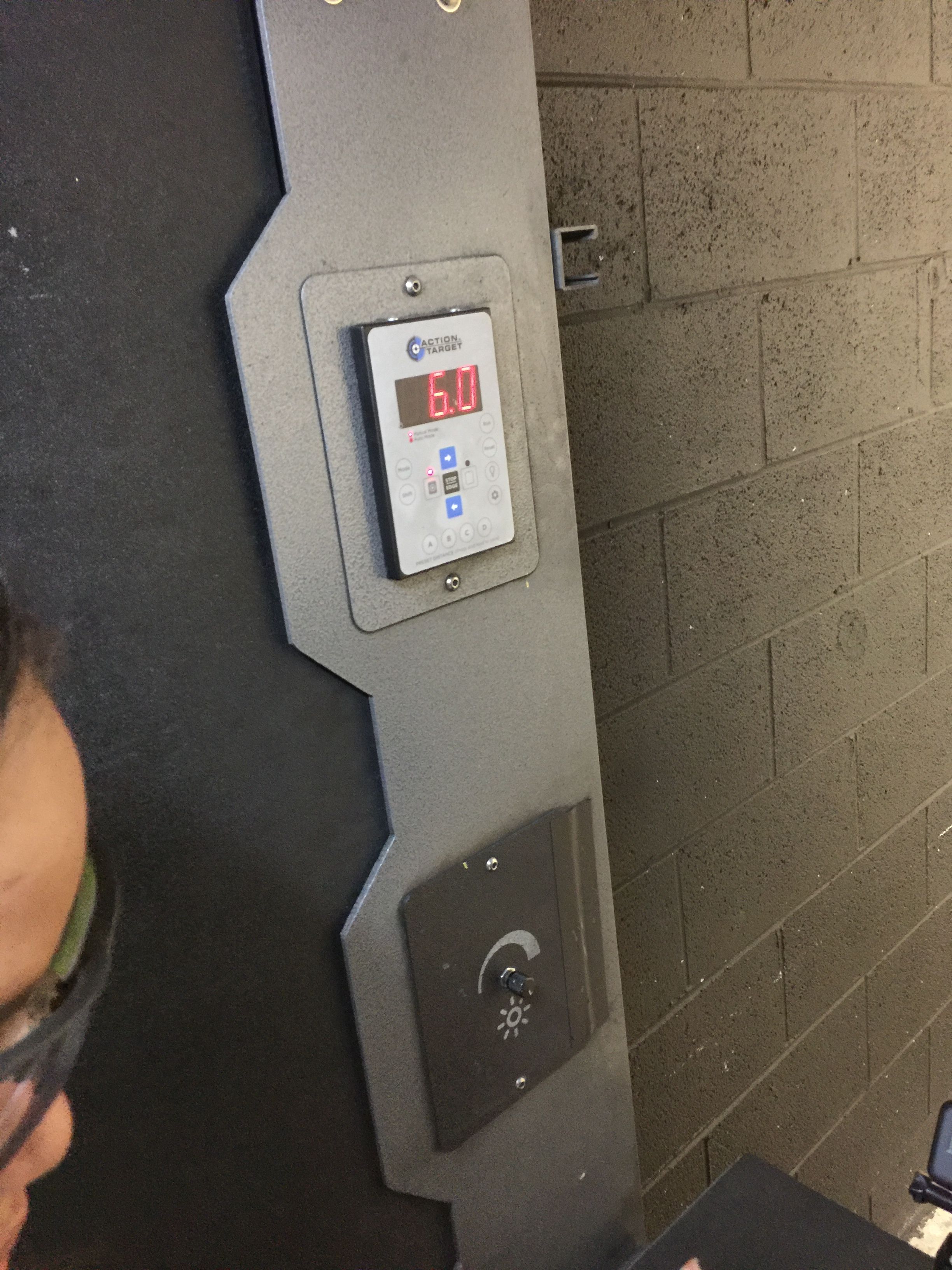 Then you use bulldog clips to attach the target to a cardboard holder.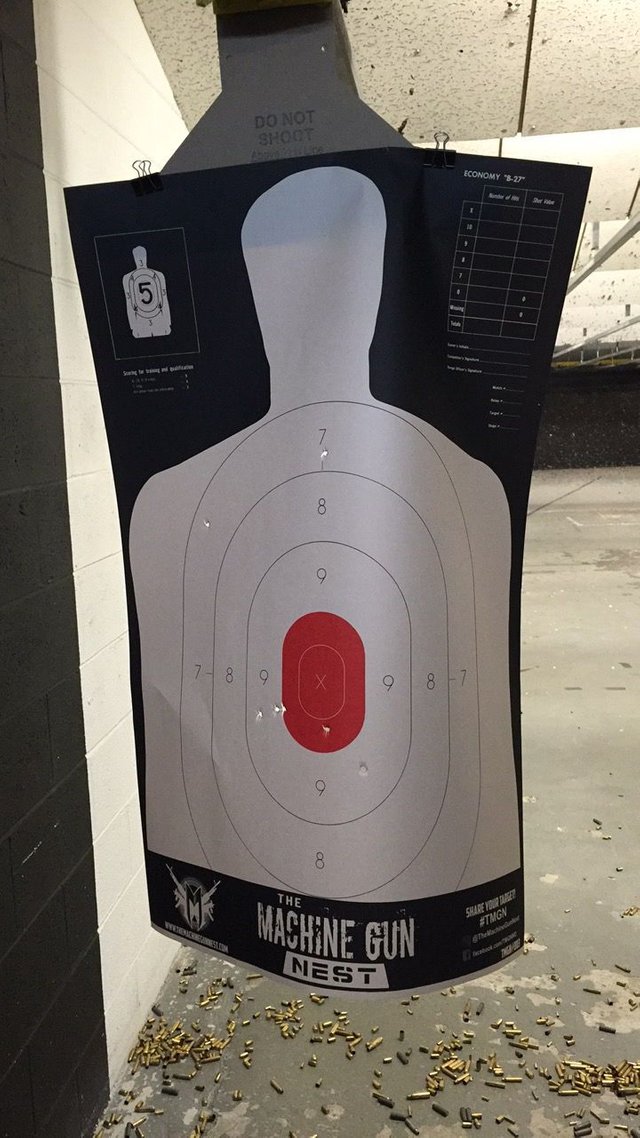 Check out the muzzle flash from the .50 cal Desert Eagle. (Its the largest caliber handgun you can buy) The guy in the next booth actually popped his head round the corner and said, what the hell was THAT? when he heard the shot. Micheal told us it was their policy that someone stand behind me incase it knocked me backwards! haha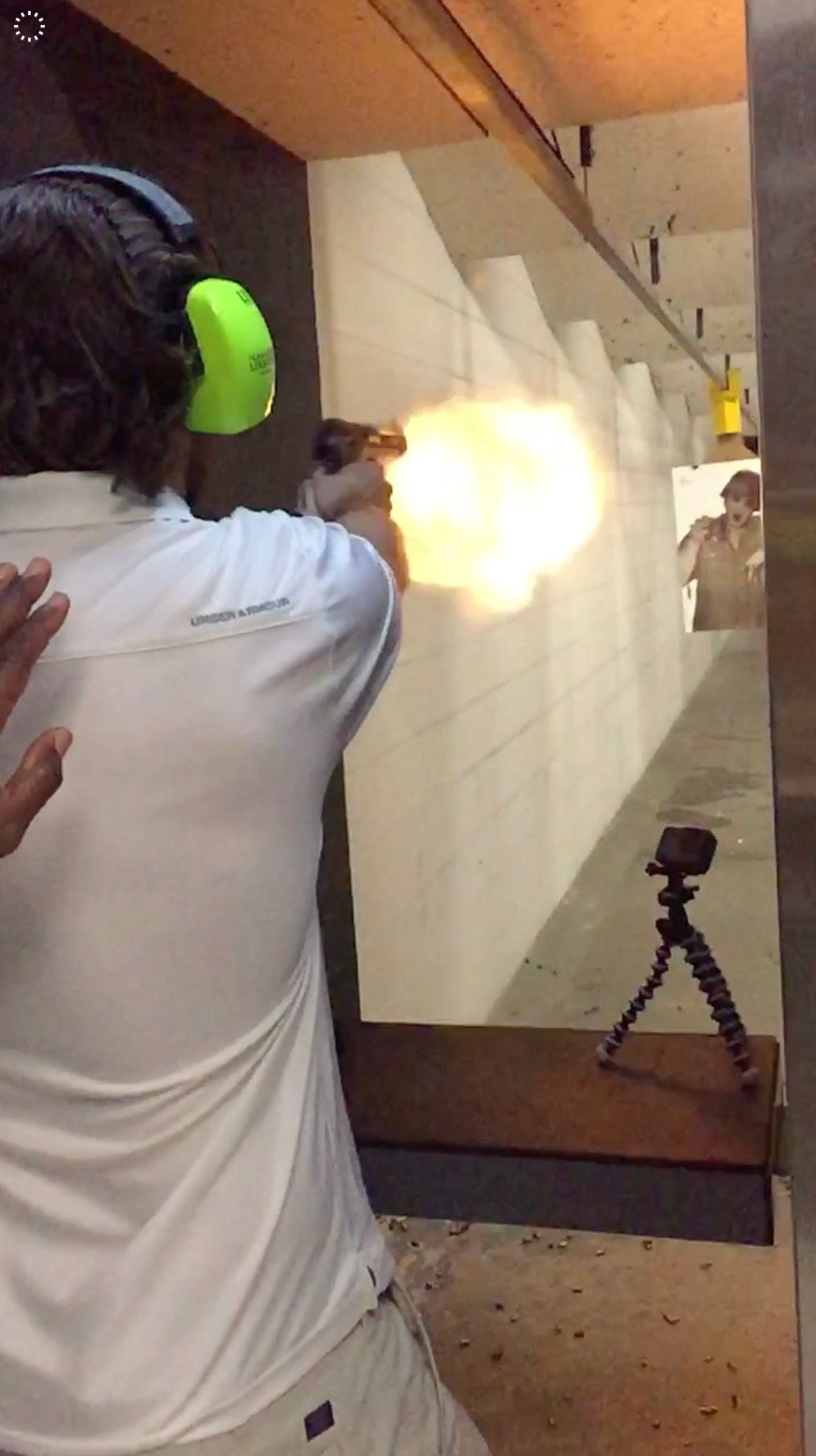 .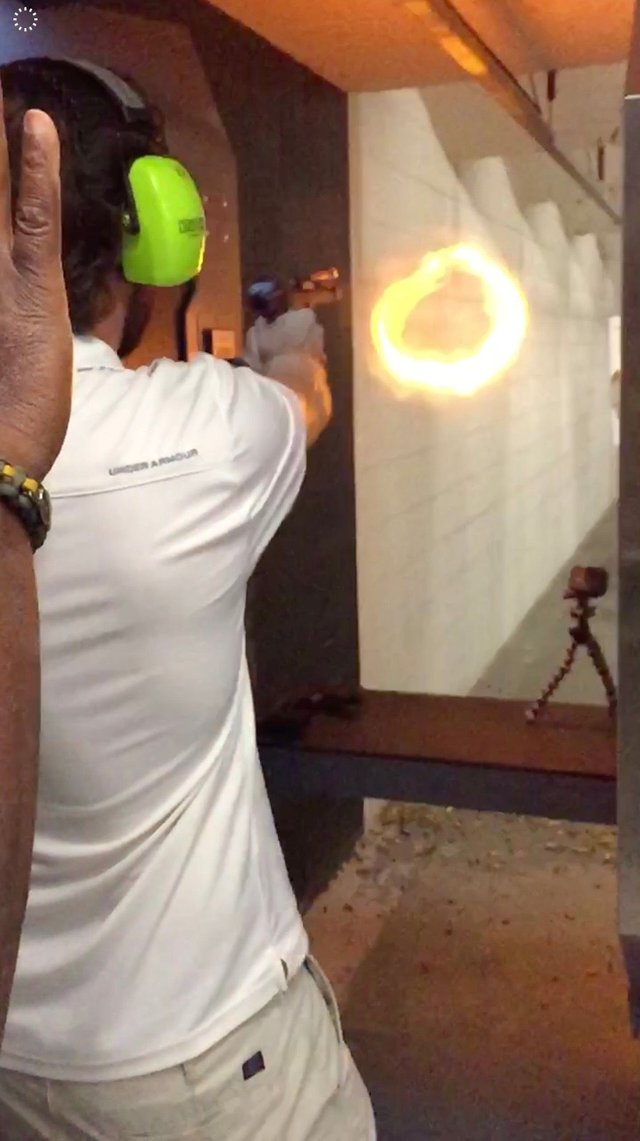 Although our zombie was defiantly dead, our hostage didn't do so well..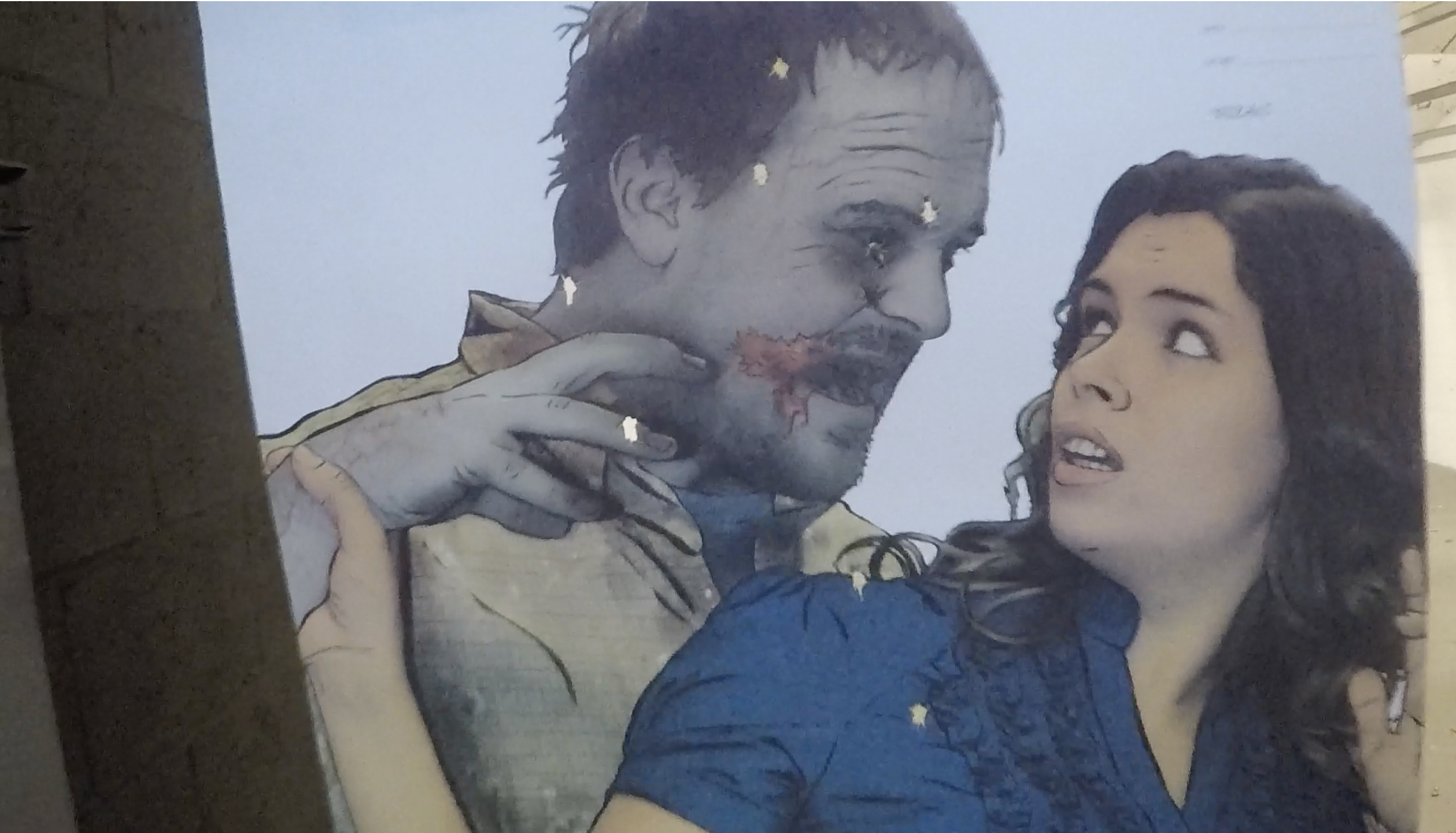 Im pretty gutted the GoPro didn't save the footage of me shooting it. But here's a pic of Misha shooting the AR15.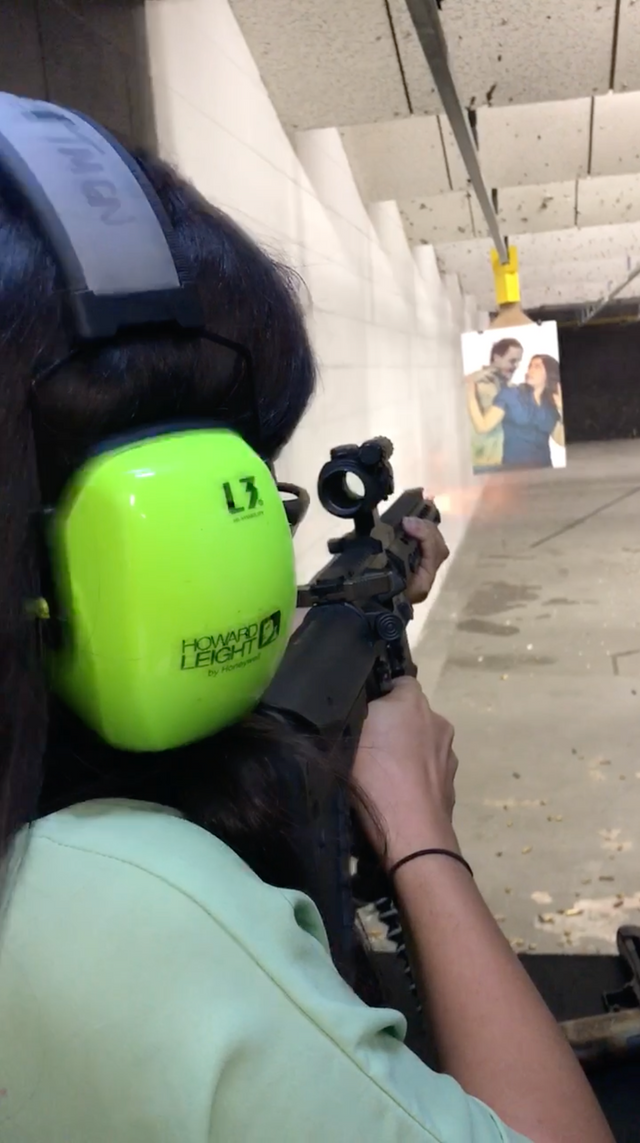 The handguns themselves are actually extremely cheap to hire. The Handguns were only $5/$10, the Rifle was $20, and the Desert Eagle was $35.
Once you add on the range time, ammo, targets etc however it got a bit more expensive. I think If you are going to do it regularly it probably makes sense to rent handguns and own the Rifle or Desert Eagle and just pay the range time.
All in it cost me $145.38 / £111.23. See all the costs involved here:
(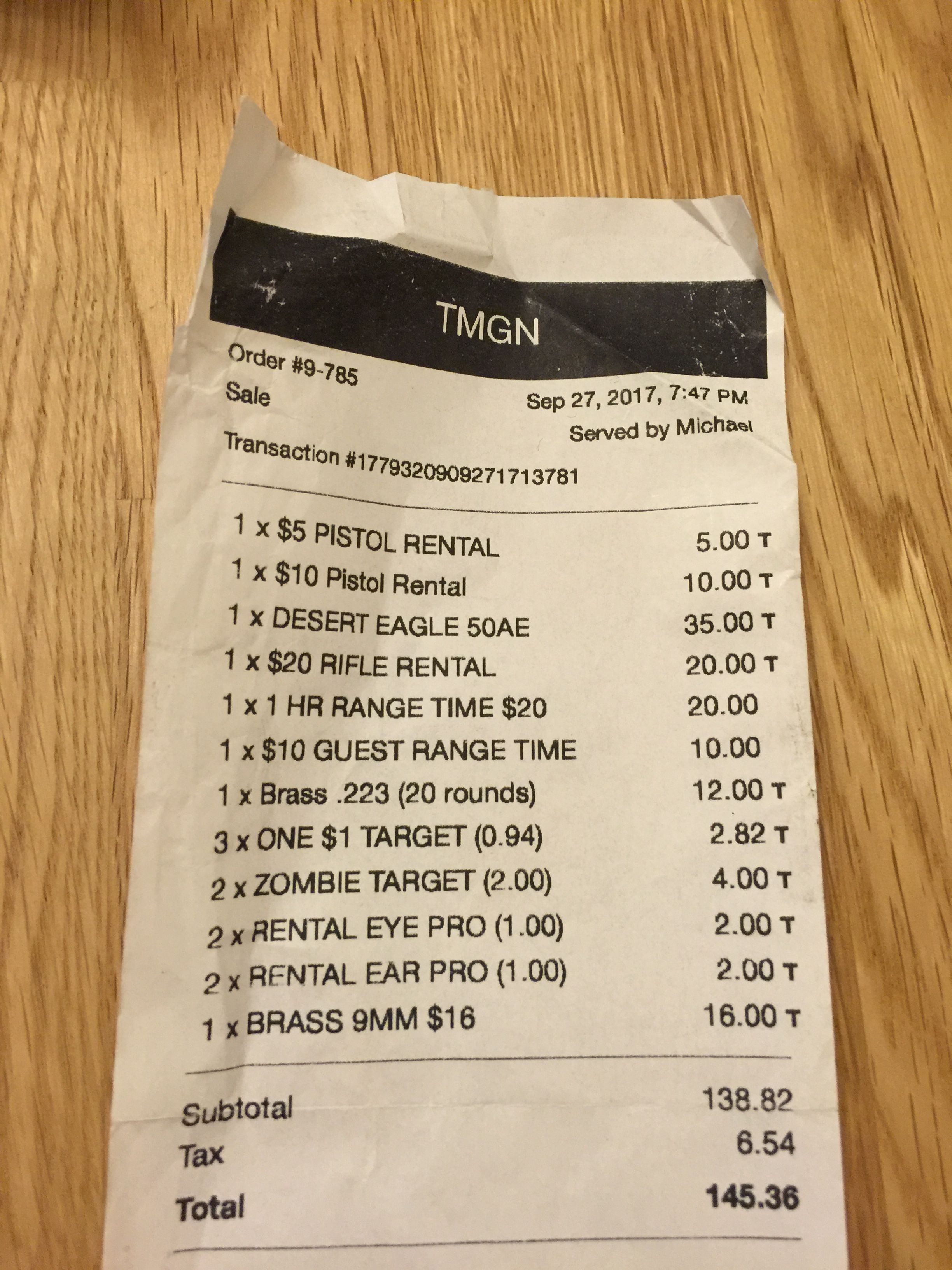 Anyway, I hoped you enjoyed reading my Bucket List post.
My Bucket List to Date
Done
Get Motorbike License
Ride a Stand Up Jet Ski
Ride a Supercharged Jet Ski
Dune-bashing in the Desert
Enter a Motocross Race
Enter an Enduro Race
Get Hench
Deadlift 190kg
Stay in the Costa Rica Plane Hotel (Top 100 Hotels in world)
Learn to Surf
Start a Company
Go be a Digital Nomad in Chaing Mai
Travel to 10 countries
Try LSD
Scuba Dive with a Shark
Have first flying lesson
Do an American Road Trip
Go to a shooting range and shoot a Semi Auto rifle and 50cal hand gun
To Do
Drive an F1 car
Skydive
Wingsuit
Basejump
Do Route 66 on a Harley or Muscle Car
Learn to Backflip a Standup Jet Ski
See a Sumo Wrestling Match in Japan
Forge my own sword
Get a pilots license (light aircraft)
Fly a stunt plane
Eat at the Fat Duck
Do the Gumball Rally in my own car
Go Rally Driving
Learn to backflip to flat
Freestanding Handstand Pressup
Squat 180kg
Have a professional photo done of me whilst hench
Do a full horizontal whip on a motocross bike
Do a controlled 5 second wheelie on a motorcycle
Go wild camping (i.e Canada)
Climb to Everest Base Camp
Snowmobile, build an Igloo and see northern lights
Own a company that pays me a £10k a month salery
Own a company that pays me a £1m a year salery
Sell a company for £20m+
Be able to retire at 30
Have an audience of 50k on a social media platform
Have an audience of 500k on a social media platform
Own a £500k home
Own a £1m home
Own a £3m home
Give £1000 to charity
Give £5000 to charity
Give £20,000 to charity
Pay for my mums retirement
Give Lizzy at least a 10x return on investment
Travel to 20 Countries
Travel to 30 Countries
Travel to Space
Go see Cirque Du Solail
Go to Berghain in Berlin
Don't forget to follow me to see more @ashleypeat
I want to see your bucket list too, so please use the bucket-list tag on your post.
If your new to Steemit. Get an account and start earning money, watch my explainer videos to see how, or get an account and comment below.