BuildTeam Services Spotlight - GINAbot
Steem is an interesting place where you can find an endless amount of content on almost any subject, the problem that most have with the platform is that there is no built-in notification system, this can be frustrating as you might miss out on mentions in comments and posts from other authors. This is where BuildTeam's GINAbot comes in to play!
What is GINAbot
GINAbot (Gina Instant Notification Alert bot) is a very unique Steem notification bot.
GINA can perform several functions which primarily revolve around sending notifications about new events on the Steem blockchain. Users can fine-tune GINA to provide notifications for transfers, memos, upvotes, follows, witness votes and unvotes, the return of Steem Power delegation and much more.
Currently, GINAbot communicates this information via the Discord chat app which is available for any platform (Android, iOS, Windows, Linux, etc.)
What are some of Gina's features?
Notifications can be set up for the following
comments
followers, unfollowers
mentions
word watch (mention of custom text in comments/posts)
resteems
new post from any author
new post with any tag
blacklist user(s) (no notifications about blacklisted user actions)
upvotes, downvotes
cancelling of votes
money transfer (in and/or out)
witness vote (with useful details)
How can I register for GINAbot services?
You can register to use GINAbot free of charge, to do so simply head on over to the BuildTeam Discord Server, find the GINAbot section of channels, click on 'instructions' and follow the steps outlined there.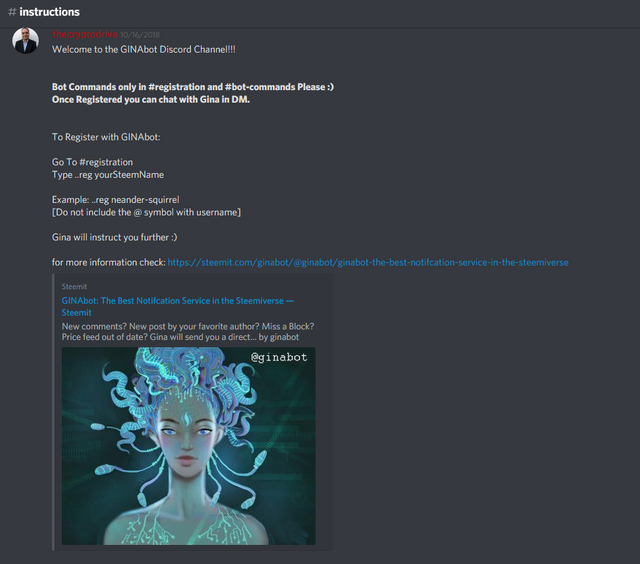 We may change GINA's acronym to General Instant Notification Assistant, what do you think? Do you have any other ideas to be used in place of the word "General"? We would love to hear your feedback.
---
| Visit our website for more! | Subsribe to our YouTube Channel |
| --- | --- |
| | |
Set it up today and contribute to building a better tomorrow!


( Want an easier way? Use our SteemConnect proxy link! )


Get support and connect with us and other BuildTeam fans!



---
This is a @steemvoter subscription payment post. Thank you to Steemvoter customers for allowing us to use your Steem accounts to upvote this post by virtue of your free subscription to the Steemvoter.com bot service. @steemvoter is proudly a @buildteam subsidiary and sister project to @steemsports and @minnowbooster.