After Lisk hit the measured move perfectly out of the bull flag, it has been non-stop selling: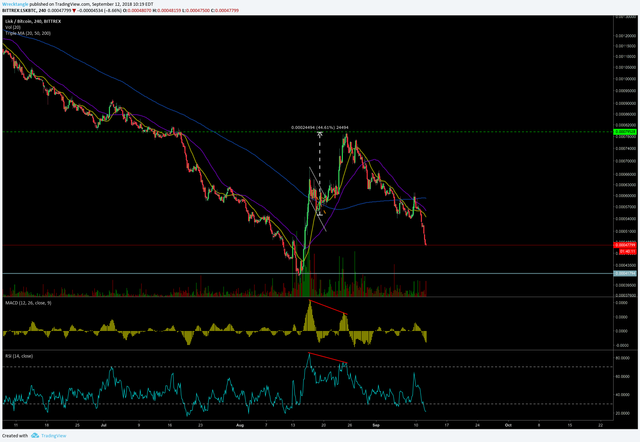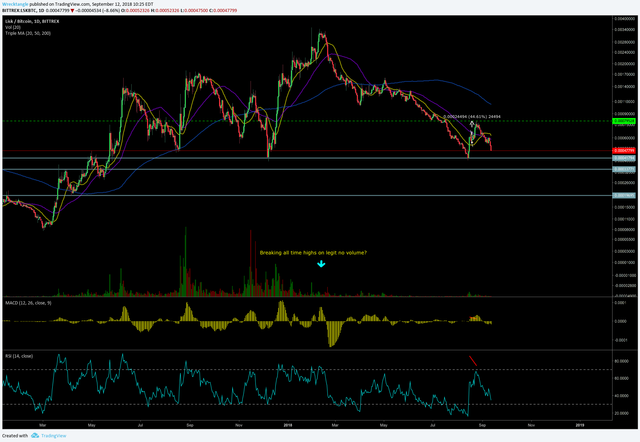 The chart on the top is the 4hr, and the chart on the bottom is the daily. The daily gives us a good idea on where the true, longer term support lies with Lisk.
I was always skeptical with Lisk after it broke the all-time highs on zero volume. It has just been straight selling since then which was in February. More recently, Lisk was looking good for several days until things turned bad quickly. Bearish divergence, decreasing volume and failing to even test the 200MA on the daily. Weak. Now we find ourselves in another make or break zone. Yes, were going down but where can we see some last lines of defenses?
By the looks of it, we have 2 vital areas where if it doesn't hold, we will be seeing an accelerated downside move to the 3rd target which is at a whopping 19695 SATS. Your first support levels sits at 41790 SATS, second support at 33770 SATS. Those two areas we NEED to hold to avoid the 3rd target.
Although, I don't think Lisk will hit the 3rd target personally, but that doesn't mean we cant prepare for it. I do expect one of those 2 closer critical areas to hold. Maybe we could test both of them to give them more validity for the future. Either way, Lisk is going down and you should NOT be looking for any entry right now. Low risk areas are at those support levels. Split up your orders to try and get the best bang for your buck.
Good luck!