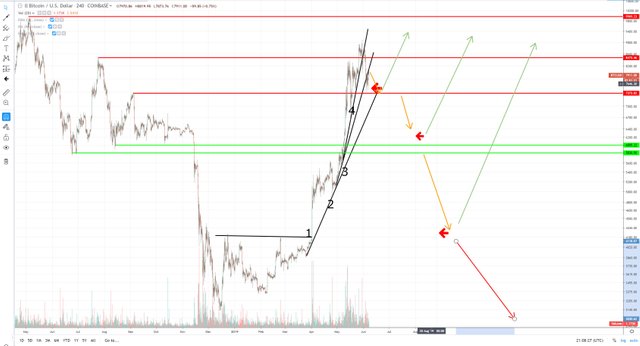 Bitcoin has been in a very nice uptrend. I am now convinced that the bear market is over and we are in the bull market.
If that is true I believe a correction is needed (we just rallied 3X or 300%). Anything between 20%-50% would be healthy in such a bull market.
We have just had a parabolic uptrend that is now somewhat broken, but still has some support as you can see from the uptrends. Only the very latest have been broken thus far.
I believe as long as we stay above the old low everything is OK, but ideally we ought to stay above 4200ish. If that does not hold, this strong breakout may turn into a real nice bull trap. I give this a chance of maybe around 20ish percent.
So most likely in my opinion we are going to come down and the most likely targets I have indicated in the chart above.
Both 6k or something above 4200 would be good and healthy targets for the bull case.