UPDATE: The expected drop will likely start soon.
This is an alternate count which is starting to become more probable. A week ago I already wrote a note in Edit2, that WXYX2Z comes to mind again. This was just a minor update, so I didn't want to make a new post consisting only of 2 lines of text without a picture. I wanted to wait what pattern red wave A might form.
So here it is: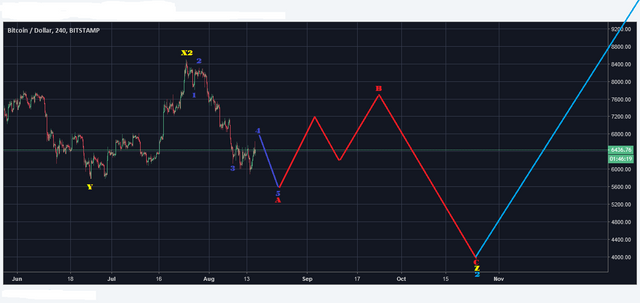 If true, new lows are approaching slowly, even 4k is not impossible with this count. But first, we need to see blue wave 5 complete what I think is wave A of yellow Z.
This would probably mean STEEM at 40-20 cents in wave C of yellow Z. I would love to see that again. More than 2 Steem for 1 $? Awesome if it happens...
Keep in mind that this is not my primary count (yet). But if it happens I will power down as much as I can into red wave B, to transfer it into SBD, which could potentially buy me 3 Steem each in October or November. (I love high risk, high reward trading :D) This could totally lose me a lot of money, so I don't recommend anyone doing this as well...
UPDATE: My current prediction of the terminal low for the entire BTC correction is either 5600, 5200 or 4000. (I checked the fibs)


If you think this to be useful information:




Feel free to use and share my charts, but please mention me, @ew-and-patterns as the author. Otherwise it is considered plagiarism and I will flag you and advise my friends to do the same.



MUST READ!
DISCLAIMER: This post / analysis serves general information purposes only. I am not a financial adviser. The material in this post does not constitute any trading advice of any kind. This is just the way I see the charts and what my trading ideas are. I use chart pattern and Elliott Wave analysis for my trading ideas.
For full disclosure: The author of this post is holding positions in this market at the time of this post. Please conduct your own due diligence, if you plan to copy anyones investment decisions!
If you make any trades or investments after reading this post, it is entirely at your own risk. I am not responsible for any of your losses. By reading this post you acknowledge and agree that you will never hold me liable for any of your losses.
Please consider leaving a comment, like or resteem, if this post entertained you or helped you see things differently...
Have a nice day :-)


#bitcoin #btc #crypto #cryptocurrency #cryptocurrencies #steem #sbd #ethereum #eth #ripple #xrp #bitcoincash #bch #eos #litecoin #ltc #stellar #lumen #xlm #digibyte #dgb #cardano #ada #iota #tether #neo #tron #trx #omg #verge #xvg #bitshares #bts #nano #monero #xmr #dash #ethereumclassic #nem #binance #binancecoin #vechain #tezos #omisego #steemit #money #life #altcoin #altcoins #trading #investing #investment #investments #forex #forextrading #market #finance #gold #silver #commodity #commodities #stock #stocktrading #stockmarket #facebook #fb #apple #aapl #spx #xau #xag #usdjpy #usd #amazon #amzn